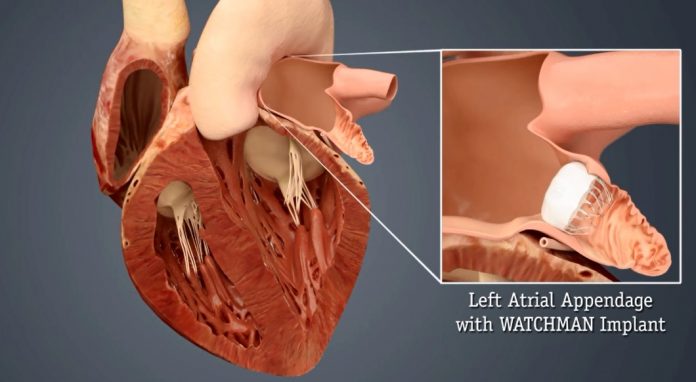 Heart Hospital is the first hospital in Oklahoma to offer patients with non-valvular atrial fibrillation (AF) an alternative to long-term warfarin medication with the newly approved Watchman Left Atrial Appendage Closure Implant.
Cardiologists Sean Halleran and George Chrysant preformed the first such implant in the state on Monday, Oct. 5.
Atrial fibrillation is a heart condition where the upper chambers of the heart beat too fast and with irregular rhythm. It is the most common cardiac arrhythmia, currently affecting more than five million Americans.
"People with atrial fibrillation have a five times greater risk of stroke," says Halleran, an electrophysiologist at INTEGRIS specializing in electrical /rhythm issues of the heart. "Atrial fibrillation can cause blood to pool and form clots in the left atrial appendage. These blood clots can then break loose and travel in the blood stream to the brain, lungs, and other parts of the body."
The most common treatment to reduce stroke risk in these patients is blood-thinning warfarin medication. Despite its proven efficacy, long-term warfarin medication is not well-tolerated by some patients and carries a significant risk for bleeding complications. Nearly half of AF patients eligible for warfarin are currently untreated due to tolerance and adherence issues.
"The Watchman is an implant alternative for these patients to reduce their risk of atrial fibrillation related stroke," says Chrysant, an INTEGRIS interventional cardiologist. "The Watchman Implant closes off the left atrial appendage to keep harmful blood clots from entering the blood stream and potentially causing a stroke. By closing this off, the risk of stroke may be reduced and, over time, patients may be able to stop taking warfarin."
Implanting the Watchman Device is a one-time procedure that usually lasts about an hour. Following the procedure, patients typically need to stay in the hospital for 24 hours. Patients may require Warfarin for a few weeks after the procedure, then they may need milder blood thinners for a few months while healing.
The Watchman Implant has been approved in Europe since 2005 and is FDA-approved in the United States. It has been implanted in more than 10,000 patients and is approved in more than 70 countries around the world. For more information on the Watchman Implant, please visit watchmanimplant.com.