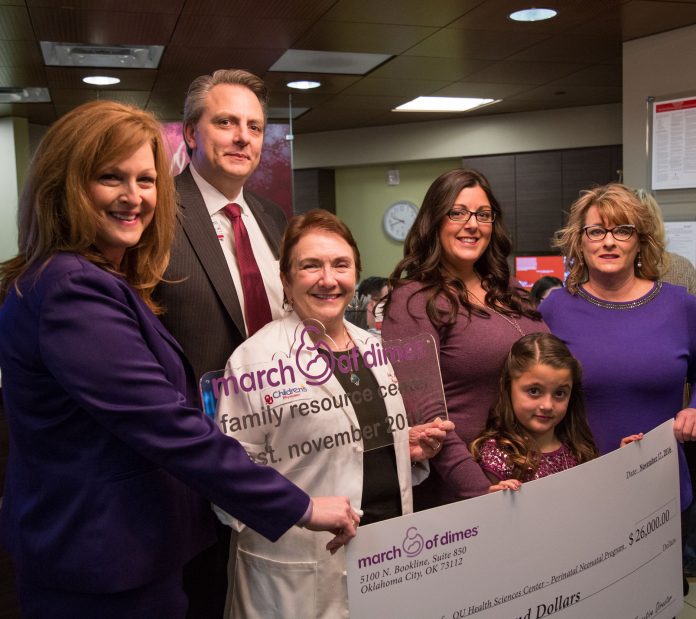 Expectant mothers who experience complications during pregnancy will have access education and resources providing comfort and support thanks to a March of Dimes grant to OU Physicians Prenatal Diagnostic Center.
The $26,000 grant will fund the March of Dimes Family Resource Center to address the educational and emotional needs of families during their high-risk pregnancy and/or after their pre-term birth. The grant will fund the Center for 12 months. It will cover the costs of computer equipment and educational materials, as well as the costs involved with maintaining and updating educational and support materials.
The check was presented at The Children's Hospital at OU Medical Center on Nov. 17, World Prematurity Day. Rodney Edwards, M.D., chief of the section of Maternal-Fetal Medicine, department of Obstetrics & Gynecology, University of Oklahoma College of Medicine, accepted the check.
"Preterm birth is a major contributor to newborn complications, some of which have lifelong consequences as well as increasing the possibility that the baby may not survive," Edwards said. "Of course, one of our major efforts is to prevent preterm birth to mitigate those risks. Pregnant women with threatened preterm birth often have to stay in the hospital to try to prolong the pregnancy. Of course, if, despite the efforts to avoid prematurity, the baby is born preterm, he or she may have an extended hospital stay. This grant from the March of Dimes will help to provide additional services for these families in addition to expert medical care." Laurie Applekamp, executive director for March of Dimes Central Oklahoma Market, added, "We are so thrilled to be able to open a resource center where families have access to the OU Physicians Prenatal Diagnostic Center and the state's largest and most comprehensive Neonatal Intensive Care Unit. March of Dimes has so much important and useful information to provide families who experience pre-term birth. We feel this partnership will be a tremendous vehicle allowing us to get the information into the hands of those who need it most."
OU Medicine combines the research, education and health care expertise of OU Medical Center, The Children's Hospital, OU Physicians and the University of Oklahoma College of Medicine to establish Oklahoma's largest and most comprehensive health care system. With more than 660 doctors, OU Physicians is the state's largest physician group, encompasses almost every adult and child specialty. OU Physicians serve as faculty at the University of Oklahoma College of Medicine and train the region's future physicians. The March of Dimes is the leading nonprofit organization for pregnancy and baby health. For more than 75 years, moms and babies have benefited from March of Dimes research, education, vaccines, and breakthroughs.