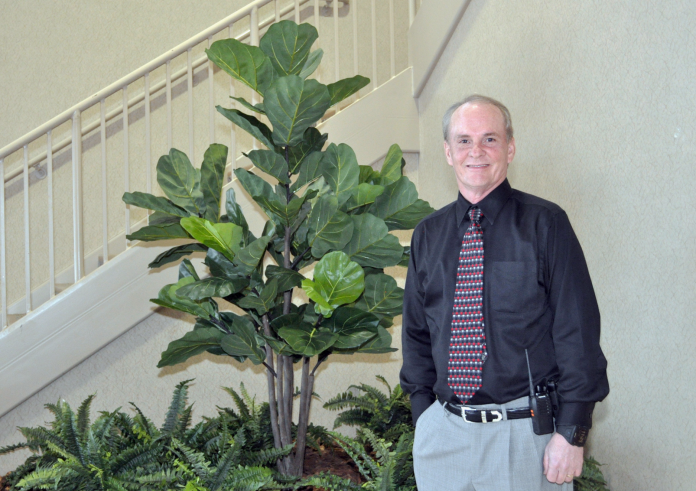 story and photo by Vickie Jenkins
There is something exciting taking place in Bethany, OK. It is the new opening of Bethany Behavioral Health! "Today is the first day that we're open to see patients," says Rob Lake, CEO. "It took a lot of people to make this work and it's nice to see everything come together so well. This is the old Deaconess Hospital so it has come a long way. The whole place has been renovated and everything is brand new, along with the latest equipment. New business, new facility, new everything," Lake said.
Bethany Behavioral Health is a 57-bed psychiatric hospital meaning more mental health crisis beds for the Oklahoma City metro. "Of course, as our patients grow in number, our facility will grow also. Our program will help adults over the age of 55 with major mental illness disorders," Lake states. "We will have in-patient only. There will be a 5-day stay for adults and an 11-day stay for geriatrics. That number will change as we fill to capacity and I know we are going to grow in time. The patient will receive treatment for their individual needs and there will be an assessment before discharging them. We have the highest quality of care here," Lake adds.
Lake attended school at Texas Tech University, where he got his Bachelors and his Masters. Beginning his career in the medical field in 1987, he spent 20 years as CEO of different hospitals in different states. "This is the 7th hospital that I have been at," Lake says. "I've been at hospitals in Texas, Arkansas, New Mexico and several cities in Oklahoma. Traveling to different states gives me the chance to join in on a progressive and innovated opportunity to motivate companies for healthcare. With this being a new healthcare facility, it gave me the chance to hire all new people. Recruiting all new people was fun, yet challenging. Right now, we have 45 employees. We have high quality employees and they were all hand-picked. I am very proud of each one of them. Our main concern here at Bethany Behavior Health is to help the patients with their problems. We will focus on the patients and the quality of medical care as we see them. Right now, we have the chance to make this the best hospital it can be. Everyone needs to work as a team, doing their very best and we can make it happen. I think this is what makes everything run so smoothly," Lake said.
Some warning signs that could indicate a senior should seek help are: anxiety/agitation, confusion/disorganization, depression, fear/paranoia, fluctuations in weight, hallucinations/delusions, memory loss, mood swings, sleep disturbances, social withdrawal, suicide thoughts and wandering.
"Do you see any challenges that you might face as time goes on?" I ask Lake. "Well, like any new facility, I'm sure we'll face a few problems but nothing that we can't handle. I know I have the best employees and I see how well things have gone so far. I look forward to the future and watching how much Bethany Behavioral Health is going to grow. I like my job and I like the way it makes me feel, even if I do face some challenges ahead, I can do it," Lake commented.
When not working, Lake stays active in many ways. Triathlons, golf, tennis and cycling. "Exercise is very important to me," says Lake. "My wife is an occupational therapist and she stays active too. We have 2 sons, Cody, 24, and Kyle, 23. Both boys will graduate in May of this year. We are so proud of both of them." Lake comments.
"Do you have any words of wisdom that you pass along to others?" I ask Lake. "Yes, I do. I always tell my employees to make sure to give 3 smiles a day. 1. Make a patient smile. That is why we are here. 2. Make a physician smile. That is how we get our patients here. 3. Make the staff smile. This is your hospital. Make it what you want it to be; the best!"
Bethany Behavior Health is located at 7600 N.W. 23rd (formerly Deaconess Hospital) Their goal is to increase functioning and improve the quality of life. For any questions, call 844-243-1331 or 405-792-5360.