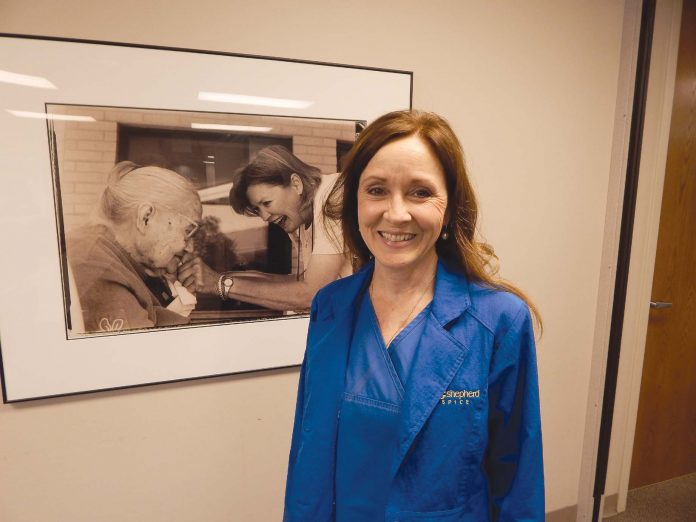 by James Coburn
Staff Writer
Love has lifted the nursing career of Debbie Redden, RN case manager, Good Shepherd Hospice. She rises to the occasion daily after 11 years with Good Shepherd and of being a nurse for 14 years. She watches after her flock.
Her career began at a local hospital where she worked in a cardiac unit before accepting a position with Good Shepherd, and she earned her RN degree at Oklahoma City Community College. Redden earned her Bachelor of Science in Nursing degree at Southwestern State University.
"Good Shepherd is a wonderful company. I'm so happy this is where I started my hospice nursing and I'm so happy that I've got to stay here these 11 years," Redden said. "Good Shepherd has wonderful caring people. It's that time in the world when you see a lot of people that are doing medical professions just for the pay check."
"That's not what we're like at Good Shepherd. There are so many people here that have really caring hearts for the patients."
The nursing staff chose their profession because they are willing to give. And the gifts they provide flow from their heart. This makes all the difference in the care that the families and the patients receive, Redden said. Redden's day-to-day life includes having teammates with a heart like Redden's.
Hospice is caring for the person who has been called terminally ill by their physician, Redden continued. Usually the hospice patient has six remaining months in this life on earth. But that varies. Some patients have only three days left to live. Redden makes sure each of them is provided the holistic comfort and care that is so important to a patient making their final transition in life.
"Sometimes even though they were expected by their physician to pass in six months, they last longer," Redden said. "Sometimes that has to do with how strong their will to live is and their physical condition. But what we do is try to make those last six months or however long it is — we try to make the last period in their lives comfortable for them and as happy for them as we possibly can."
An effort is made to prepare families for the passing of their loved one, so that the patient is at peace, the family is at peace and everything goes peacefully at that time. Without that kind of knowledgeable care it can be a traumatic time for the patient and family, she said.
The field of hospice is a calling for Redden and not a business. She spent the day with a hospice nurse when she was doing her clinical work during her college years.
On her very first day of shadowing the hospice nurse, Redden knew hospice was exactly what she needed in her working career.
"It's a way that I serve the Lord. I serve the Lord by serving others in this profession," she said. "And so it has a much richer, deeper meaning for me. I can say that it is a thousand times more rewarding than my previous nursing was — not that there is anything wrong with that nursing — it's that this is what I was called to do in helping people in this special time of their life."
Hospice is her ministry. It allows her to form deep bonds with people to guide them through a difficult time. She becomes a vital part of their families and guides them as they rely on her medical expertise of palliative care.
"You're greatly needed," she said.
Good Shepherd sets goals with patients and family members. As the patient declines with greater needs the role of Good Shepherd increases in their lives.
"We are not one of those hospices who don't show up when you have a problem," Redden said. "We are 24/7 and we function 24/7. A lot of hospices shuffle people off if it's in the middle of the night. But we're not like that. If you call us with a need we come."
Good Shepherd has always provided this overflowing standard of care and continues to meet the community's needs.
"We're there for them on holidays, weekends, the middle of the night. We're there for them," she added.
The final moments of a person's life does not have to be negative. It can be one of the more positive experiences in life, Redden said. Social workers and chaplains are part of the circle of care to help resolve issues.
"They come to peace and it can be a real rich family time," Redden said.