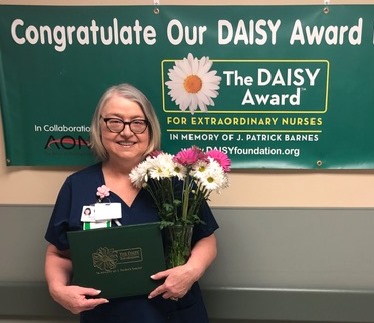 Compassion for Patients and Understanding of Cancer:
Mary Blankenship Recognized as Daisy Award Winner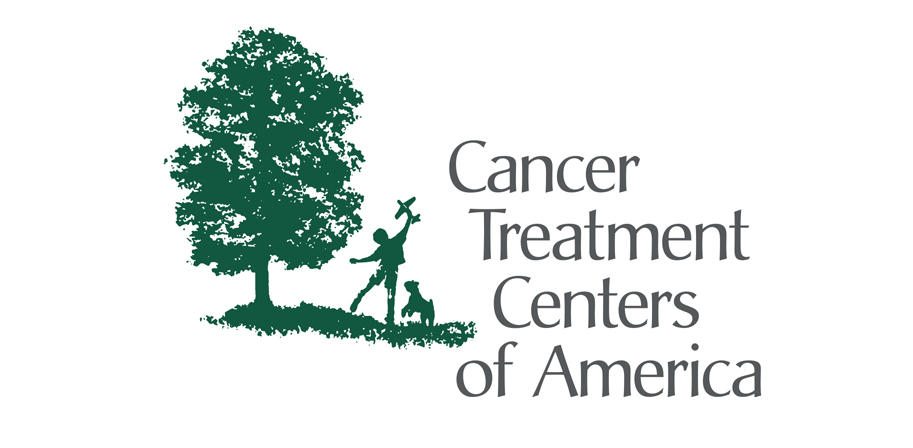 Mary Blankenship, RN, MSN was recently honored as a winner of a DAISY Award at Cancer Treatment Centers of America® Tulsa. The Daisy Award is an international program that rewards and celebrates the extraordinary, compassionate and skillful care given by nurses every day. And, if you ask Mary, she would tell you that she is fulfilling her calling by caring for patients at CTCA Tulsa.
Mary grew up on a farm in southeast Missouri and lost her father to cancer.
"I was just four years old when my dad was in the hospital battling cancer," she explained. "My family had to sneak me in to visit him, and that entire experience was one that influenced me to go into a career of nursing."
That interest grew into a passion for patient care and nursing as she received her BSN from Arkansas State University, followed by her MSN from Oral Roberts University with an education role and specialty in critical care. She has been employed in various bedside nursing positions throughout her career and served as a faculty and nursing director for nearly 28 years.
Mary got her first introduction to CTCA when she served as a consultant and helped develop policies and procedures for the opening of CTCA's Tulsa hospital. After seeing the culture and positive outlook of the facility's staff, she knew she wanted to be a part of the CTCA family.
"The care that I saw here left a strong impression on me," she said. "I knew I wanted to return to the bedside at CTCA, and now I have been an employee for the past six years."
Mary works at CTCA as a chemotherapy/biotherapy-certified oncology nurse and she manages the care of patients in the ICU night shift as well as inpatient oncology and infusion areas.
Her patients continually compliment her about the high level of care that she provides for them and are so appreciative of the time and love she gives them.
"Mary was my nurse when I began chemotherapy," said one recent patient. "She helped educate me about what was happening and what to expect. She was by my side the whole way."
It's opportunities like this every day that make all the work worth it for Mary.
"I love working with the patients and families here," she said. "Everyone comes to this place with hope, and I am blessed to be a part of their care. Because of my family's history with cancer, that influences how I care for my patients, and I feel privileged to be a part of this wonderful team."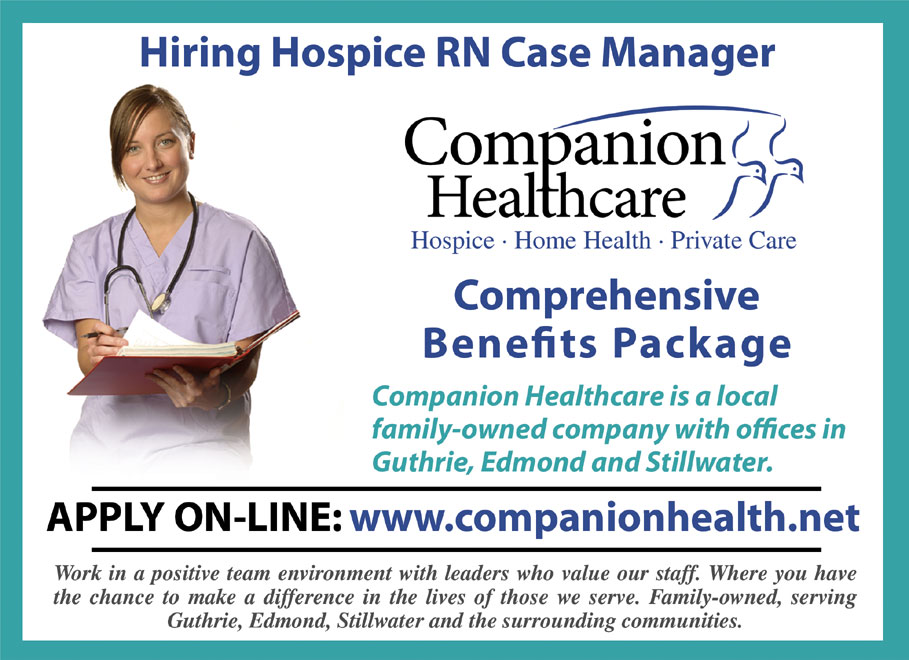 Companion Healthcare Hiring

Hospice RN Case Manager
Comprehensive Benefits Package
Companion Healthcare is a local family-owned company with offices in Guthrie, Edmond and Stillwater.
APPLY ONLINE: www.companionhealth.net
Work in a positive team environment with leaders who value our staff. Where you have the chance to make a difference in the lives of those we serve.
Family-owned, serving Guthrie, Edmond, Stillwater and the surrounding communities.