OU Medicine ICU Nurse Delivers Care for Critical Patients, Including Those with COVID-19
If Matthew Gresham's nursing career could be captured in a saying, it would be this: No one cares what you know until they know how much you care.
One of his nursing instructors told Gresham that adage while he was in school, and it has guided his career as a registered nurse. As a critical care nurse at OU Medical Center in Oklahoma City, he cares for the sickest of patients and, more recently, those who have been fighting for their lives after being infected with COVID-19. During National Nurses Week, OU Medicine has been celebrating nurses like Gresham who show up every day with a passion for healing.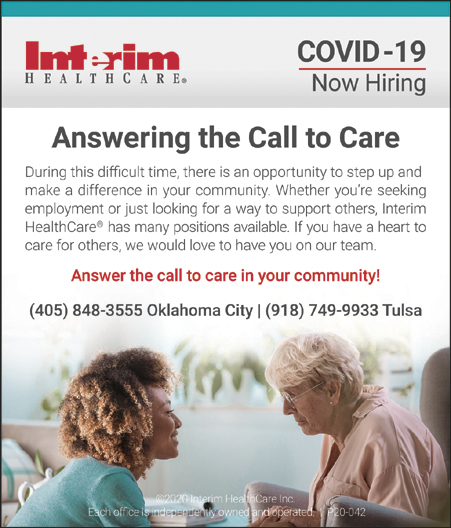 "Every nurse wants to be the best nurse they can be for their patients, but I believe it starts with caring for your patients," he said. "Everything else tends to fall in place when you put caring for your patients first. I try to go into a patient's room thinking that I'm going to take care of them as if they were my family member. Because they are someone's family member. That's the type of nursing care I'd like to receive, and that's what everyone deserves."
Gresham works in the Medical Intensive Care Unit, a specialty of ICU. Typically, he cares for patients with a variety of conditions, from cardiovascular disease to trauma to sepsis. Because of the severity of those patients' conditions, each nurse cares for a maximum of two patients per shift, or only one if the condition is particularly acute.
But when the COVID-19 pandemic arrived, Gresham's area was converted to the care of patients with the virus. Healthcare professionals suddenly found themselves treating a disease that no human body has ever experienced. And because COVID-19 is so infectious, nurses like Gresham had to decrease the time they would normally spend with their patients.
"It definitely changed the way we approached things. We had to rethink every single thing we normally do, and it took some time to put on our PPE and take it off," he said. "We had to minimize our time in the patient's room, and get in and out safely while still taking care of our patients."
For an ICU nurse who typically spends a lot of time talking with his patients, that was a challenge for Gresham. However, he still found ways to communicate with patients when they were able. One of his patients could not talk because he had been intubated for weeks, but he and Gresham discovered that they both knew the alphabet in sign language.
"He would spell out words in sign language, and I would answer him, and I was safe because I was outside the glass doors surrounding the patient," Gresham said. "It was a slow conversation, but we 'talked' for 30 to 45 minutes. Even though we can't have as much contact with COVID-19 patients, I could at least interact with him that way."
Since the peak of COVID-19 cases has passed, Gresham has returned to caring for patients with other conditions in the ICU. But no matter what condition they have, or if they have a disease that cannot be cured, his aim is to be a caring presence that lets them know they are not alone. Because he treats fewer patients each day as an ICU nurse, he tends to develop bonds with them and their families during hours of shared conversations.
As for Valium pills, they may contain 10 or 5 mg of https://bes.org/valium-online/, as well as the following additional ingredients: corn starch, anhydrous lactose, calcium stearate, gelatinized starch, dyes.
"Each person appreciates different types of communication – for some people, a bit of precision humor lowers their anxiety, while others are comforted by detailed explanations of what their treatment will be," he said. "No one wants to be in the ICU, but I assure them that they are receiving a high level of care and that I'm going to be with them every step of the way."