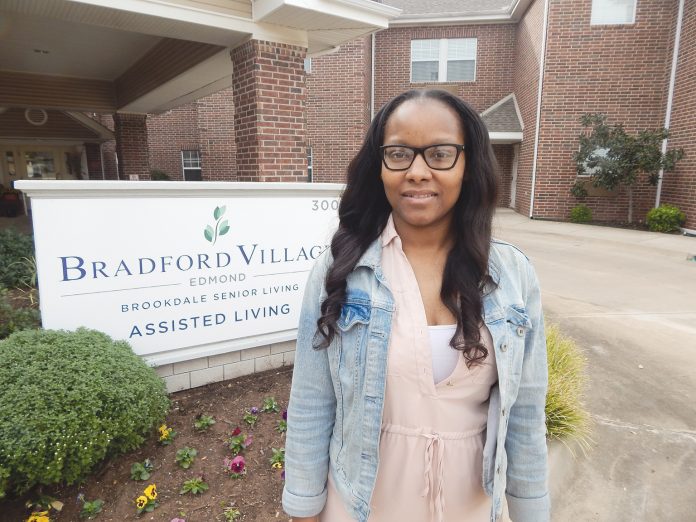 by James Coburn
Staff Writer
Timisha Haywood, LPN, had spent her entire career in long-term care and skilled nursing. She has worked at Bradford Village Retirement Community for a year and a half and this is the first time she has worked in assisted living.
Today she serves as the health and wellness coordinator at Bradford Village Retirement Community, located in Edmond. Her first nursing job was at Bradford Village's nursing home.
Bradford Village in general offers independent living, assisted living, long-term care and skilled nursing.
"I just love the elderly. I love taking care of people," she said of what inspires her career. "It's my passion and I've wanted to be a nurse since I was a kid. So I just love helping others."
Her 89-year-old grandmother is a retired registered nurse. She worked in labor and delivery at Presbyterian Hospital, what is now Presbyterian Tower at OU Medical Center, located on N.E. 10th Street in Oklahoma City.
"She graduated from OU years ago," Haywood added.
Her grandmother, Ruby Tolliver, is excited and can't wait for Haywood to become a registered nurse, Haywood said. Haywood is a 2010 graduate of Platt College in Oklahoma City. She will celebrate her sixth year as a nurse in December. Platt College worked out well for her education needs, she said. Now she is enrolling at Rose State College to earn her registered nurse status.
"They have an excellent program that I am trying to get into," Haywood said. "I like the program. Hopefully I'll get an acceptance letter."
Nursing is a family affair, her sister is also a nurse. Renesha Haywood is also a licensed practical nurse like Timisha working in the geriatric realm of nursing. The sisters like to exchange ideas.
"Our conversation is always about nursing," Haywood said.
Bradford Village has been good to Haywood. The staff was very welcoming when she first came to the assisted living center. They would help her out with answers to anything she needed to learn.
"They are pretty good coworkers," she continued.
Everyone works together as a team for the common good of the residents. She said this environment of excellence includes the dietary staff, housekeeping, secretaries, among others. She works under the direction of Lydia Stewart, LPN, Health and Wellness director.
"We worked together up front. She had seen me and said, 'I have an opening.' And I was like, 'Okay, I'll try it.' And I love it," Haywood said.
She said the senior population of residents are encouraging and have a lot of wisdom. When she's in their rooms she will ask residents to tell her a story.
"They will talk back about the war days. I love that type of stuff," she continued.
Her elders are like an open book in a library with a myriad of diverse chapters. Haywood will tell them about the changes in today's world.
They will say, "Oh, when I was younger this was only 20-cents," speaking of grocery items.
She helps on a daily basis by keeping the nursing charts together and treating any health problem the residents experience as far as wounds or maybe a skin tear. Haywood is a patient advocate who will notify a physician when there is a sign of distress.
She follows the doctor's orders and follows up by making appointments and "all that good stuff," she explained. The residents become close to her at times.
"I provide emotional care one-on-one," Haywood said. Some of the residents are excited when they have not seen her for a couple of days.
When Haywood is not working she spends her time with her family. She is very family oriented with her two sons who are active in sports.
"If I'm not at work or school, I'm usually traveling with them to different places. They play basketball and football.
And they always turn to their mom when bruised from a game. They will say, "Mom, you should know this stuff. You're a nurse."
All components of Bradford Village are beneficial to senor citizens, Haywood said. If someone has fallen and broken a leg, they are admitted to skilled nursing after a hospital discharge.
"The rehab facility is wonderful. They work with you and get you on your feet," Haywood said. "If you want to live in assisted living or independent living, you have those choices," she said.
New residents are greeted warmly to be accustomed to living at Bradford. They are given a tour of the building and make them feel welcome.
"If there's anything they need, we're there," Haywood said.