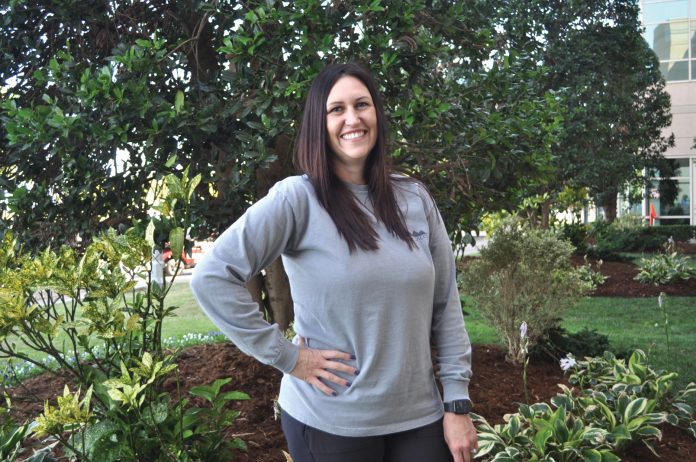 CAREERS IN NURSING
CARING FOR HEART PATIENTS: COMPASSION FROM THE HEART
By Vickie Jenkins, Staff Writer
Anjelica Newcomer, RN works at the Oklahoma Heart Hospital in CCU;  an intensive care unit designated for and pertaining to cardiothoracic care.  She has worked at OHH for six years and  has been a bedside nurse for two years, working for all of the hospital doctors.
Anjelica grew up in Kingfisher, OK and can remember wanting to be a nurse ever since she was a little girl. "I began pursuing education in my teenage years.  I achieved education goals of EMT, Paramedic and then, onto RN.  I worked as a unit clerk/nurse tech through both paramedic school and nursing school.  I attended Oklahoma State University.  After attaining my paramedic license, I worked part-time as a paramedic and retained part-time status as a nurse tech.  Upon completion and obtaining my license, I began working full-time in CCU at Oklahoma Heart Hospital." (story continues below)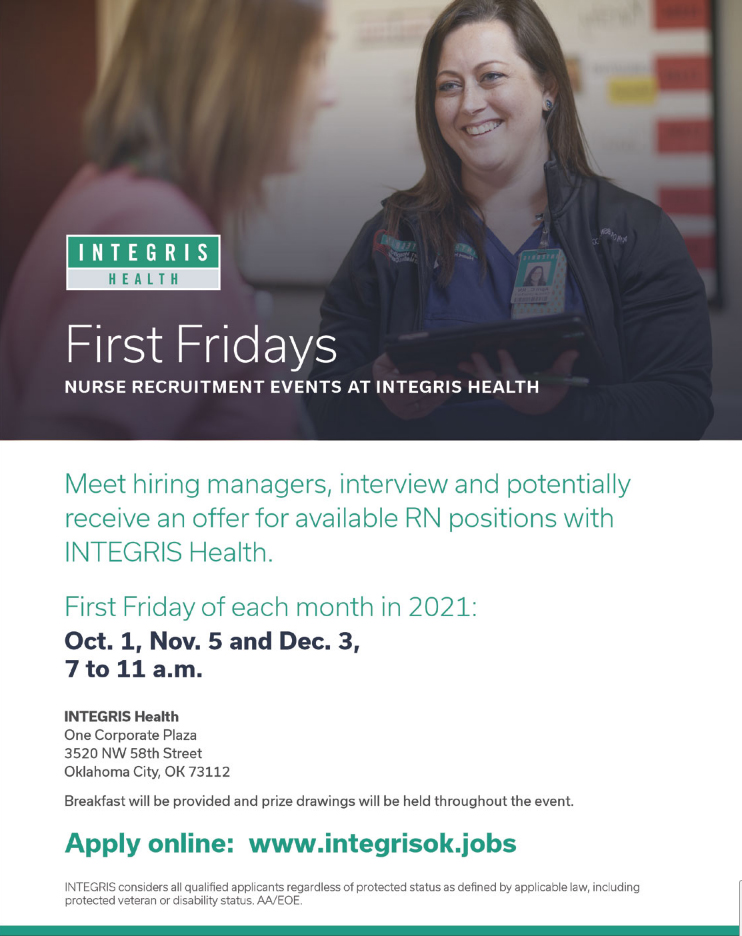 "The reason that I am a nurse is because I feel like I can make a difference and care for people who are potentially facing the end of their lives.  As a child, I lost my grandfather to a sudden cardiac event, and I was able to participate in the recovery following a tragic event that led to my uncle's paralysis.  Those experiences are what drove me into a career of nursing," Anjelica commented.
What is your favorite thing about being a nurse? "It is common for my patients to be intubated and sedated, therefore they cannot speak for themselves. My favorite thing about being a nurse is the ability to advocate for this type of patient.  The biggest reward I see as a nurse is getting to see the efforts we put in to our patients pay off; by seeing sick people get better or get to spend more quality time with their lives."  Anjelica feels like her strongest quality is that she can stay calm when working under pressure in high stress environments.
"On the down side, there is always the challenge in a nursing career of  trying to help people that do not want to be helped. Often times, I am dealing with extremely sick patients who are combative because of their condition or are entirely non-compliant with treatment and care.  Our goal as nurses is to treat people for their conditions and hopefully see them through to discharge.  Combative patients and non-compliant patients are a speed bump in the path to definitive care, but does not prevent us from achieving our goals of making people better."
Is there a typical day for Anjelica's life as a nurse?  "I start my day by checking a white board full of names and assignments.  Once I see my assignment, I go to the patient's area to receive the report from another nurse who is ending their shift as I begin mine.  The patient that I am resuming care of can be anything from a new heart surgery being recovered in the CCU to someone who can be gravely ill, likely to be secondary to a cardiac event.  In addition to providing care to the patient, I am also spending the day educating and/or comforting the family members involved in the patient's care," Anjelica explained.  "I work bedside so I usually see about forty patients per month.  Of course, that number varies," she added.
When asking Anjelica what her best quality of a nurse is, she replied, "Compassion, attentiveness and empathetic."  It is obvious that Anjelica possesses all of these qualities.
"When I was in nursing school, my mentor was my mother-in-law who worked thirty plus years as a nurse and she still continues to be my mentor.  In return, I am a paramedicine lab and clinical instructor. I believe that I am a mentor to the students as well as those people who are new to nursing, or in the medical field in general."
Anjelica's definition of compassion is, "The ability to put all else aside in your life and to provide care for an individual's  needs to include physical, mental and spiritual health." Anjelica's volunteer work includes volunteering in several homeless shelters, free clinics and the Oklahoma City Memorial Marathon medical tent. "I plan to  expand my volunteering services to third world countries with time."
"I am presently continuing my education and completing my BSN with dreams of continuing on to medical school." Anjelica has a passion for learning and continues to set goals and reach them.
"Summing up my life in three words?  Come Home Safely."