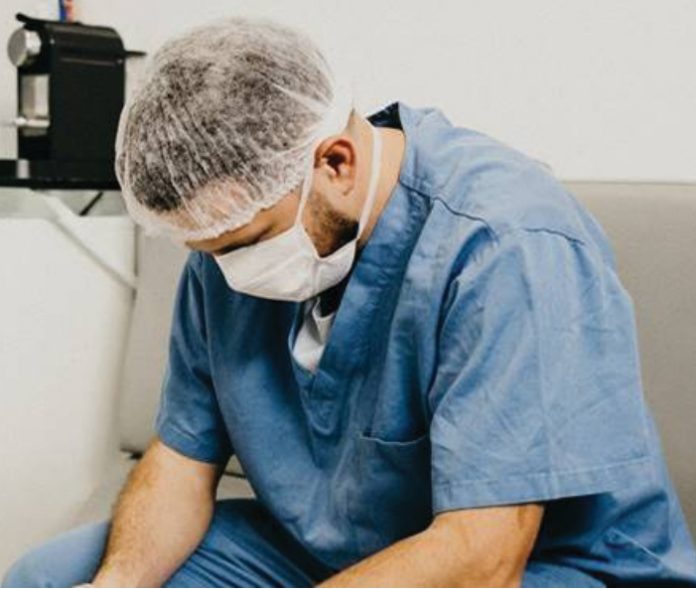 June is Post-Traumatic Stress Disorder (PTSD) Awareness Month. It is intended to raise public awareness about issues related to PTSD, reduce the stigma associated with PTSD and help ensure that those suffering from unseen wounds receive proper treatment.
The American Psychiatric Association describes PTSD as a "psychiatric disorder that can occur in people who have experienced or witnessed a traumatic event such as a natural disaster, a serious accident, a terrorist act, war/combat, rape or other violent personal assault."
At INTEGRIS Health, we recognize the toll the COVID-19 pandemic has taken on caregivers, especially those on the front lines. National surveys report that health care workers are experiencing:
* Emotional exhaustion
* Trouble sleeping
* Physical exhaustion
* Work-related dread
* Physical symptoms
* Compassion fatigue
* Anxiety (generalized)
Kerri Bayer, the Chief Nurse Executive at INTEGRIS Health, says these are natural responses to all they have witnessed in the past year. "Because of COVID-19 our caregivers have seen more death, more isolation and more fear than what is typical. They have worried about and mourned patients, family members and friends. It's been difficult and demanding but they were so busy they were able to suppress and push through."
She adds, "Now that things are starting to relax, many caregivers are finally able to release what they have kept bottled up inside. This can be therapeutic but also unsettling."
You don't have to be in health care to be feeling this way. Symptoms should not be ignored and cannot be expected it to go away on their own. Addressing trauma from COVID-19 is a crucial step to returning to our pre-pandemic lives.
Xanax is an anxiolytic. What is it? It is a tranquilizer, a psychotropic drug, the effect of which is manifested in the elimination of neurotic manifestations: fear, anxiety and emotional tension.Read more at https://miso.moe/xanax-1mg-for-sale/
INTEGRIS Health offers a variety of resources to aid caregivers and physicians who might be suffering from any of the symptoms listed above including:
* Well-being workshops
* RISE – Resilience In Stressful Events (physicians)
* Weekly Zoom meditations, Monthly Health Essentials, Mindfulness Stress Reduction
* Wellness Wednesdays
* Elevating for Excellence
* Suicide Prevention Programs
* Podcasts, outdoor events and leader toolkits coming soon
If you think you or a loved one may be suffering from PTSD or if your PTSD symptoms have worsened due to the pandemic, contact an INTEGRIS Health professional today.
At INTEGRIS Health, treatment and counseling are available for those who have been diagnosed with PTSD. The first step is identifying the problem and speaking with a trusted health care professional about your options.
The staff at INTEGRIS Decisions Mental Health and Addiction Recovery Programs is available if you need help. Decisions offers treatment for both adults and adolescents. Simply call them at 405-717-9840 to learn more about the mental health services offered.
Explore careers for
Registered Nurses
Join our team and you will not only get a competitive payrate, but you'll also receive an excellent total rewards package including paid leave, retirement savings plans, shift differentials, tuition reimbursement, nursing scholarships, and more as a full-time RN.
We're the #1 ranked health system in the state1 and we're looking for talented people like you.
1. U.S. News & World Report!
INTEGRIS Health Bass – Enid, OK
JOB # 726091
RN FT – Nights – Med Surg ICU
JOB # 726350
RN FT – Days – Outpatient-Ambulatory Surgery
INTEGRIS Health Baptist Medical Center
JOB # 725885
RN Infection Preventionist FT – Days – Quality
JOB # 727599
RN FT (7a – 7p) Jim Thorpe Rehab
JOB # 726020
RN FT – Mon – Fri (8:30a – 5p) – Advanced Endoscopy
JOB # 727426
RN FT (7p – 7a) – Cardiothoracic ICU
JOB # 727467
RN OR Circulator FT – Days – Cardiovascular Surgery
JOB # 726934
RN Coordinator Transplant FT – Days – Kidney Acquisition-Living Donor
JOB # 729698
Clinic RN FT Mon-Fri (8a – 5p) – Neurology North Clinic
JOB # 726030
RN FT – Transplant IMC
INTEGRIS Health Canadian Valley Hospital, Yukon, OK
JOB # 725105
i-Flex FT Nights (7p – 7a) Float Pool
JOB # 726037
RN FT (7p – 7a) – Intermediate Care
JOB # 727514
RN FT (7p – 7a) – ICU
JOB # 727867
Nurse Manager FT Women's Center
INTEGRIS Health Edmond
JOB # 726015
ER RN FT MidShift (2p – 2a) – Emergency
JOB # 727934
RN FT (7p – 7a) Jim Thorpe Rehab
JOB # 727610
RN FT (7a – 7p) – Intermediate Care
JOB # 727617
RN FT (7p – 7a) – Intermediate Care
INTEGRIS Health Meadowlake – Enid, OK
JOB # 725899
RN FT – Dual Diagnosis
INTEGRIS Health Southwest Medical Center
JOB # 729928
Manager of Care Management
JOB # 728470
RN – Cardiovascular Care
JOB # 727097
RN Mother Baby/Special FT (7p – 7a)
JOB # 729300
RN Med Surg ICU FT (7p – 7a)
JOB # 729256
ER RN FT – Days (7a – 7p) – Emergency
JOB # 729649
ER RN FT – Nights (7p – 7a) – Emergency
JOB # 726171
RN FT (7p – 7a) Jim Thorpe Rehab
JOB # 725227
RN FT (7p – 7a) Intermediate Care
Integris Cardiovascular Physicians
JOB # 728583
Clinic RN FT – Cardiovascular Community Outreach
Nurse Resident, new graduate opportunities are posted!
Start your nursing career with a proven program of support and mentorship!
The Nurse Resident is a new graduate of an accredited RN program who is eligible to sit for the NCLEX. As a Nurse Resident, you can expect classroom instruction and hands-on clinical experience under the preceptorship of an experienced RN.
Explore Nurse Resident Opportunities Now!
Join us serving the community together.
APPLY NOW
INTEGRIS considers all qualified applicants regardless of protected status as defined by applicable law, including protected veteran or disability status. AA/EOE