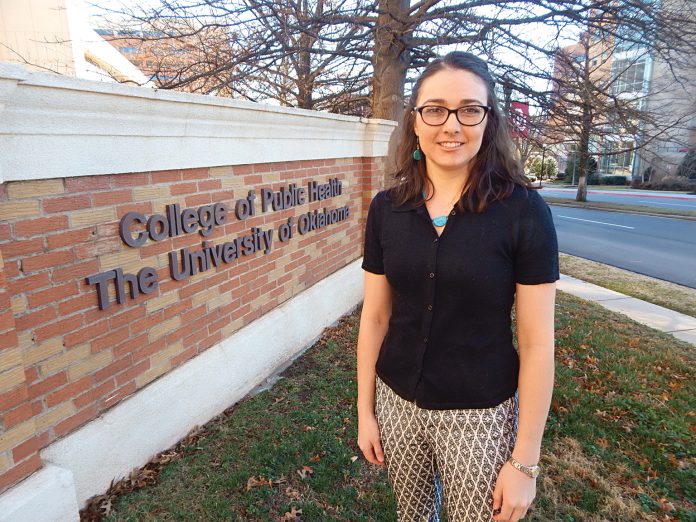 CAREERS IN NURSING
WELLNESS MINDED APPROACH: PUBLIC HEALTH NURSING
by Bobby Anderson – Writer/Photographer
Public Health nursing is a far ranging career attracting more nurses to the field.
Ashton Glover Gatewood, RN, is studying to earn her Masters of Public Health with a focus on Health Administration and Policy at the University of Oklahoma College of Public Health.
"It's a new thing that nurses are starting to do this," said Gatewood, who earned her Bachelor of Science in Nursing degree at the Kramer School of Nursing at Oklahoma City University.
At first she wanted to go into medicine and research. She worked for a couple of small clinics. Gatewood cherishes her experience at the Oklahoma City Indian Clinic, a private nonprofit. All federal recognized tribes come together from many backgrounds.
"It is so focused on health promotion and disease prevention in everything we do," she said. A lifestyle coach helps people with diabetes with fitness activities at no charge. Clients are asked about their diets.
"They'll say, 'Well I eat this fried food at the gas station for dinner half the week because I'm too busy,'" Gatewood said.
They will be referred to a nutritionist who offers cooking classes. An onsite pharmacy is available to adjust insulin dosage. Private counseling rooms are used to educate clients about medication.
"It's not, 'Here's the medication. See you back in a month.' It's a whole lifestyle. We address the health side of illness. I don't know if anyone else is doing that.'"
Public health embodies a wellness minded approach in nursing, she said. A wellness mindset promotes health and disease prevention, she said.
Primary and secondary interventions involve education screening. If the job is well done then people never have to enter tertiary care, said Gatewood, who is Choctaw and Chickasha.
"If we can teach someone about diet and exercise and then promote colon rectal screening, and they do the screening and work on having more roughage in their diet, then they might even never develop colon cancer," Gatewood explained. "We totally prevented that whole scenario."
Public health changes lifestyles and the way people interact with each other in their environment.
"I go home and tell my husband this is why I'm doing what I'm doing," she said.
One day at work an expert came to explain changes in Medicaid. The next day in class the topic was Medicare and Medicaid. The teacher had the class in small groups. Questions were asked such as does health and illness drive insurance or does insurance drive health and illness? The coverage of Medicare and Medicaid was examined regarding federal and state mandates.
"At work the day before I literally had that whole conversation," she said.
Gatewood said she admires her professors for practicing what they teach. She is able to interact as a student and as a professional with her teachers.
"Sometimes when people get up to the point in their career that they are professors, they're kind of out of the active role of their career," she said. "And what I really like about the professors here is I will see them at the Susan G. Koman meeting."
Her life is enriched by where she is in her nursing career. Native Americans for the first time are beginning to show declines in morbidity rates, she said statistics reveal. Whether it is tobacco use, diabetes or hypertension, Native Americans are still one of the top racial groups for those diseases, Gatewood said.
"We're showing a decrease. So it makes me feel like I'm in my community. My community is a community in need and I'm helping them to reach what they need to do to get to the next level," she said. "I would love to not see American Indian on the list."
The college has a huge amount of funding specifically focused on the native population. Gatewood could hardly pick a better school, she said.
Only two or three schools in the country have Indian American study electives, she added. South Dakota University has an online program.
"I was weighing to pros and cons of online and coming to class," she said. "I decided to go to OU because I'm learning how to be a public health professional here in my community. We have the American Indian Research Center here."
For nurses who are interested in their community in public health, there is not a better fit than OU, she said.
Going after a dream with passion is what drives her to push hard for education. "This is our family. This is our people," she said.