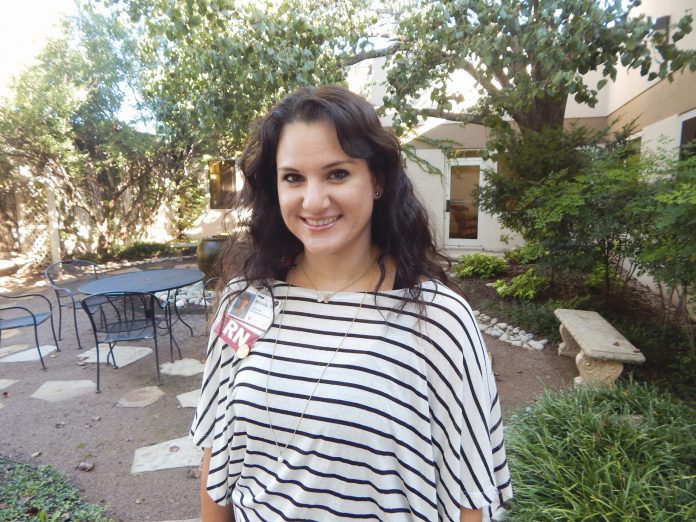 CAREERS IN NURSING
SKILLS AND CONFIDENCE – AT HOME AT OU MEDICAL EDMOND
by James Coburn – Writer/Photographer
Michelle Barker has found her niche working in the recovery room at OU Medical Center Edmond.
"You never know how people are going to wake up. So every day is totally different," said Barker, RN. "The patients are totally different so that keeps it fresh."
She earned a bachelor's degree in journalism and public relations at the University of Central Oklahoma before becoming a registered nurse. She also earned an MBA.
Barker is a registered nurse at OU Medical Center Edmond. She has been a registered nurse for 10 years and a licensed practical nurse for two more years.
She had always wanted to work for a newspaper and did some work in marketing. When she married, Barker began thinking about a nursing career while hearing about a shortage of registered nurses in the United States.
"I always liked moving around. I didn't like sitting that much; I always liked people," Barker said.
So she became an LPN in 11 months. She liked it a lot but knew the work of an LPN is more limited and she wanted the career flexibility offered by being an RN, she said. Barker went to Rose State College where she earned an associate's degree. She had worked in home health but preferred focusing her career in the dynamics only a hospital offers.
She began working in the Neonatal Intensive Care Unit at Children's Hospital at OU Medical Center for four years.
"It just got a little stressful at the end, so I switched over to the children's PACU (post-anesthesia care unit), and I did endoscopies down there, too," she said. "I really liked it."
She had her second son at that time. Her family lives in Edmond and when she saw there was a job opening at the adult PACU at OU Medical Center Edmond four years ago, she transferred there to be closer to home. It only takes her 10 minutes to get to work.
"I really like OU Edmond. Everybody is super friendly here — especially the department I work in," Barker said. "It's a pretty small department. There's only four of us full-time nurses and then we have two PRN people.
"Everybody is so family oriented, friendly, and if you need something everybody is willing to help you."
Nurses need to be prepared for how their patients wake up from surgery. Everyone is different, she said. Serious situations may sometimes arise such as patients having breathing problems.
"So you have to think pretty quickly, too," she said. "Pain control is a big issue, so you have to know about narcotics and work with the anesthesiologists. All our anesthesiologists here are amazing. I love working with them and we all have a really good relationship."
Patients will come out of surgery and she gives them oxygen. Barker links them to a monitor and always looks to their comfort and safety. Then she watches them to make sure they wake up, she said.
"Sometimes people try to jump out of bed and do crazy things, so I keep them safe, watch their vital signs and watch their breathing," Barker said. "If they need pain medicine I'll give that to them. A lot of people get nauseated so I have to give them anti-nausea meds."
Everyone is different. Some people need an extra hour to wake up. They are usually surprised their surgery is finished. Barker does a lot of reorienting. Some of the surgeries last eight hours.
"Those patients wake up and they're just amazed how much time they've lost," Barker said.
A recovery nurse needs to work as a team, be prepared and think quickly, Barker explained. She admires the nursing staff for working together, she said. They are all well-seasoned PACU nurses, she continued.
"Actually all of us have worked together for a while. Three of the four nurses — we've all worked together for four years now. They've been here longer than me, so we can all anticipate what's going to happen or what a person needs," she said. "And so we can jump in and help each other."
All of her past nursing experiences combine to make her a better nurse today, she said, probably because she has seen and been involved as a nurse with different things. Barker said she can pull from different experiences when handling challenges.
"I can say this happened to me one other time and I did this — and that worked," Barker said.
She recalled being a new nursing school graduate and working with babies. At times she was scared to go to work because she never knew what would happen, Barker said.
"Now that I've been a nurse for 12 years, I'm much more confident with my skills. I'm comfortable. It's easier for me to talk to a patient," she added.