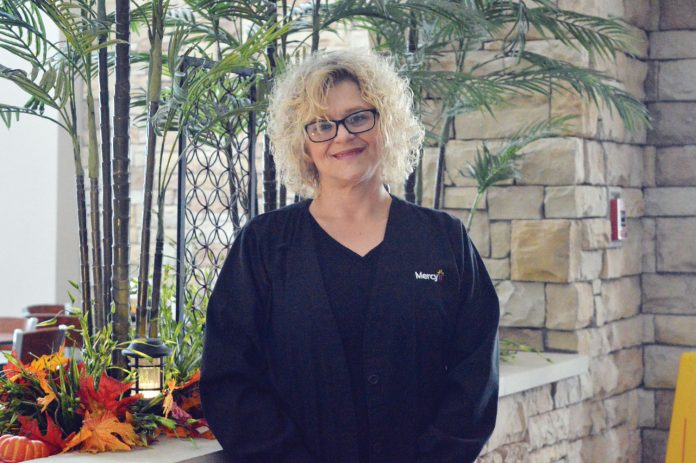 CAREERS IN NURSING
PUTTING COMMUNITY FIRST: MERCY HOSPITAL KINGFISHER
by Traci Chapman – staff writer/photographer
Hannah Powell has moved from New York to Oklahoma and traveled in the military, but her home – and her heart – have been a long-time constant, as she worked to help rural patients and their families find health and healing.
Powell, 44, is director of nursing at Mercy Hospital Kingfisher. Because Kingfisher is a small facility, she also has a myriad of responsibilities – from serving as quality and infection control nurse to overseeing the hospital's emergency department and fielding grievances as MHK feedback manager. It's a lot of work, but it's something she loves every day – not only because of the work itself and the patients she treats, but the people who work alongside her.
"I love the team we have at Mercy Hospital Kingfisher, not only nursing but in all of the departments – all of the departments work cohesively together, which improves the safety and quality of care that is delivered to our patients and community," Powell said. "I am proud to be a member of that team.
"We are a family here at Kingfisher – from those that have been here for a very long time to the new co-workers joining our team," she said. "I love to watch and help with the growth of co-workers and new leaders."
While much of Powell's job involves administrative duties, Kingfisher is unique in that it allows her to stay active in her first love, she said.
"I love that I can still be involved with bedside care, while serving in an administrative role," Powell said.
A lot has changed at the Kingfisher facility in the 17 years Powell has been there. In 2009, the city's original hospital – built during the World War II era and needing extensive repairs that could never bring it into federal compliance – became a thing of the past, as crews completed a 52,000-square-foot building, featuring a digital imaging department that houses a CT scanner and x-ray machines that can forward images directly to departments throughout the hospital, including operating rooms.
The $20 million building also has 25 Medicare and/or Medicaid-certified beds, two labor and delivery and two operating rooms, as well as five private areas for emergency evaluations. The hospital also features a chapel – which the old facility did not have – as well as a small bistro and dining area and gift shop.
Mercy Oklahoma signed an agreement in November 2013 to lease the hospital, after serving as its management company since 2011. In 2017, the National Rural Health Association named Mercy Hospital Kingfisher a top-20 Critical Access Hospital Best Practice in Quality recipient.
The new facility – and then the transition to a Mercy network facility – meant a huge uptick in demand, officials said. In addition to the 25-bed medical-surgical department, the emergency room is comprised of five beds and a two-bed outpatient area. Powell said nursing shortages require the hospital to serve about six to 10 medical/surgical patients at a time, and about 350-400 people utilizes the emergency department monthly.
Powell has been a guiding force in the hospital through all those changes, working as a bedside nurse in every department, as well as manager of surgical services and the emergency department.
"I have served in many positions within the organization," she said. "I currently serve as the director of nursing – responsible for all the nursing departments and our respiratory department and conducting chart audits."
Powell also provides coverage for both emergency and surgical floors and supervises and provides guidance to the 30 nurses currently working at the Kingfisher hospital, while also spearheading quality and infection control and developing and overseeing yearly budgets.
Powell said she loves working in a rural hospital – and for the Mercy nursing director, Kingfisher is not all that different from where she grew up, in rural New York state. The Andover, New York, native attended Alfred State College, located not far from her home. There she obtained an associate nursing degree.
But, nursing wasn't going to be a direct path for the young woman. First, she enlisted in the United States Navy for four years as a yeoman, working on Military Prepositioning Ships serving military cargo haulers.
"We would on and off load the ships, and I served as a crane operator," Powell said. "I spent a few months in Antarctica doing this – it was a once in a lifetime chance."
That chance also changed Powell's life, as she forged a link to Oklahoma. She decided to go back to nursing and obtained her bachelor's degree at Oklahoma City University's Kramer School of Nursing. She also started a family – 12-year-old Hunter, 19-year-old Andrew and Maggie, who died just over three years ago, and who would have been 21.
"I love to help and take care of people," Powell said. "I had a midwife who delivered my second child, whom I admired – and my interactions with her made my mind up to pursue a nursing career."
While Powell wants to continue her education and doesn't know whether she would like to continue in administration or make some changes, she does know how much working in Kingfisher means to her and how special her work family, her patients and the community are to her. Her dedication to that led to her spearheading a hospital fundraising sponsorship committee that provided five families this year with the means to have a happy Thanksgiving and merry Christmas.
"I'm just very lucky to be here and to do what I'm doing," Powell said.