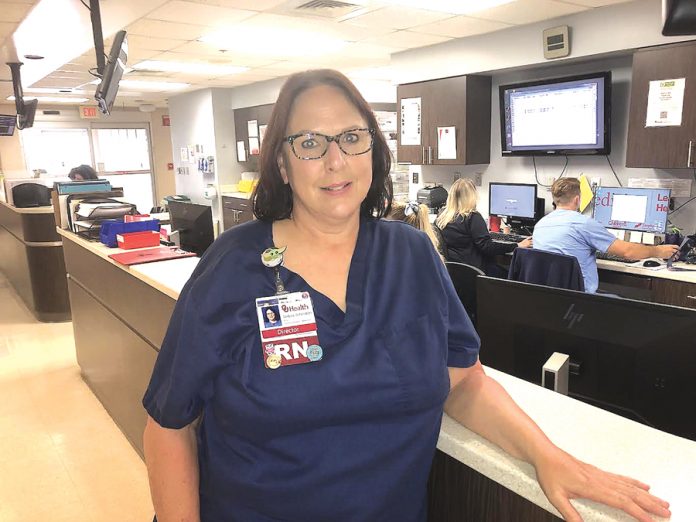 by James Coburn – staff writer
Deborah Johnston doesn't give up. As a registered nurse, she loves the challenge and pace that she has spent as an ER for 28 years.
"I love that you never know what's going to come through the door," said Johnston, emergency room director for OU Health Edmond Medical Center.
Her dedication has never wavered from the ER due to her experiences. She has been with OU Health for four years with the past year as director. She knows how devastating an injury can be to someone. But they don't give up, so neither will she.
"They just keep pushing — they just keep fighting — they just keep getting better. People we didn't think would ever live — when they walk out that door, that's the best thing in the world. If you can do that, I can sure work on my career."
The medical center treats everyone from newborns to geriatrics and everything in-between, Johnston said. Patients arrive at the ER with a simple laceration to the worst day of their lives and everything in-between, the said.
The medical center establishes immediate communication between the nursing staff and the patient and family to keep them informed of the care plan. One nurse for the patient and one nurse for the family answers questions about procedures. (story continues below)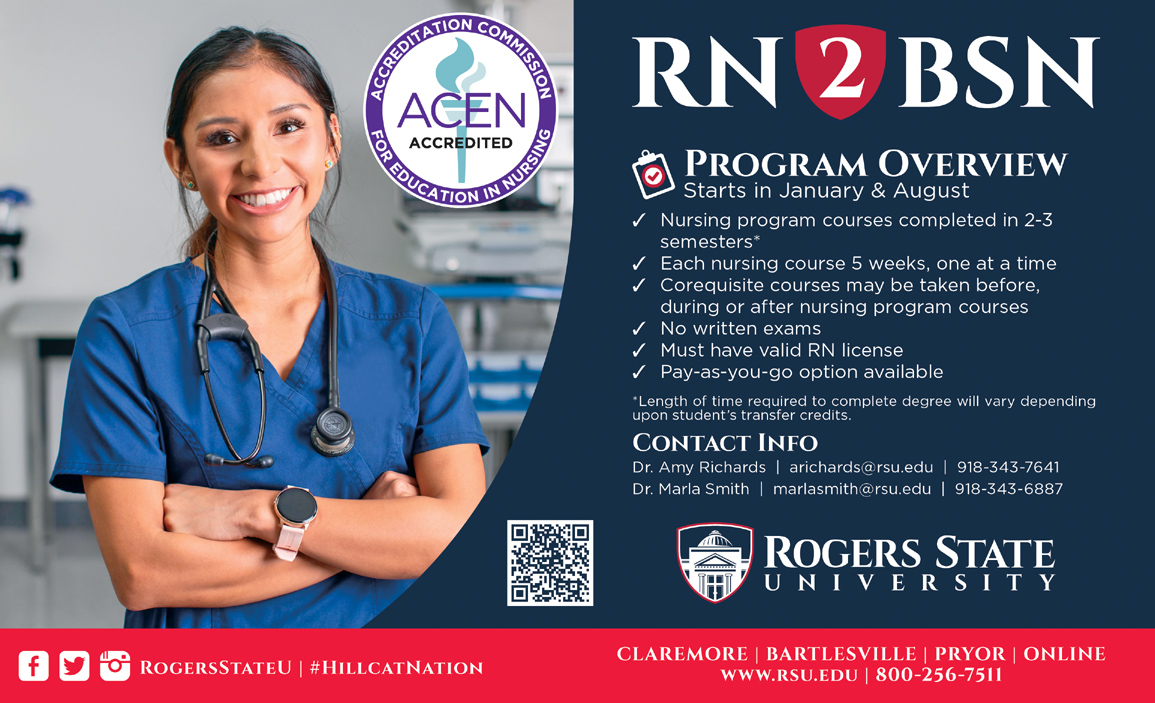 "We keep talking to them. I think the most important thing is to keep them informed with what we are doing, why we are doing it, and how this is looking," Johnston explained. "If it looks one way, we are going to adjust it this way. If it looks different, we are going to try something else. You have to keep that line of communication open. It's so important."
Education is valued. The staff continues to evolve by updating their knowledge in medical care. There is always something new to learn.
Johnson received her Associate degree in nursing at Tarleton State University, located in Stephenville, Texas. Johnston continued to challenge herself by earning her Master and Bachelor of Science in Nursing degrees from Oklahoma Wesleyan University, located in Bartlesville.
Nurses have different specialties. Johnston said, more than anything, the desire to have what it takes is indispensable for an ER nurse. The work is demanding and fast paced.
"You see a lot of critical patients. I think you have to have a real affinity to want to do this job in particular," Johnston said. "It takes a lot, and especially the last couple of years with COVID. That was so demanding, so hard physically, emotionally, mentally in every way," she said.
She is grateful that the pandemic has eased at this time. ER nurses learned they were even tougher than they thought, she said. Anything can be accomplished if they stick together, she added. Many of the nurses changed their roles during the height of the pandemic. Johnson is not an intensive care nurse, but for a period she worked in the ICU.
"I was more of an adjunct for the ICU nurse. I learned a lot of new things, and I also learned by doing that together, there wasn't anything we couldn't do," Johnston said.
Her drive to make a difference sparked as a 13-year-old when her dad died of lung cancer. She remembers a particular nurse who was often at his bedside toward the end of his life.
"It was how nice she was with him. I saw her be that way with everyone I saw her interact with," Johnston said. "And at that point, I thought, 'Man I want to be like her when I grow up. I want to do that. I want to make somebody's day a little better even though I know it's just a terrible day.'"
When someone enters the ER with chest pain and shortness of breath, there is an immediate response. The patient is greeted in the lobby or at the car with a wheelchair. The plan is for the patient not to exert themself anymore at that point.
"We get you back into a stretcher, get you hooked up to all of the monitors, oxygen, get an EKG. By this time the doctor is in the room evaluating you and planning what he wants to order," she said. "We get an IV, get some blood drawn, get some medicine on board — see if we're making progress."
The doctor examines the EKG, chest X-ray and lab work to determine the best course of treatment.
It's imperative to get stroke patients to the nearest emergency department quickly when someone recognizes their symptoms.
A lot of the treatments are based on how much time has passed since the patient was known to be normal.
"That's part of why you want to get it done as fast as possible," Johnston said. "You're losing function each second of delay."
Speed and correctness are essential in the care of a stroke patient.
It's important to keep a parent with a child who enters emergency care.
"It's imperative that you don't separate them because that's really terrifying."
The medical team presents themselves at the child's level eye-to-eye. They calmly speak to the child about what and why they will help them.
"I'm grateful every day I have this career. I don't even call it a job. It's not like coming to work. It's coming to do what you like with the people you like," she said. "There's never a day I wake up and think I wish I didn't have to go there today. It's been the biggest blessing I could have ever imagined. Even more so, I didn't think 28 years later I would still be here."
When she's not serving in the ER, her favorite thing to do is to go to the mountains in Colorado or Wyoming.
"If I can't make it there, I have a couple of donkeys I love to spend time with. I have some dogs and love to hike, anything related to water, reading, and spending time with my family," she said.