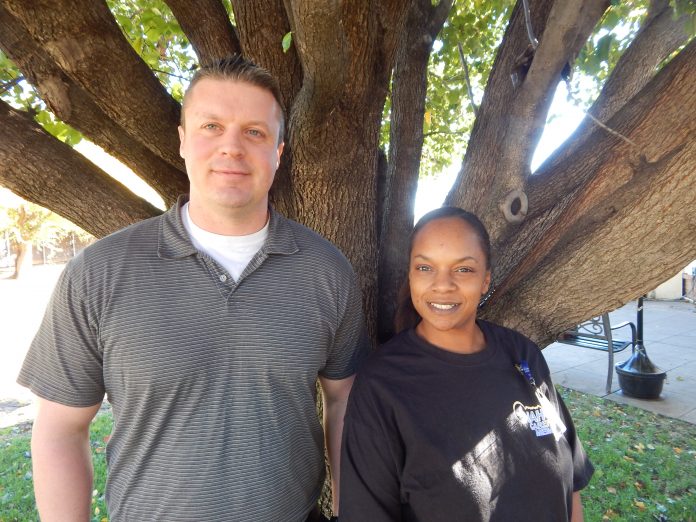 CAREERS IN NURSING
LOVE AT FIRST HAND: NURSING STAFFS INCLUDE CNAs FOR HANDS -ON-CARE
by Mike Lee – Writer
For someone who has been a CNA himself, Darren Glazier knows the role is an incredibly difficult job and one that is indispensable to the hands-on care at Grace Living Center located on NE 21st Street in Oklahoma City.
"It's monumental" said Glazier, RN, administrator. "They're the ones that have the most interaction with residents on a day-to-day basis. A lot of times, they are the eyes and ears for us in the building."
The jobs of the certified nurse aide and the certified medication aide cannot be overstated for the work they do for the Grace nursing staff, residents and the community, Glazier said.
The nature of the duties performed by the nursing staff in general is complex and difficult, he said. A lot of times it can be thankless. But a smile and the commitment to the residents do not go unnoticed, he said.
"We are improving people's lives as much as we can. That's probably where the biggest admiration comes from," he said.
D'John Butler has been a CNA for nearly 18 years. Her role as a CMA began in 2010. Three residents wait for her at the front door every morning.
"If I get here, they know I'm here. If I'm late, they don't go too far," she explained. "They will say, 'Hey, I was waiting for you. I was wondering if you were coming.' The next day when I get here they will say, 'Where have you been? Is everything Okay?'"
"They really look out for me and I like that."
Residents have known Butler since she transitioned her career at Grace Living Center four years ago. Caring for the elderly is why she stays, she said.
"These people are like my grandparents, each and every one of them," Butler said. "I have some here that's probably like my mother and father. They're a little younger. But if somebody needs help everyday somewhere and I can stay here and help them — that's just what I like to do."
Butler traces her inspiration to become a CNA back to the time she was a child and her mother was sick.
"The nurse that used to come see her; I fell in love with her," Butler explained.
She became a CNA knowing nurses do not have enough time to spend with their patients on a one-on-one basis. A CNA has to be something that is heartfelt, she said. It's not just a job to go to for eight hours before clocking out at the end of the day.
"CNA is your job all of the time," Butler said. "You always have to care and you have to be very assertive in some ways. And, you have to be able to anticipate the needs of others."
The culture at Grace is like home. Each of the residents depends on Butler as a family member, she said. All of the planning that goes into the activities the residents enjoy is based on suggestions by the residents.
"It's what they want to do and what makes them happy," Butler said. "I like to come here every day because they're happy and I can help them do the things they want to do."
The residents have a council to voice their concerns regarding the care they receive. Butler said great emphasis is placed on working with the residents to develop practical and caring solutions that meet their needs.
Butler said the nursing staff pulls together as a team. That's what she admires about them. The CNAs are placed in neighborhoods. "If I ever have to work in a different spot, I always know I can go and get this aide and she'll come or he will come," Butler said. "The nurses are always listening. They understand we're the eyes and ears, so if I tell them something, they pretty much trust our judgement and they go see what it is we need." The administrative staff is the best she has ever known. She can joke with them and doesn't have any problems communicating with them, Butler said.
Butler works two and a half jobs as a caregiver. But when she finds time to rejuvenate, she spends time reading.
"Me and my son are watching movies, DC Comics mostly, and I like to cook. I cook and I bring them leftovers," Butler said.