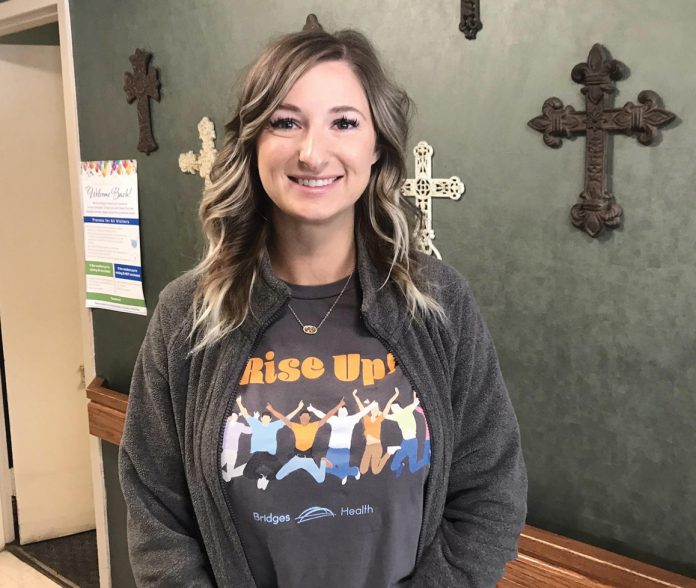 by James Coburn – staff writer
There are meaningful moments Kelsey Golden loves about Wildewood Skilled Nursing and Rehab, located in Oklahoma City. A couple of residents come to see her multiple times a day, said Golden, RN, and director of nursing.
"I think it gives me something to look forward to every day knowing I can make a difference," Golden said. "I can take care of someone's family member and make their day a little bit better."
One quiet gentleman who is hard of hearing will ask her to accompany him outside for a break.
"He'll come grab me. We'll lock arms and we'll go outside," Golden said. "We've got a good relationship. He was kind of a difficult one to get that relationship with. He'll water my plant for me and he's really sweet." (story continues below)
Getting to know the residents is what she cherishes about being a nurse. After being an LPN for two years, Golden earned her nursing degree two years ago at Oklahoma City Community College. She has been with Wildewood Skilled Nursing and Rehab for two years.
"I came from an ER. There we see them for a couple of hours, get them stabilized and send them to the floor," Golden said. "Here these patients are with us for quite a while, so I can see them and see how they progress. I like seeing that progression, how they were when they come to us and how they do throughout the time they spend here."
She is supportive of the hard-working nursing staff. The family atmosphere involves everyone. They light up the halls with humor rather than just doing their jobs and going home. They make a positive difference in the lives of residents and the staff themselves, Golden said.
"They're here all the time picking up extra shifts and caring for the residents. It makes a good work environment," she added.
Residents have a say in what their activities are. Some of them like going to the casino at Remington Park, a movie theatre or the zoo. And once a month, all the directors form three or four groups to take part in their own activities with the residents. They learn of the residents' interests and the residents learn more about their lives, too.
"We do have a younger population here. It's not your typical 80 or 90-year-olds. We have 20, 30, 40-year-olds here," she said.
Some of the residents had been at the Oklahoma City Rescue Mission, others in need were brought to Wildewood by family members who could no longer care for them. Golden said some of residents were in need of having their psychiatric medicine regulated and have them stabilized before going out and doing everyday things they enjoy.
A large portion of the residents don't have family members visit them. Their families may have dropped them off at Wildewood Skilled Nursing and Rehab and then they never returned.
"Knowing that — they're looking forward to us to come and spend time with them," Golden said. "I really enjoy that. It makes me feel good about my job and lets me know that I chose the right career path."
One of the residents had struggled with anger issues when he first came to Wildewood. Golden is one who listens. The man now knows that he can come share conversation with her at any time, she said. She is keenly available. Golden said not everyone in his life has known how to properly deal with his anger issues.
"Knowing that I can makes me feel good about that. We have a great relationship. He has never felt the need to argue with me or be hateful to me or get upset and angry," Golden explained. "That makes me feel really good and feel that I'm doing something right."
Golden also pointed out the quality of her CNAs who do the lions share of personal care for residents. One CNA who is studying to become a certified medication aide has excelled in helping the staff with their restorative program and staffing.
"We actually hired her uncertified and we got her trained and certified. And she is one of the best CNAs that we have," Golden said.
Whenever she does not have enough time during her shift to complete giving baths to residents — she will work late until residents feel fresh and clean.
Golden got her CNA license upon graduating from high school and has been working in the medical field since she was 18.
She advanced to being a medical assistant, LPN, and RN.
CNAs are hard workers who deserve a raise, she said.
"They do the hard part of nursing that not everyone wants to do," she said.
So, in June, Wildewood Skilled Nursing and Rehab celebrated the indispensable role CNAs perform.
"This is where I feel like I will probably be the rest of my nursing career," she said.