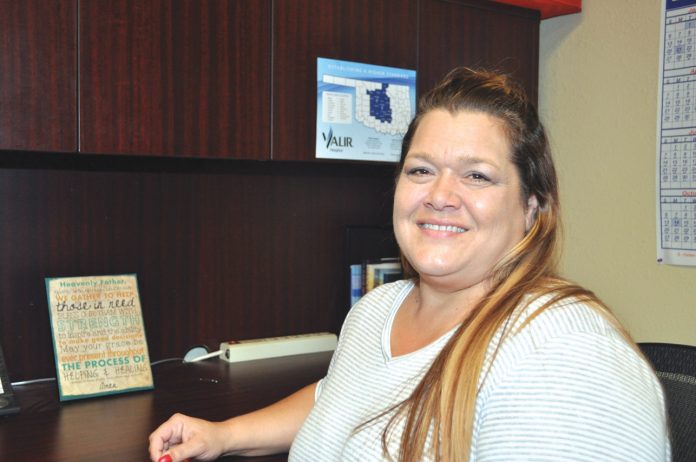 by Vickie Jenkins – Writer/Photographer
Hospice care: Care designed to give supportive care to people in the final phase of a terminal illness and focus on comfort and quality of life, rather than cure.
It takes special people to work for Hospice. One special person is Keisha Newson, RN working at Valir Hospice Care. Keisha is the Director of Clinical Operations. Growing up in Okemah, OK, Keisha attended school at Moore Norman Technology Center for her LPN and Platt College for her RN.
Keisha has been a nurse for fourteen years and has been with Valir for almost five years. "I love my job here," Keisha said. "Ever since I was in high school, I knew that I wanted to be a nurse. I have always liked helping people. Here at Valir, I am the one that assigns the nurses and aides where they need to go and when. I am in charge of the clinical and that means that there are about thirty to thirty-five nurses and aides that I deal with. The others fifteen are non-clinical and our Vice President covers the social workers, chaplains and the volunteers," Keisha stated. "We have a satellite office in Kingfisher and between the two offices, we cover people in several counties; Enid, Watonga, Pauls Valley, Chickasha and even Wewoka. We stay pretty busy. Sometimes, a nurse will travel quite a way to see a patient; it could be a patient that needs to have someone there with them for four hours or it could be several days. I do the assessments on the patients to see if they qualify for Hospice. I'll admit that it takes a special kind of person to travel and care for terminally-ill patients."
Asking Keisha what her main focus is about her job, she replied, "We need to make sure the patient is as comfortable as possible, and talking with the family members when their loved one is close to passing is very important. I realize it is a hard time for anyone to go through. My first job as a nurse was working in a nursing home. I feel like I can handle the older patients and their families better than some," she said. "I feel like working with Hospice was my calling," Keisha added.
Asking Keisha to describe herself, she said, "I am definitely a straight-forward person. I tell it like it is! I like being my own self and I always stand up for what is right. I feel like I am very dependable in everything. I do have another side to me, "she said. "I have a real passion and compassion when it comes to taking care of older people. I have a lot of respect for others. I guess you could say that is my softer side," she said with a smile. Keisha's motivation comes from her family. "They keep me going," she added.
What qualities do you think make a good nurse? "I think a nurse needs to have passion and compassion and really care about the patient. They need to be sympathetic and empathetic and be dependable. They also need to know that they are not just taking care of a patient; it is extended to the family of that patient. And above all, they need to feel that certain love that comes from the heart," Keisha replied.
What did you want to be when you were a little girl? "When I was little, I wanted to grow up to be a nurse or a teacher. My grandmother had a lot of medical problems and was at the doctor quite a bit. I knew how she was taken care of by the nurses and I admired them for really caring about her. That is when I decided to go into the medical field and set my goal to go to nursing school. I am glad that I chose to be a nurse and I can't image doing anything else. I can't imagine myself as a teacher," Keisha laughed.
Keisha is married to her husband, Darren and they have five children, age twelve to twenty-one. "We also have one grandson, Xayden, who sixteen months old," she said. Keisha has two pit-bulls, Sadie and Kuno. "They really are good dogs," Keisha said. Keisha's hobbies include spending time with her family, traveling whenever she is able to, and she loves baking with her twelve year old daughter.
Summing up Keisha's life in one word, "That would be, AMAZING", she said with a smile.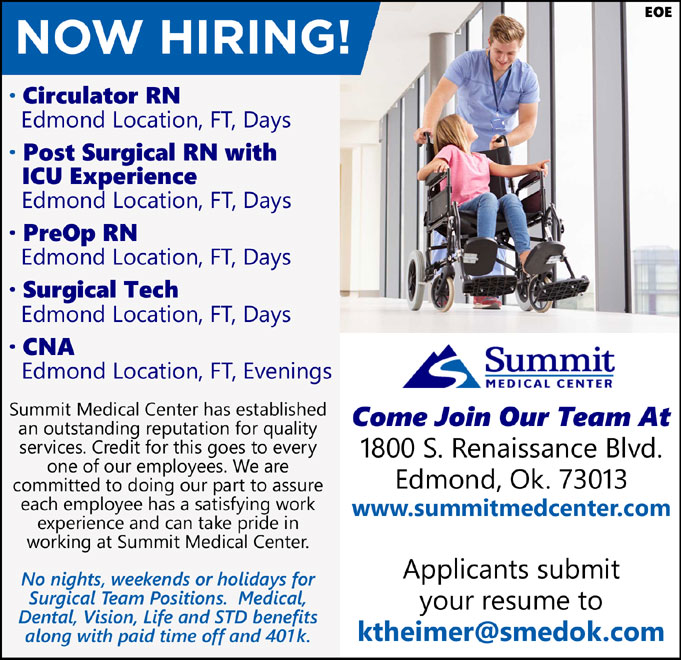 NOW HIRING!
· Circulator RN
Edmond Location, FT, Days
· Post Surgical RN with
ICU Experience
Edmond Location, FT, Days
· PreOp RN
Edmond Location, FT, Days
· Surgical Tech
Edmond Location, FT, Days
· CNA
Edmond Location, FT, Evenings
Summit Medical Center has established an outstanding reputation for quality services. Credit for this goes to every one of our employees.
We are committed to doing our part to assure each employee has a satisfying work experience and can take pride in working at Summit Medical Center.
No nights, weekends or holidays for Surgical Team Positions. Medical, Dental, Vision, Life and STD benefits along with paid time off and 401k.
Summit Medical Center
Come Join Our Team At
1800 S. Renaissance Blvd.
Edmond, OK 73013
www.summitmedcenter.com
Applicants submit
your resume to ktheimer@smedok.com