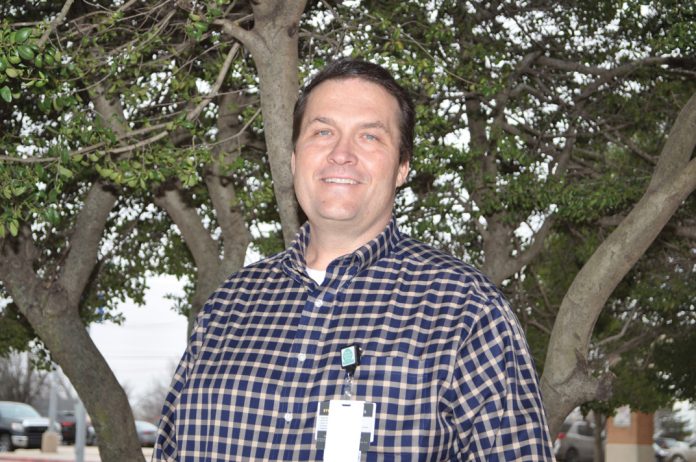 CAREERS IN NURSING
DIRECTOR OF SURGICAL SERVICES: INTEGRIS DEACONESS
by Vickie Jenkins – Writer/Photographer
Meet John Stark, RN, BSN, Director of Surgical Services. Friendly and outgoing, he is known by his staff, co-workers and patients as always having a smile on his face, followed with a 'good morning.' Who could ask for a better Director?
The Department of Surgical Services at Integris Deaconess includes sterile processing and supplies, operating rooms, outpatient services, pre-admitting team and Endoscopy. John has 82 people under him as their Director which is a big responsibility in itself.
The Surgical Service unit is equipped with state-of-the-art instruments and scopes for general surgical procedures. These rooms are spacious, and designed with efficiency and safety in mind.
John grew up in Grove, OK. He became interested in the medical field when his sister was working in the Human Relations in the Nursing Department. "I was visiting my sister quite often and that is when I decided I would go school to be a nurse. So, I guess you could say that my sister had quite an influence on me. One mentor that stands out to me was my preceptor, Rosa Maladies, RN who was a tremendous help to me when I was at Integris Southwest," John stated.
What qualities make a good nurse? "I think a nurse needs to be caring, willing to serve, open minded and definitely willing to change lives," John said.
What is your biggest reward with your job? "Working in the OR, it is the people you see coming in with serious problems and diseases knowing that we are helping them, making them better. It is a great feeling knowing that I am a part of that. I think it is for any nurse," he commented. What is your biggest challenge? "The biggest challenge in health care is trying to keep the patient and the organizations to go in the same direction. Health care is changing all the time. Also, trying to keep the patients to have a positive outlook, letting them know that they are moving forward but it can be rough at times," John replied.
John has quite the experience in the medical field. He has been a nurse for 28 years. "I started out as an orderly and then a nurse tech. From there, I worked as a Recovery Nurse, Level One Trauma at OU, Supervisor of OR Recovery at Integris Southwest and a few hospitals in-between. I plan on getting my Masters in Health and Administration in February 2019," John said.
I asked John to describe himself. "I am definitely a family man and enjoy spending time with my wife and three children. I love God and I do the Lord's work, helping people, including patients, staff and anywhere I can. I believe in taking care of myself so I can take care of others. I consider myself a leader, a hard worker willing to put the work in, doing my best. I like being a teacher and giving others a learning opportunity instead of discipline actions. I try to stay positive in everything I do." John replied.
A typical day for John starts out with safety huddles. The purpose of the unit based safety huddle is to increase safety awareness among nursing staff and to identify ways to help ensure that safety measures are in place for the safety of our patients. Next, I meet with the administration safety huddle team. After that, it's like running around with a bucket full of water, putting the fires out," he said with a laugh. "We manage to get those fires out," he added.
John, what advice would you give to someone going into the medical field? "I would tell them not to take certain things personal. If there is a problem, deal with it as quick as possible, don't put it off. Nursing can be a stressful job; just relax and stay positive. It can be rough at times, yet it is one of the most rewarding jobs there is and well worth the hard work."
It was October 1, 2018 when Integris Baptist Hospital bought AllianceHealth Deaconess Hospital. I spoke with John Stark, RN, BSN, Director of Surgical Services at Integris Deaconess about the transition. "I couldn't be happier. I'll have to say, things are so much better now. Integris Baptist has made improvements in a lot of different areas around the hospital. I can see some big changes ahead, all for the better," John replied.