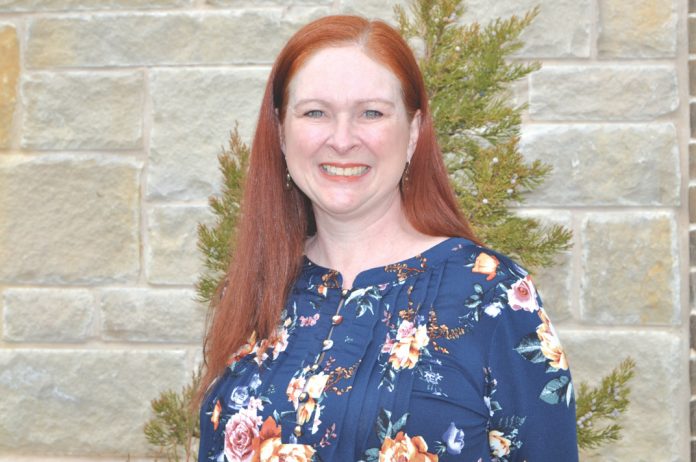 by Vickie Jenkins – Writer/Photographer
Iris Memory Care of Edmond is the residential alternative to traditional Assisted Living. Unlike other Memory Care communities which have an access of 40 residents in a building, Iris Memory Care has two separate buildings that are built for a maximum of 20 residents each. All of the residents here have some sort of memory issues. Building A is for residents with severe memory loss and building B is for the residents that have a higher functioning level; able to participate in some of the activities on their own, yet still need assistance.
Heather Elliott, LPN is the Wellness Director of Iris Memory Care and has been a nurse for 15 years. Heather was born in California and lived in Idaho, Nevada and graduated high school in Oregon. She moved to Oklahoma City 15 years ago and became a nurse. Heather has worked in several hospitals and several assisted living facilities and has been here at Iris Memory Care for a little over a year. "I like working in the assisted living facilities more than the hospitals. It lets me develop a relationship with the residents and their families. I enjoy getting to know them, going through the whole journey of their life," she said. "It also allows me to be an advocate and the go-between if there is not a family member around. Sometimes, the caregivers that work here may be the only people they see. We try to make the resident's stay here as comfortable as we can," Heather added.
What is your favorite part of the job? All of the residents here have memory issues. Most of the time, they don't remember details of what's going on. We see that confused expression on their face. Then, we see their facial expression relax and we know they feel safe. We try to deal with each resident in the best way we can," she said.
What is your biggest challenge? "I think that would be the way some of the residents try to hold on to their independence. Sometimes, it just can't happen like that and the resident doesn't understand why they can't have everything just like it was before," Heather replied.
What are the qualities of a nurse or caregiver working in an assisted living home? "Working here at assisted living, the person would have to be very patient all the time. A nurse would need to have a genuine love from their heart. This is not a shift job! It's a lot of work and a lot of time consuming stories that you will hear over and over but in the long run, it is a very rewarding, heartfelt job but it is all worth it in the end," Heather answered.
Heather's biggest asset at work is making sure everyone has the right attitude going into their day with those around them. "We have very caring and loving workers here and I know all of us take care of the residents the best way we know how. Things run smoothly and everyone is happy," Heather said.
When I was little, I always wanted to be a lawyer. I guess I began thinking about being a nurse when I took my responsibilities a little more seriously. My nana was a nurse and two of my aunts were nurses. I thought I would give it a try. Now, I can't see myself doing anything else. In fact, I see myself working in the medical field in five, ten years from now. I have a license for Administrator so perhaps, the Administrative Director of an Assisted Living Facility.
Heather is married, has four kids, five grandkids and a grandchild on the way. "I like to spend as much time as I can with the kids and grandkids. My hobbies include reading, crocheting and taking care of my Huskie and St. Bernard, along with the many cats that we seem to accumulate," she said with a laugh.
Asking Heather to describe herself, she said that she is a wife, mother, grandmother and a caring individual. "I believe that God gives us all a gift and my gift is as a nurse. Not just any nurse though, a nurse that works in Geriatrics," she replied.
Heather's words of wisdom are "Don't give up on your dream and always remember, it might look like clouds outside but the https://alldaypill.com/tramadol/ sun is always there," she said.
Summing up Heather's life in one word, OPTIMISTIC.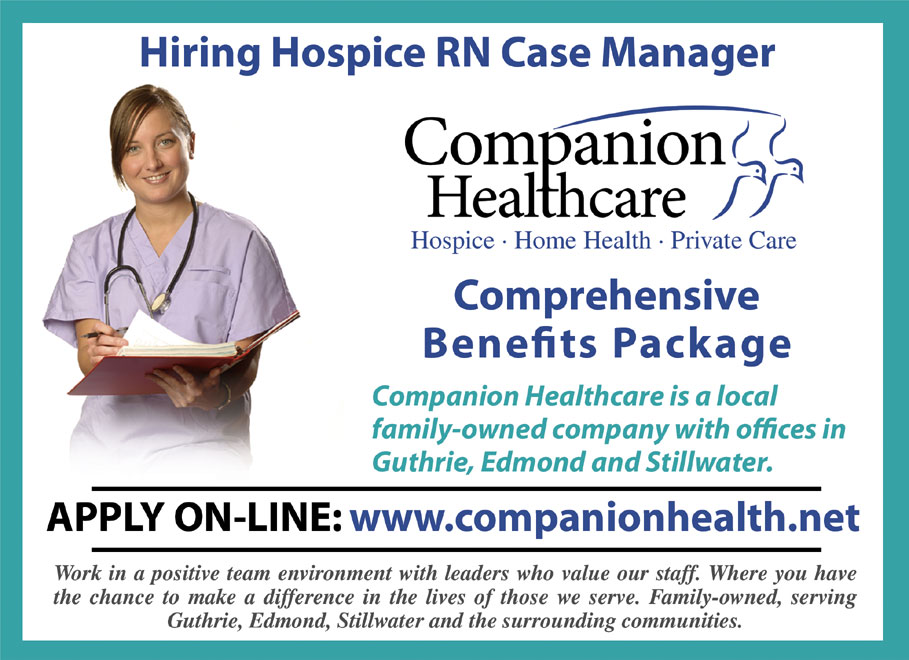 Companion Healthcare
Hiring Hospice RN Case

Manager

Comprehensive Benefits Package

Companion Healthcare is a local family-owned company with offices in Guthrie, Edmond and Stillwater.

APPLY ONLINE: www.companionhealth.net

Work in a positive team environment with leaders who value our staff. Where you have the chance to make a difference in the lives of those we serve.
Family-owned, serving Guthrie, Edmond, Stillwater and the surrounding communities.