CAREERS IN NURSING: AGONY OF DE FEET – TOTAL FOOT AND ANKLE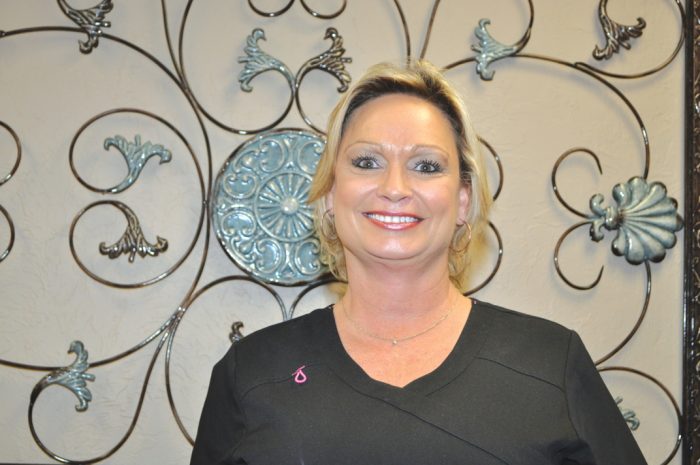 by Vickie Jenkins – Writer/Photographer
Did you know that much of your physical pain stems from your feet and that pain can be eliminated? Welcome to Total Foot and Ankle, located at 3330 N.W. 56, Suite 6, in Oklahoma City, OK. Here you will see Dr. Scott Shields, a podiatry specialist. You will also see Tina Bridges, CPMA.
Tina grew up in Wetumka, Oklahoma, a small town in S.E. Oklahoma. "I have worked with podiatry for a little over 20 years now, working for different doctors in Oklahoma City. I have been at this location, working for Dr. Shields for 6 years. I love my job and can't see doing anything else," Tina said.
Tina's typical day at work varies from day to day. "We see about 20 to 30 patients a day but that can change at the last minute, depending on different factors, like the weather or the patient's situations. I take the patient back to the room and find out what is going on with them. Most of the time, the patients come in and their feet are killing them. They want some relief and that is what we are here to do. After an x-ray and talking to Dr. Shields, he has an answer for the patient," Tina said. "I go over the treatments with the patients. We try to take care of the patient's problem as soon as we can. We try to make the patient feel as comfortable as we are able," Tina said.
"I love seeing the patients and getting to know them. I love to meet new people. Talking is my favorite thing to do," Tina commented with a laugh. "I am definitely a people person," she added. "In fact, I've never met a stranger."
What qualities make a good nurse? "Well, I think a nurse needs a lot of patience for her patients. The way I see it, you have to listen to your patient and focus on what they need ASAP. My biggest challenge is when the patient doesn't listen to the doctor, and they really don't do what he is telling them to do. When they don't listen to the doctor, really listen, it slows down their healing process and sometimes, if they don't comply, it is like a step back and it puts them back to when they first came to see Dr. Shields," Tina replied. "My advice, do exactly what Dr. Shields says to do," she added.
Tina has quite a few family members in the medical field. "My grandmother was an LPN, my aunt Rita and I worked together for Dr. Wade at one time and we still work together here for Dr. Shields. I guess I just followed in their footstep as far as that goes," she said. "It's kind of like a family tradition now."
What advice would you give someone going into the medical field? "The best thing I could tell someone is, pay attention no matter what! You are there to learn. Do not quit! When you work for a doctor, cling to his every word. If you do dictation for him, it has to be right! Why, it has to be perfect! One little mistake could make a big difference," Tina replied.
Now, a few facts about Tina. When Tina was a little girl, she had a dream of being a racecar driver. Tina has two sons 32 and 21. She has two dogs; one Blue Heeler, Herder and one Mutt, Sissy. Tina's hobbies include gardening, anything outdoors, pool side entertainment and the most exciting hobby, RACING CARS. She grew up racing cars at the fairgrounds on the dirt track. She loves the NHRA (National Hot rod Association) racecars and NASCARS. (National Associate for Stock Cars) Tina, a sweet and gentle person at work, a need for speed, racing cars in her spare time! Ha…Who would have known?
Asking Tina to describe herself, she said, "I'm just a fun-loving out-going girl," she laughed. "I want to be known for my happy self and my contagious smile. The words I lives by, "Don't be that guy!" Last but not least, she was asked to sum up her life in one word. "WOW!"
All in all, Tina is a loving, caring individual that takes care of the patients. She is also a bit of a dare devil, seeking the adventurous life on a race track! Tina, you have the bests of both worlds!