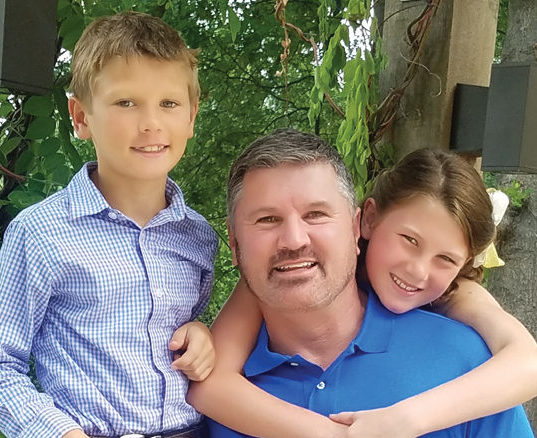 CAREERS IN NURSING
ADVANCED NURSE PRACTITIONER JOINS CTCA TULSA TEAM
by Mary Waller, Tulsa
Nurse practitioner, veteran, business owner and teacher. These are a few titles that describe Gus D. Canaday, Jr., APRN-CNP who recently joined Cancer Treatment Centers of America (CTCA) in Tulsa in the hospital's Quality of Life department. In his new role as an advanced nurse practitioner, he will provide primary and palliative care, from diagnosis to treatment, to patients with all types of cancers.
Canaday brings more than 17 years of direct patient care as a nurse practitioner to his role at CTCA and another seven years of registered nurse experience in several hospital ICU and ER departments. In addition, he is a former clinic business owner and veteran medic for the Army National Guard.
Many clinical settings shaped Canaday's career. He served in a Veteran's Affairs Hospital in both Denver and Dallas as an ICU cardiac/thoracic nurse and later in rural Oklahoma as an ICU and emergency nurse for the Indian Health Service. A desire to expand his opportunities led Canaday to establish and operate an allergy clinic for four years. Following that success, he founded and served as CEO of Green Country Family Clinic (2001-2016) in an underserved Tulsa community. In these roles, he continued to serve patient needs, while also sharpening his acumen in leadership and management.
Throughout his diverse nursing background, Canaday has grown in his commitment to practicing evidence-based medicine that encompasses a holistic approach and has always remained an ardent patient advocate. He strives to ensure quality of care as well as open lines of communication between all members of each medical setting he is a member of.
Teaching is another skill Canaday possesses. He served as an adjunct faculty member and preceptor at Ball State University from 2015-2016 for family nurse practitioner students and continues to lecture at the University of Oklahoma-Tulsa. In addition, Canaday is fluent in medical Spanish and currently serves as the Tulsa Metro Region Representative for the Association of Oklahoma Nurse Practitioners. His breadth of experience enables him to pay-it-forward as a mentor, resource and motivator to others.
Canaday graduated in 1993 with a Bachelor of Science in Nursing from the University of Colorado (CU), where he received the Veteran Academic Scholarship Award. CU is where the Nurse Practitioner Program began in 1965, championed by Loretta Ford and physician Henry Silver, and spurred new programs in the Social Security Administration to expand service to low-income children, women, the elderly and people with disabilities. Many of Canaday's professors were the original nurse practitioners who pioneered the profession and their mentorship instilled in him an exceptional foundation.
He continued this advancement of the profession and was one of the beginning nurse practitioner pioneers in Oklahoma by owning and operating an independent, stand-alone medical practice for the underserved in Tulsa.
In 2000, he graduated from the University of Oklahoma Health Sciences Center with a Master's of Science degree in the nurse practitioner program and became board certified as a specialty Family Nurse Practitioner.
"We are thrilled to have Gus Canaday Jr. join our team of talented and compassionate oncology nurses," said Jay Foley, CTCA interim president and CEO. "During his time in private practice, Gus's reputation as a caring nurse practitioner spread throughout the community. His experience and passion to be a servant leader is an incredible benefit to our patients and their caregivers."
Canaday shared that he is excited for his new role at CTCA. "I sincerely enjoy working with a group of professional and kind cancer experts dedicated to providing compassionate care to their patients," he said. "CTCA creates a wonderful team-spirited environment which overflows into top-notch quality care to their patients."
"I am thrilled to be focusing my energy on patient care," added Canaday. "My goal is to treat my patients, and speak to their family members, with dignity no matter what they're going through. I enjoy caring for their whole being… honoring the physical, mental, psychological, intellectual and spiritual selves."
A proud dad to nine-year-old twins (a boy and a girl), he enjoys time away from the hospital with his family. Canaday loves being an active father, being involved in his church and traveling to explore new places. An avid outdoorsman, he also believes living a healthy lifestyle through good nutrition, daily activity and meditation, and most importantly keeping a positive mindset.