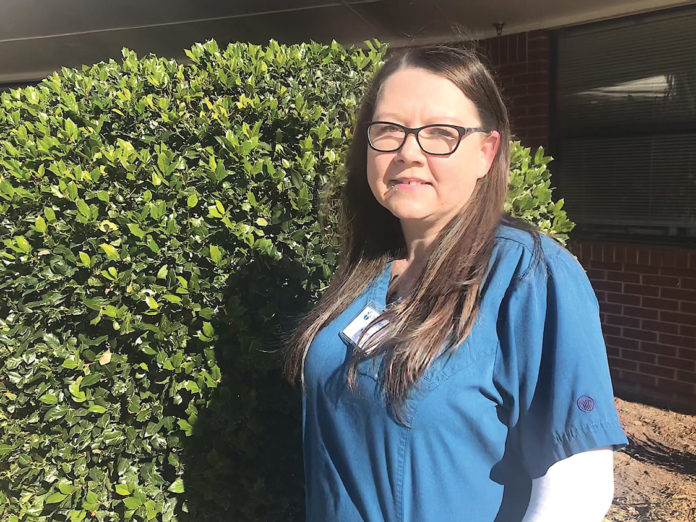 by James Coburn – staff writer
Melody Webb's career at The Timbers Skilled Nursing & Therapy has been a surprising one, she said. She has witnessed patients recover from COVID-19 who were once near death.
The coronavirus is a highly contagious disease, so patients living with COVID don't have the comfort of their families in the room with them. And Webb has been quite familiar by working two or three shifts a week with patients on the COVID hall, she said.
She wears the N95 mask with a surgical mask worn on top of it for extra protection, along with a face shield, and a gown and gloves. Afterwards, her personal protective equipment is discarded due to contamination. (story continues below)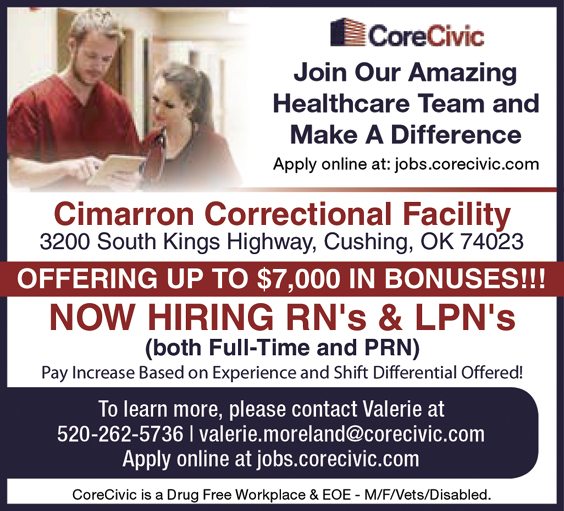 Webb wears new equipment each time she enters a room where a patient is diagnosed with COVID-19. Meticulous hand washing and best practices have proven to be beneficial to the staff and patients.
She sanitizes her work area by wiping it down at the beginning of her work shift each day.
"Whenever we first got the outbreak originally, I volunteered to work on that side because even a lot of the nurses and aides didn't want to work with it," she said. "I think my strength just comes from God and wanting to help my patients get better. I really do everything that I can to still have them feel a little bit of normalcy. They get frustrated and they get sad and depressed. I just try my best to be there for them."
But COVID patients have a lot to live for. Many of them recover and Webb has witnessed patients recover their health.
"Some of them have been pretty much at death's door and they'll bounce back again. It's pretty amazing."
Patients have been in their early 50s and as old as 102. It helps the nursing staff to see patients fight for their recovery.
"We're their fighting with them, and it gives us hope that they're going to make it through. It's a wonderful feeling to see them thriving whenever they were just so awfully sick with COVID. It's kind of like you celebrate the little wins there," she said.
Family members are updated regularly about the lives of their loved ones. Many of the COVID patients have tele-visits from their rooms with their families and friends.
"They also like to do the window visit," she said. "And we'll get them up next to the window and open up the shade there."
The staff tries to include COVID patients in activities whenever possible because life becomes very lonely for them, Webb said. She has even taken her cell phone for a patient to speak to their family members on it, Webb said. But they don't hold the phones.
Patients will also give thanks by smiling with their eyes.
"We get lots and lots of thanks from our residents. With COVID it does make it a little bit more difficult to express smiles and stuff. They've got masks on and it's hard to see somebody smile, but they're very appreciative to us," Webb said. "It's just very challenging for us with all the equipment that we need to stay safe and keep our residents safe," Webb said. "It makes it a little more difficult, but I think it makes it more worth it, also."
She has found a lot of support for health care workers at The Timbers. The community is recognizing the dedicated work of nurses as they respond to patients' needs. Patients' family members have expressed their gratitude by bringing the nurses and staff comfort food for their compassionate care. She only wishes that the entire community would wear masks to help health care workers remain safe from COVID-19.
"I encourage everybody to wear a mask," she said. "I mean I know the percentage of recoveries is high for the virus, but I don't think people are considering the elderly are immune compromised people that have a tougher time with fighting it off."
Webb came to The Timbers a year ago after receiving the LPN training in Tennessee and where she worked with geriatrics patients with special needs. In Tennessee she also worked at a skilled facility. When she and her husband moved to Edmond, Webb found The Timbers a convenient place to work with her children attending grade school across the street at Orvis Risner Elementary.
She goes an extra mile by adding a sense of normalcy to the working environment during an unprecedented time. When working during Thanksgiving Day, Webb wore a head band with turkeys on it, and the activities director passed out trail mix to the residents.
"We tried to have a lot of fun with it," she said.