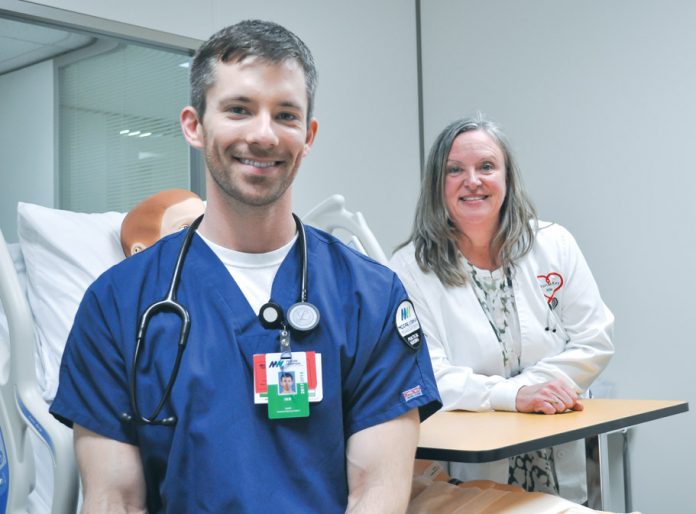 This June Ian Donovan will graduate as a licensed practical nurse from Moore Norman Technology Center.
After 10 months of study, he'll enter a career field he's dreamed about.
Donovan's original education track took him through the University of Oklahoma with a degree in multidisciplinary studies degree.
But with a family full of medical professionals – including a grandmother and sister who are nurses – Donovan always felt the pull toward the medical field.
"It works on multiple levels," Donovan explained of nursing. "There's a selfish aspect because you want to find something that's fulfilling and then there's the aspect where you're helping people. And you're working in the medical field and I've always wanted to do that."
Pursuing his registered nursing license as well as a BSN are in Donovan's future.
In fact, nearly 90 percent of Moore Norman Technology Center practical nursing graduates go on to advance their nursing education.
The way he's learning at MNTC is just a good start.
"As far as the classroom I like the way we learn," he said. "We learn in writing, practice it and within a week or so we're hands-on. In clinicals you get to see the circle of life."
Lorain McKay, MSN, RN, is one of Donovan's instructors. It's her job to make sure he's prepared to enter the medical field this summer.
"I think what any nursing instructor wants is for their students to walk away feeling at least a competent novice and they feel strong enough to go out there and on their first job learn the additional skills they will need," McKay said. "None of us graduate (knowing it all). We want them to leave with those competencies and those ethics.
"Personally, I also want them to leave nursing school with a passion for nursing."
That passion is vital to being a success in nursing. But nursing isn't for everyone.
That's why McKay likes the path MNTC lays out for those wanting to get into health care in as little as 10 months.
"It lets them get into the medical field and get a taste of it and understand whether they like it or not," McKay said. "You can also work in the field and see if you like it and go on. It's a great stepping stone."
McKay didn't start her career 25 years ago as an LPN but often wishes she would have.
"It starts at the bedside and then each step after that goes a little bit more and a little bit more," she said. "This is the starting of it and where you really set your habits."
"There are many health systems that are going back to team nursing," McKay continued. "I think we'll see in the next few years LPNs having a lot more opportunities in the acute-care setting. Bringing those different levels back into the hospital will really add a depth that I don't think people realize they're missing."
APPLICATIONS DUE NOW
The practical nursing application period is now open until noon on Friday, May 18, 2018 for classes beginning August 2018 for the daytime session.
Applications for the evening session will continue to be received until noon on Thursday, September 27, 2018, or until further notice.
This program prepares students to care for ill, injured, convalescent, and disabled patients in hospitals, clinics, doctor's offices, private homes, long term care facilities, other medical care facilities, and even clinical research.
Duties vary depending on each state's nurse practice act (regulations). Students provide basic nursing care, perform assessments and administer care to clients under the direct supervision of physicians, dentists or registered nurses. They are responsible for supervision of Certified Nurse Aides, Certified Medication Aides, and Advanced Unlicensed Assistants.