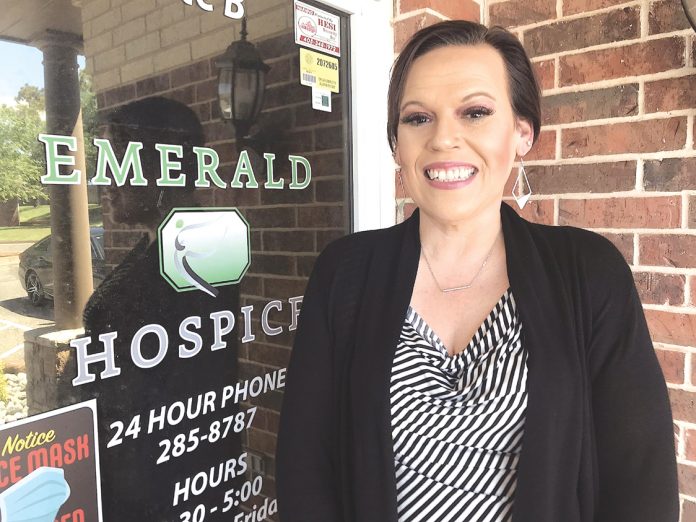 story and photo by James Coburn, Staff Writer
Hospice was not the path that Brandy Davis thought her nursing career would take. She didn't think that becoming close to a patient before watching them pass is something she wanted to do.
"But God had another plan for me," said Davis, RN, regional clinical coordinator for all three Emerald Hospice offices in Oklahoma. "I think God put me into hospice for a reason. Coming into this world is a beautiful thing but leaving this world doesn't have to be traumatic. It can be a beautiful process."
Her nursing background includes rehab, case management. When she was in RN school at Connors State College in Muskogee, Davis became the first LPN hired by Emerald Hospice nearly nine years ago. She later became the director of nursing at the Wagoner office.
Nobody comes into the world the same way, neither to they take the same trip out, Davis said. Helping people pass comfortably and honoring their wishes of symptom management means a lot to the patient and their loved ones.
"We can play their favorite song or a favorite hymn from church — they get a peace — they just relax and slowly pass," she said. (story continues below)
Patients do not come on hospice expecting to pass that day, which is sometimes a stigma associated with hospice, she said. Patients usually live for weeks or months. Helping them to live out their best wishes of making trips or planning favorite events is rewarding for a hospice nurse.
"We've had some that go across country, and we set up spots with hospices when they are traveling. They are there for a day or two and that hospice was there, and they've been able to fulfill their dreams."
Some patients may be in a nursing home and might be without access to Braum's ice cream. Emerald Hospice staff will venture to get their ice cream, just to make their day. Hospice is not only about being the nurse, the CNA, social worker or chaplain. A hospice career requires a passion for it, because it can take a toll on the person. The Emerald Hospice staff's loyalty is why she remains loyal to the company. There is a lot of education provided to the families, she said. Families grieve the loss of their loved ones before that loved one dies. However, they can depend on the knowledge and kindness of Emerald Hospice.
"They don't teach us how to help somebody be comfortable with end of life in nursing school. So, we learn a lot from doing this," she said. "So, when you're dealing with families that don't have a medical background, it takes a lot of education, and my team is amazing. They go above and beyond to make sure our patients are being taken care of, and that their families are taken care of, and that they understand why this is happening and what to expect next."
Davis has a place in her heart for every patient she meets. There are some whom she has developed deeper relationships with because they were on service for a long time. Their families become part of her family, she said.
"They want to know about you because it's so intimate when you start talking about dying. It's just different, so the relationships you can develop with families are different from some other fields of nursing," Davis continued. "We go into their home. We are providing personal care at their most vulnerable times. I think that is why my personality fit with the opportunity to do hospice."
Being a primary caregiver is difficult for a family member when someone needs 24/7 care. Being a hospice nurse has taught her to appreciate and enjoy each day she is alive. Anybody could learn today or tomorrow they are living with a terminal disease. During the COVID pandemic, Davis encountered patients with heart disease or cancer who did not go to a hospital because it was too crowded with COVID patients. Patients are returning to hospitals now that COVID cases have decreased to a new normal, she said. Some of these patients are learning for the first time that their cancer has metastasized. Their prognosis is not good, so she is seeing more of these types of patients entering hospice care.
Death does not take a holiday. But all nursing careers include special people who share a rewarding journey benefiting patients' lives.
"They need somebody to help them understand that God is in control. I am not in control of whenever you leave this world. Whatever you believe in, there's a higher power managing that. That's not me, but what I can do is help you be comfortable and help you have quality of life," she said.
One of the families asked Davis to choose a song to play at their loved one's funeral. And Davis is always grateful when families recognize her in their loved one's obituaries.
"To know that I made such an impact on that family that they honored me by mentioning me with their family, I knew I was doing something right," she said.
For more information about Emerald Hospice visit: http://emeraldhospice.com/.