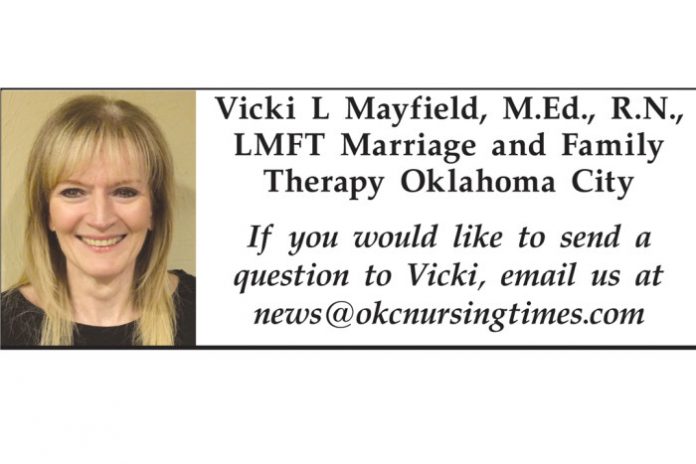 Q. I have a very close friend who was diagnosed with cancer almost two years ago. Most of the time I think I am dealing with it while working and taking care of my family but recently I realized maybe I wasn't. How do you cope when someone you love is dying?     Jenny
This is Jenny's story:
I was on a short business trip and found myself in Target to get some allergy medicine. I was walking down the aisle and all of a sudden I felt this overwhelming sadness. I was surprised by the intensity of the feeling. I was working really hard not to cry. I bought my medicine and went to my car. I started to cry, no, I was sobbing. I could not stop. I could not see to drive so I continued crying until I could make my way back to the hotel.
At the hotel I cried more. I finally fell asleep, exhausted. When I woke up I felt better. in a strange kind of way. I could not remember when I shed any tears. I think maybe I would not let tears surface. After all, I had a job and a family that needed me, there was no time to break down. AND my friend needed me, I could not cry in front of her.
It is a strange feeling to know someone is dying and you don't know what to do for them. She is taking a new drug and the doctor's are hopeful. I am hopeful!!. I want this to be a bad movie, one that I can just get up and walk out because I don't like it. A bad dream that ends when I wake up.
A. To you Jenny:
Grief is a gut wrenching emotion. People deal with grief in different ways and some people do not deal with it at all. The body stores all emotions, even the ones we are not thinking about. So when you are buying allergy medicine and you are hit with heavy emotion………your body is preparing you for release…….here come the tears.
Tears are a good thing, it is the body thawing from the buildup of emotions. Crying/sobbing/weeping releases the energy of grief.
Sometimes Jenny there just isn't anything we can do except be in the moment. Be with your friend in silence, conversation or holding her hand. When you are not with her, take care of you. Live life one day at a time. And if the tears come……..let them out.
Vicki L Mayfield, M.Ed., R.N., LMFT Marriage and Family Therapy Oklahoma City
If you would like to send a question to Vicki, email us at [email protected]