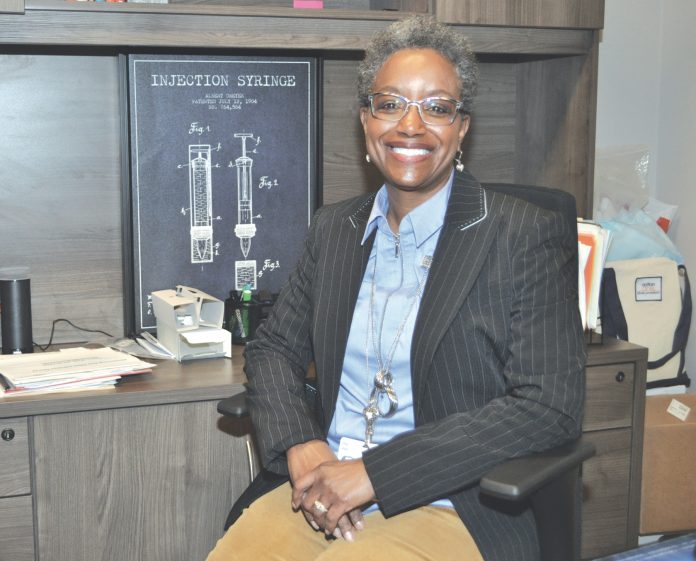 by Vickie Jenkins, Staff Writer
OptionOne is a specialty pharmacy providing home and alternate-site infusion therapies through a comprehensive clinical approach to patient care. There expert team guides each patient through customized infusion therapy support using high-touch monitoring and personalized service.
OptionOne distributes and administers IV treatments to patients who are diagnosed with acute and chronic illnesses, most often focusing on IV antibiotics, total parenteral nutrition, and chronic disease treatments for conditions such as Crohn's Disease, Ulcerative Colitis, Rheumatoid Arthritis, and Immune Deficiencies.
Meet Iris Hall, RN and Director of Clinical Education at OptionOne Pharmacy, where she has worked for almost five years. "I was born to be a nurse," Iris commented. "I've been a nurse for over 30 years now and I can't imagine doing anything else with my life," she added. Iris is also a Certified Immunoglobulin Nurse and has received several awards for her outstanding work.
Iris was raised in Muskogee, OK. As a child, she admired her mother for being a nurse, watching her care for others. "It was natural for me to take care of my siblings when they got hurt," she said. "One time, my mother was at work when my sister got hurt. All of a sudden, I was my sister's nurse! I do believe I invented one of the first SteriStrips around at that time. Later, my mother told me that I wrapped her quite well." she said with a laugh.
Graduating from high school and also being a CNA, Iris had already begun her journey into the medical field. As a nurse, her first job was working with the new born babies at an OKC hospital. From there, she worked at Children's Hospital, where she got plenty of experience with children, learning along the way. "I was driven to do my best in everything. I wanted to succeed to perfection," Iris commented. "I believe God puts on our heart what we are to do and we should do everything with a level of integrity."
What qualities make a good nurse? "I think a nurse working with infusions needs to have excellent critical thinking skills. They need to have a desire to keep learning. The medical field is full of constant changes and as nurses, we need to conform to the changes and never stop learning," Iris replied.
The nurses here at OptionOne do a variety of infusions, learn about the different treatment plans, diagnosis, IV placements, and compassion for the patients. They also deal with insurance companies and the newly introduced medications that are ever changing. The Infusion nurses travel to patients' homes and work in the specialized infusion suites. The nurses become their own advocate, communicating with their patients in special ways.
What is your favorite part of your job? "My favorite part of my job is training the patients and educating the nurses. Helping others is so important to me. I want to support that person in any way that I can," Iris replied.
Asking Iris what her biggest asset that she contributes to her job is, she answered, "I think that would be my clinical base knowledge. I have a desire to learn more. If I don't have the answer, I research until I find it."
How would you describe yourself? "That is so hard for me to do." Iris paused. "When I think of myself, I just think, ME. I know I have an effect on people in different ways. I feel like I am an unintentional mentor with intentional compassion. I have a strong desire to move forward and learn more and keep going. I've always been like that. I am thankful to my parents for instilling that in me," Iris answered.
Iris enjoys spending time with her wonderful husband, Sean, and her two sons and daughter-in-law. Iris and Sean have six grandchildren, ranging from age two years to 19. She also enjoys growing indoor plants, taking care of her flowerbed in the springtime and loves all kinds of dancing. "When the music starts, I start moving," she said with a smile. Iris and her husband offer premarital coaching at their church, along with being praise and worship leaders for second to fifth graders every Sunday.
"Life is a learning tree. I want to help others, guiding them, encouraging them so they can have confidence in whatever they do," Iris commented. Summing up Iris's life in one word? "Overcomer," she said. It is easy to see why Iris Hall, RN is Director of Clinical Education. It shows!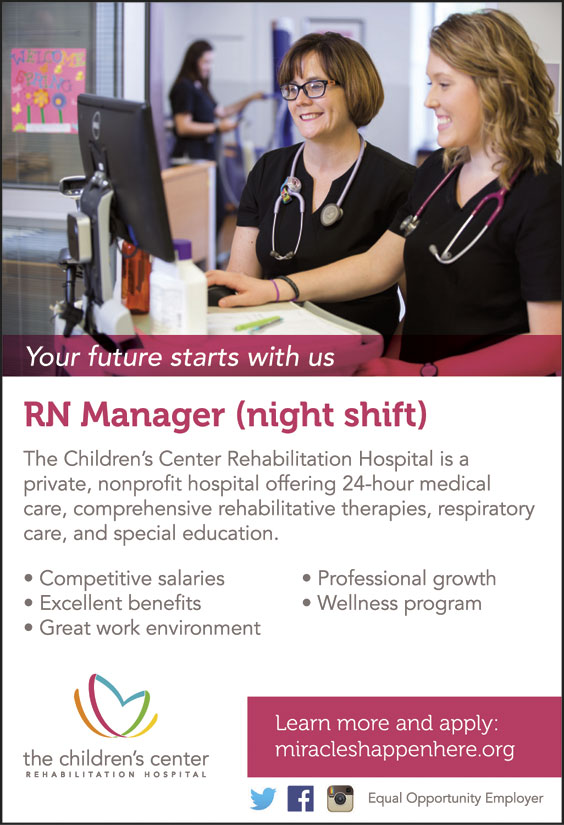 Your future starts with us
RN Manager (night shift)
The Children's Center Rehabilitation Hospital is a private, nonprofit hospital offering 24-hour medical care, comprehensive rehabilitative therapies, respiratory care, and special education.
· Competitive salaries · Excellent benefits · Great work environment · Professional growth · Wellness program
The Children's Center Rehabilitation Hospital
Learn more and apply: miracleshappenhere.org
EOE