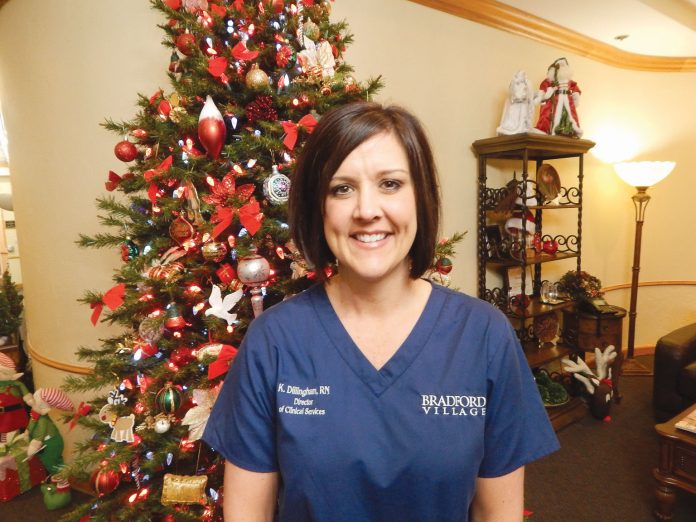 by James Coburn
Staff Writer
Sometimes the role of geriatric nursing care does not get the appreciation it deserves, said Kary Dillingham, RN, director of nursing, Bradford Village Retirement Community. It is something many nurses don't consider, she said.
"I love the elderly population and I think that we need really good nurses, good CNAs and good CMAs in this field because of the reputation that nursing home do have," Dillingham said. "So we need those good nurses."
The perception of nursing homes has changed in the public eye through the years. Dillingham said nursing home are now valued as a place for elders to live their remaining years with the quality of life they deserve.
"They have lived long, good and sometimes hard lives," she said. "I want the end of their life to be the best that it can be in comfort. I want it to be their home. I want them to feel protected and they have people to rely on."
Dillingham was originally an LPN starting in 1993 before earning her nursing degree at Rose State College in Midwest City in 2014. She recently completed her first year serving residents at Bradford Village. She has always worked in the realm of geriatric care.
She began at Spanish Cove in Yukon for five years and then worked at Ranchwood Nursing Center for 15 years.
"At Ranchwood I was their ADON," she said.
Her sister is also a registered nurse, so when Dillingham was 18 she began considering a nursing career for herself. Dillingham would listen to the stories her sister would tell.
"I've always been caring. I want to help people and have that nature," Dillingham said. "I feel like I'm a good listener. I was like, 'I think that I can do that. I want to be a nurse.'"
She originally thought as an LPN that she would go straight toward becoming a registered nurse, but family life with children delayed her pursuit.
Her leisure time is spent with her family. Her sons are now 21 and 26 years old. She and her husband remain closely involved in their lives. She likes shopping and reading and is an Oklahoma City Thunder fan. She's ready to return to work weekdays or when needed.
Today Dillingham is where she wants to be in serving others.
Adapting to living in a nursing home can be a challenge for some people when they have lived independently for many years, she said. They may come to share a room, she said. So Dillingham wants their new home to be the best experience possible for them. The staff and other residents help new residents feel a friendly sense of place abundant at Bradford Village.
"Our nurse managers make a point to go and introduce ourselves to all the new admits. We want them to know who we are, what we do and they can come to us at any time," Dillingham said.
Dillingham does not want the new residents to feel overwhelmed by meeting a myriad of people, she said.
"We want them to know that we are the one person that they could call upon," Dillingham continued. The activity director makes a point to introduce herself as well and tries to introduce them to activity events.
"She will say, 'Let's invite them to activities today. Let's make them feel a part of the home.' That's kind of how we like to get everybody involved," Dillingham said.
Those residents attending the skilled unit are coming in for rehabilitation and hopefully will return home, she added. That is the goal for patients in rehab. But once it is determined a resident needs long-term care, Bradford Village welcomes them.
"I like that with the elderly you hear so many unique and different stories. I like to sit with them and visit with them and hear their life story," Dillingham said. "We might hear they're here for a broken hip or they're here because they are on hospice and have cancer. But they have a story to tell."
"It's very interesting to listen about their lives and how they grew up and the families that they raised. How many kids they had and the jobs they had."
Many of the residents bring pictures from home which is something Dillingham enjoys seeing. The elders represent a cross section of daily life. They only happen to be older.
"Unfortunately they get to a point where they can't take care of themselves and are requiring more care," she said.
Caring for them as a nurse requires compassion and caring spirit, Dillingham noted. Patience is of value because it's important to make introductions and explain the role of a staff member when introduced, she said.
"Take your time with them. That's really important," Dillingham explained. "Understanding and empathy are among a whole lot of things that nurses need."
Family members are important components of care when they have been appointed Power of Attorney or have been appointed to have a say in the residents' medical decisions.
"Definitely a key to making the residents and the families happy is communication and being honest," Dillingham said.