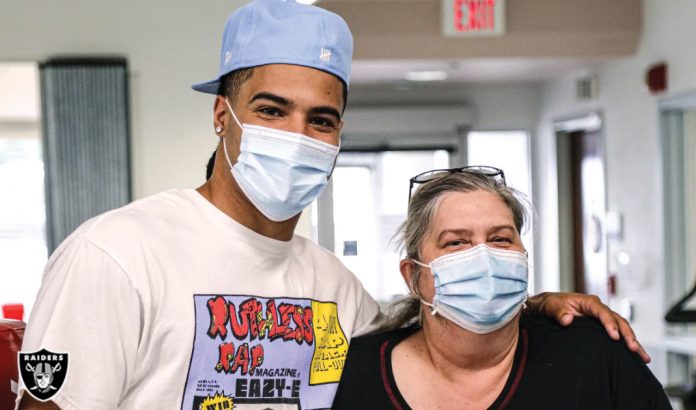 Paycom Jim Thorpe Award Winner Trevon Moehrig toured the Jim Thorpe Rehabilitation facility at INTEGRIS Southwest Medical Center today, visiting with patients and signing autographs.
It was quite a treat, as the Paycom Jim Thorpe Award is given annually to the top defensive back in college football. "It was a great honor to have Trevon take time out of his schedule to come motivate and inspire our patients," says Keith Wilton, the director of Jim Thorpe Rehabilitation. "We know the Jim Thorpe Award is about more than what happens on the football field. It is largely based on character as well, and Trevon's exceptional character was on full display today."
Trevon Moehrig is now a Las Vegas Raider. He was a safety at Texas Christian University. Not only did he shine in his career as a Horned Frog, but he is leaving one of the greatest legacies ever for a TCU defensive back. In January, he became the first TCU player to win the Paycom Jim Thorpe Award. He's still in disbelief. "I thought man, this is crazy," he said. "You play football when you're a kid and see guys get this award and man it's just a dream come true."
He adds, "Seeing those guys before me, it's just an honor to even be on the same list as them."
The Paycom Jim Thorpe Award is named after history's greatest athlete, Jim Thorpe, and is presented by the Oklahoma Sports Hall of Fame in Oklahoma City. Thorpe excelled at every sport in which he competed, including football where he played on the offensive and defensive side of the ball.
INTEGRIS HEALTH
Explore careers for
Registered Nurses
Join our team and you will not only get a competitive payrate, but you'll also receive an excellent total rewards package including paid leave, retirement savings plans, shift differentials, tuition reimbursement, nursing scholarships, and more as a full-time RN.
We're the #1 ranked health system in the state1 and we're looking for talented people like you.
1. U.S. News & World Report!
INTEGRIS Health Baptist Medical Center
JOB # 729698
Clinic RN FT Mon-Fri (8a-5p) – Neurology North Clinic
JOB # 726020
RN FT – Mon – Fri (8:30a – 5p) – Advanced Endoscopy
JOB # 730466
RN Coordinator Transplant – Kidney FT Days – Kidney/Pancreas Post Transplant
JOB # 727599
RN FT 7a-7p Jim Thorpe Rehab
JOB # 726030
RN FT Transplant IMC
JOB # 729898
Acute Care Advanced Practice RN FT Transplant Physicians
JOB # 729480
RN FT Days Acute Hemodialysis
INTEGRIS Health Bass – Enid, OK
JOB # 726350
RN FT – Days – Outpatient-Ambulatory Surgery
INTEGRIS Health Canadian Valley Hospital, Yukon, OK
JOB # 727867
Manager Nursing FT Women's Center
JOB # 727514
RN FT 7p-7a – ICU
JOB # 727502
OR Circulator FT – (Mon-Fri) Surgery
JOB # 730455
ER RN FT Nights (8 or 10 hr shifts) – Emergency
INTEGRIS Health Cancer Institute
JOB # 730242
Acute Care Advanced Practice RN FT Medical Oncology – Hospitalist
INTEGRIS Health Cardiovascular Physicians
JOB # 728583
Clinic RN FT Cardiovascular Community Outreach
INTEGRIS Health Edmond
JOB # 727617
RN FT (7p – 7a) – Intermediate Care
JOB # 727934
RN FT 7p-7a Jim Thorpe Rehab
JOB # 730345
RN Circulator FT Surgery
JOB # 729688
RN FT 7p-7a Med Surg ICU
INTEGRIS Health OKC Metro
JOB # 727425
RN Case Manager FT Days Hospice
INTEGRIS Health Meadowlake – Enid, OK
JOB # 725899
RN FT – Dual Diagnosis
INTEGRIS Health Southwest Medical Center
JOB # 725227
RN FT (7p – 7a) – Intermediate Care
JOB # 727097
RN Mother Baby/Special Care FT 7p-7a
JOB # 729928
Manager of Care Management
JOB # 728470
RN Cardiovascular Care
JOB # 729756
RN PRN – Endoscopy
JOB # 729772
ER RN FT Nights 7p-7a – Emergency
JOB # 729976
Manager Nursing FT Intermediate Care
JOB # 724465
RN FT 7p-7a Med Surg ICU
JOB # 726171
RN FT 7p-7a Jim Thorpe Rehab
Nurse Resident, new graduate opportunities are posted!
Start your nursing career with a proven program of support and mentorship!
The Nurse Resident is a new graduate of an accredited RN program who is eligible to sit for the NCLEX. As a Nurse Resident, you can expect classroom instruction and hands-on clinical experience under the preceptorship of an experienced RN.
Explore Nurse Resident Opportunities Now!
Join us serving the community together.
APPLY NOW
INTEGRIS considers all qualified applicants regardless of protected status as defined by applicable law, including protected veteran or disability status. AA/EOE