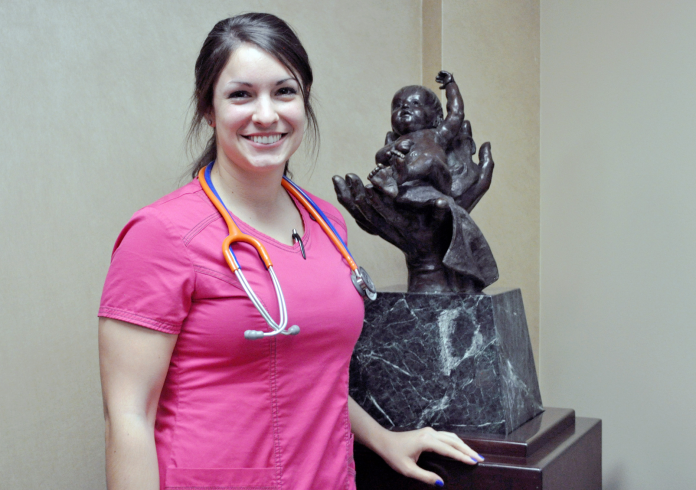 by Vickie Jenkins
It is easy to see why Joanna Harlin, RN, BSN likes her job at Alliance Health Deaconess Hospital. Love is written all over her face as Harlin works in labor and delivery. "I have always had a passion for helping others in time of need and knew that I always wanted to work with babies. I have the perfect job," Harlin says with a big smile on her face.
Harlin became a nurse in June 2015. Even though she is considered a bit of a new nurse, she was fortunate to get a job working in labor and delivery from the beginning. "I feel so blessed to be given this opportunity. Working with the new moms and their babies is wonderful. I love the fact that I am a part of their new little miracle," she says.
When asked what advice she would give to someone entering the medical field, Harlin replies, "I would definitely tell them to find an area that they are passionate about. It won't always be easy and they will need plenty of energy. They will get tired but it will all be worth it in the end," Harlin says with a confident tone about her. "My favorite thing about my job is the fact that I get to welcome new life into this world. There is nothing like seeing a baby being born and seeing the excitement of the family. Each baby born is a real miracle and I love my job and the opportunity to be a part of a new life," Harlin adds.
"What inspires you to come to work each shift?" I ask. "We have a great staff here. All of the nurses and doctors are great and super helpful. I like working in labor and delivery so I can help the new moms with whatever they might need. The moms always have a lot of questions and it is nice to explain what to do, step-by-step if needed. They are putting a lot of trust in their nurses and I want to be the best I can be. I really feel like God called me to work here and I want to do my best in every situation. He is counting on me."
"Do you have any hobbies," I ask Harlin. "Oh yes, I do," she replied. "I love to work out, ride my bike and am really into CrossFit. I like to do anything outside. I like to spend time with my family."
Asking Harlin what her greatest strength is, she replies, "I am definitely a people pleaser. My main concern is investing my time with others and pleasing them. I am a great talker and a great listener," she says with a laugh. I asked Harlin to describe herself. "I really don't like talking about myself but I guess I would describe myself as loving people and loving to smile. I like to be around people of all kinds. I have a pure heart when it comes to investing in others. I am number 5 of 10 children so I am right in the middle. It's fun having so many siblings around. My family is very close and we watch out for each other," she adds.
"What is your definition of a nurse?" I asked. "A nurse is compassion. A nurse has to be passionate about their job of taking care of others. It's putting one's feelings if front of your own desires and pushing the point to make someone else happy. It is one of the most rewarding investment anyone can have."
"What words do you live by?" I live by God's word and have always loved the Bible verse, Isiah 40:31:
But those who trust in the LORD will find new strength. They will soar high on wings like eagles. They will run and not grow weary. They will walk and not faint.