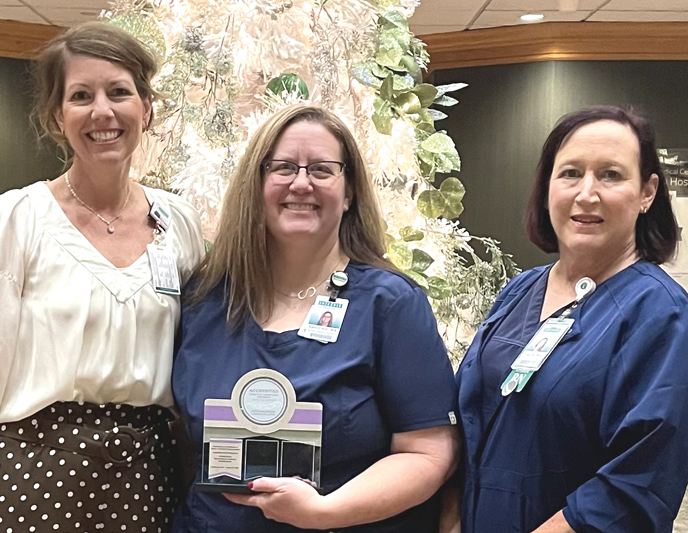 Without a doubt, the first year of a nurse's career can be one of the most stressful.
With so many questions from daily practice to advancement of skills to self-care where is a new nurse to turn?
Integris Health realizes that first-year may be difficult. That's why there's a nationally-accredited Nurse Residency Program in place to not only ease the transition to practice but to help you thrive.
"We try to help them recognize they aren't going to know everything right out of school and that's OK," said Sandy Hill, MSN, RN, NPD and Integris manager for Transition to Practice. "We're going to help them get there. We also help them learn about their specialty or population-specific patients they are caring for because in some settings they don't get a lot of experience in specialty areas during school."
Transitioning to RN practice can be difficult and evidence supports Nurse Residency programs increase retention and job satisfaction among newly graduated RNs.
That's why Integris Health hosts a year-long Nurse Residency Program for RN graduates and those with less than six months of licensure as an RN.
The Nurse Residency Program is an expanded orientation designed to help the new RN graduate make a smooth transition from student to a professional member of a healthcare team. This program is designed to help nurses more fully contribute to delivering the Most Challenging Healing.
"There are other people like you in the same situation and there are resources we can direct you to if you are starting to feel overwhelmed or uncertain," Hill said. "The nurse residency does focus not only on the skills but also on that emotional and wellbeing journey in what I consider probably the hardest year of your nursing career."
Hill has been with the nurse residency program since 2007, giving Integris the distinction of having one of the longest-running residency programs in the state.
"I think we're doing a good job with that," Hill said. "I think we really are helping them learn the practice of nursing not just the tasks of nursing. We can see that our retention has improved because they are feeling more comfortable in their role.
"I think it has helped with retention in the profession and in our facility."
Recently the Integris Health Nurse Residency Program was awarded Accreditation with Distinction as a Practice Transition Accreditation Program (PTAP) by the American Nurses Credentialing Center (ANCC). The distinction is the highest recognition awarded by the ANCC's Accreditation Program.
With the ongoing Covid pandemic, nurses entering the profession are faced with obstacles many of their predecessors never had to face. That's why special importance is placed on taking care of the whole nurse.
"The wellbeing and resiliency portion of what we try to encourage and try to provide resources for has increased during Covid," Hill said. "We also have in place some nurses where transition to practice is their title and those nurses are specifically for those new grads right after they come off orientation with their preceptor… to help continue to support them.
"We've seen that really blossom and take off as a much-needed and appreciated role."
Hill said the transition-to-practice nurses are available to round on their new nurses and provide an extra set or eyes or simply serve as a sounding board for what the new employee is going through.
And to help make that first year as easy as possible.
For more information visit: https://integrisok.com/careers