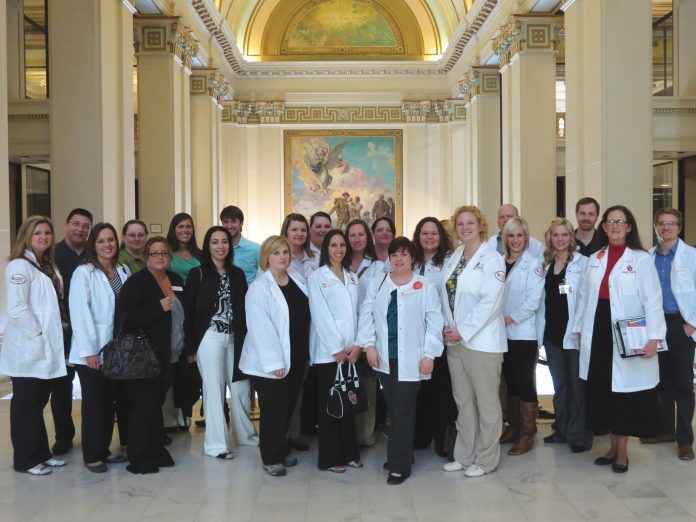 by Bobby Anderson, RN, Staff Writer
Oklahoma nurses and students are set to converge on the Oklahoma State Capitol in a few days for an annual event coordinated by the Oklahoma Nurses Association.
ONA's Nurses Day at the Capitol is set for Tuesday, March 7. Participants will gather beginning at 7:30 a.m. at the National Cowboy & Western Heritage Museum in Oklahoma City for registration until 8:30. After a briefing on the day's events, participants will then travel on their own to the capitol.
ONA CEO Jane Nelson, CAE, said the event is well received by both nurses and legislators, giving each an opportunity to discuss issues.
"Nurses Day at the Capitol provides nurses with the opportunity to be informed on current advocacy issues and become involved in making a difference," Nelson said. "Legislators love to talk with nurses. Nurses need to be involved. If we are not at the table, we are on the table."
Registration for the event is $50 for members and nursing programs registering as a group. The cost for non-members is $60.
Consistently ranked as the most-trusted profession in the nation, nurses collectively carry a strong voice when it comes to health care issues, Nelson says.
Each year, the ONA organizes a single day to arm nurses with the necessary information and give them the opportunity to discuss those issues with policy makers along with legislative priorities. (STORY CONTINUES BELOW)

By attending the event you will have the opportunity to:
*Hear legislative experts, legislators and ONA's lobbyist.
*Talk with legislators concerning the issues vital to ONA and the nursing profession.
*Increase your awareness of the role nurses play in the political arena.
*Voice your concerns regarding legislation affecting nursing practice, patient safety, preventive care and health education as well as Oklahoma's health status.
Nelson said each year her organization sharpens its focus on nursing issues and making sure nurse voices are heard when and where it matters most.
"(We are) working to engage nurses in advocacy and telling their story," Nelson said. "Legislators need to hear from nurses so that they understand what is important to nurses as it relates to nursing practice, patient care and the health of Oklahomans.
While this will be the association's largest Capitol gathering, there is still a nurse at the legislature most days.
ONA's Nurse of the Day Program gives you the opportunity to get involved in the legislative process by visiting with legislators, attending various committee meetings and assisting in the First Aid station at the State Capitol.
According to the most recent data made available by the Oklahoma Board of Nursing, there are more than 51,000 registered nurses and more than 16,000 LPNs in Oklahoma.
There are also more than 5,300 advanced practice nurses.
For more information about Nurses Day, Nurse of the Day or the upcoming ONA Convention Sept. 23-27 in Oklahoma City, you can contact the ONA at 405-840-3476 or go online to https://www.oklahomanurses.org/.