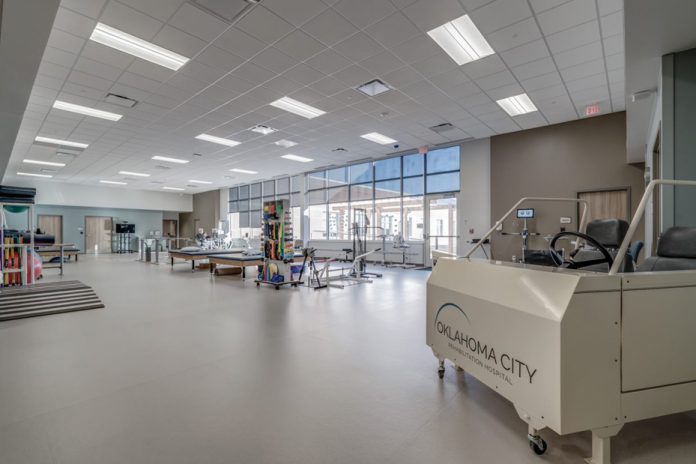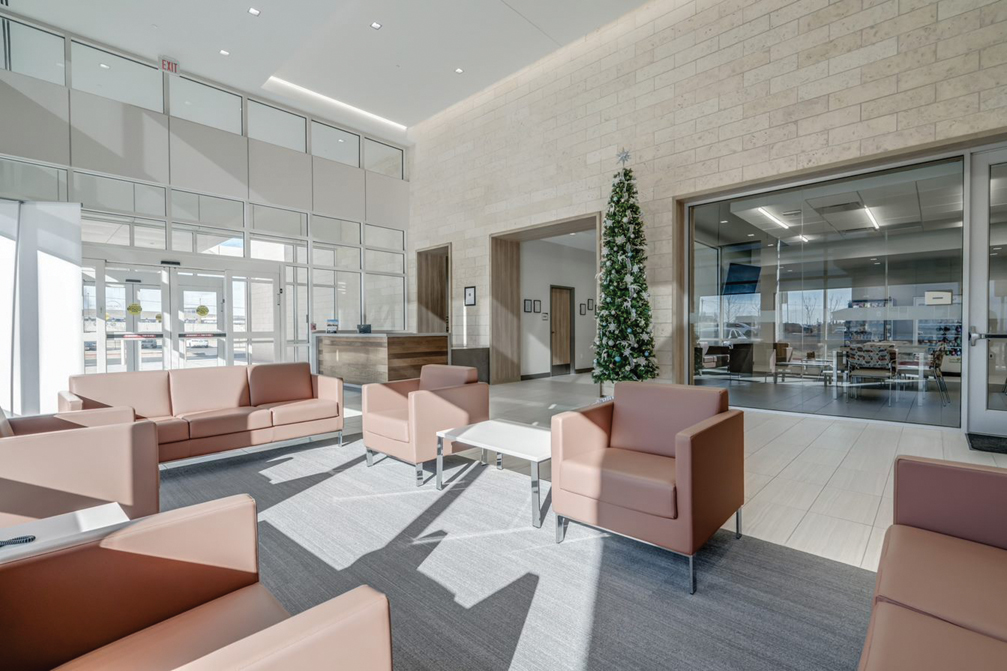 Oklahoma City and the surrounding metro area now have more inpatient rehabilitation services available for people who have debilitating illnesses and injuries such as stroke, brain injury, and other complex medical, neurological, and orthopedic diseases and injuries.
Oklahoma City Rehabilitation Hospital is a 40-bed inpatient rehabilitation hospital that opened in December at 10240 Broadway Extension.
The Oklahoma City Rehabilitation Hospital's design is a one-story medical rehabilitation hospital with 40 private rooms, a rehab therapy gym with state-of-the-art equipment and technologies, an outdoor courtyard that facilitates additional therapy on different surfaces, a dining café and a mini home like suite for the patient to complete activities of daily living with the support and expertise of the rehab team before returning to their own environment.
Nobis Rehabilitation Partners is the operating company of the inpatient rehab hospital. Nobis currently operates nine other rehab hospitals across the country with another six inpatient rehab hospitals opening this year and four more under development.
Nobis brings together hospitals, developers, and investment partners to develop, operate, and manage inpatient rehabilitation hospitals, hospital-based rehab units and Nobis also partners with local hospitals and health systems around their rehab service line.
'Patients are already raving about the care at the Oklahoma Rehabilitation Hospital according to the 5 Star Google Reviews,' said Gina Thomas, Chief Development Officer, Nobis Rehabilitation Partners.
"An absolutely incredible facility," said Meagan Black, daughter-in-law of a former patient, in a Google Review. "Staff, quality of care, and most importantly the PT staff goes above and beyond to get you stronger every day. Truly the only place to go for rehabilitation needs in the metro area. If I could give them more than five stars I would."
The inpatient medical rehab team consists of physicians, therapists (Physical Therapists, Occupational Therapists, and Speech Language Pathologists), and rehab trained nurses.
The Oklahoma City Rehabilitation Hospital's medical rehab team customizes each patient's intensive rehab program (with a minimum of 15 hours of rehab therapy a week) during their inpatient stay with the goal of returning the patient back to their community at the highest function possible.
Recent medical studies definitively show that inpatient rehabilitation settings result in substantial improvement in the patient's physical mobility and ability to care for themselves.
Oklahoma City Rehabilitation Hospital is led by Stacie Goyne, CEO.
Goyne has over 20 years of healthcare expertise, initially trained as a medical social worker in Oklahoma and then at THR Harris Methodist Hospital in Fort Worth, Texas. Her experience spans several leadership roles in business development, marketing, and social work across inpatient rehab hospitals, LTACHs, and skilled nursing facilities in Oklahoma, Texas, and Colorado.
Dr. Nathaniel Harris is the Medical Director for the inpatient rehabilitation hospital.
Dr. Harris is a specialized physical medicine rehabilitation physician who collaborates with and leads the medical staff and therapy teams to provide quality patient care and rehabilitation to the patients needing these services in the Oklahoma City and surrounding Oklahoma City communities.
For more information about Oklahoma City Rehabilitation Hospital visit:
https://www.oklahomacity-rehab.com.