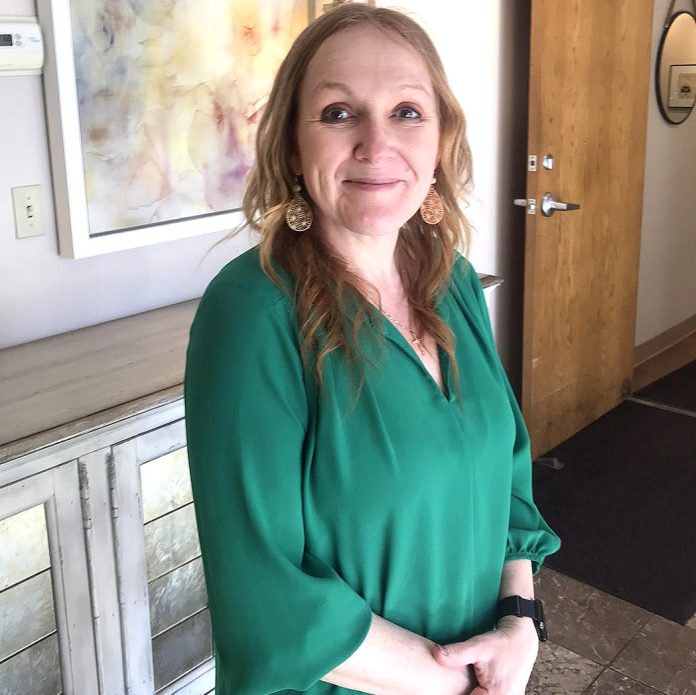 by James Coburn – staff writer
Birth and death are the most sacred moments of life, says Heather Perkins, RN, executive director of Good Shepherd Hospice.
When Perkins came to Good Shepherd Hospice in October, she found a compassionate nursing staff who cared for the patients, families and communities they serve.
"This is the kind of work that you have to have a passion for," Perkins said. "And to have a hospice heart is different from other types of nursing. I think God did a good job with nurses."
Nurses can choose from a vast array of career choices but should have a heart for their selective niche, she said. Good Shepherd nurses ensure that each person is treated with compassion and dignity. (story continues below)
https://oknursingtimes.com/jobs/job/nursing-positions-available-now-at-brookwood-skilled-nursing-therapy/
"If there are any ways that we can meet needs that are not met, ways we can love and support families, they bend over backwards to do it," Perkins continued. "They care very much for their teammates. They care for one another just like a family. I think they are excellent role models in what it looks like to give compassionate care and live by the mission and values that Good Shepherd has."
Her nursing career was a response to human need. On the morning of April 19, 1995, Perkins worked as a medical assistant in the infirmary of the Oklahoma County Sheriff's Office when Timothy McVeigh exploded a bomb at the Alfred P. Murrah Federal Building in downtown Oklahoma City. The act of domestic terrorism killed 168 men, women and children. There were 680 non-fatal injuries.
Perkins had joined the county's search and rescue team in February with the opportunity to do swift-water rescue, repelling, but nothing that would prepare her for April 19, she said. Perkins spent almost three days with her team from the sheriff's office recovering people from the devastation.
"You see the amount of goodness that can come from something so terrible," Perkins recalled. "People from every walk of life — it didn't matter your race, your religion. It didn't matter if yesterday you didn't agree and see eye to eye. Everyone in this whole community in this state just came together. And I saw the most generous versions of humankind that probably I'll only see once in my lifetime."
Being able to render care during such a traumatic event sealed the deal for her to become a nurse.
Perkins earned her Bachelor of Science in Nursing degree from Presentation College in South Dakota. She came to know hospice as a new nurse 23 years ago when starting her career in a medical surgical intensive care unit.
Life limiting injuries would cause some patients to transition into hospice care. In 2003 Perkins left the ICU to become an on-call hospice nurse. She was intrigued by the compassion. Today, love delivers a circle of care at Good Shepherd Hospice as it serves Oklahoma City, Hinton and Norman.
"Hospice care is not possible without every spoke of the wheel," she said.
Hospice care includes a holistic approach to the emotional, physical, and spiritual aspects of end of life for the patient and their family members in grief. Care spreads to caregivers in nursing facilities who have grown to love their patients. Facilities become emotionally attached to their residents, Perkins said.
"They suffer with grief and loss the same way family members and even hospice staff do," she explained.
Good Shepherd Hospice provides support from RN case managers and LPNs supporting them. Home health aides are the hands and feet of hospice care, Perkins added.
"They spend the most time in intimate ways with patients. They often know patients better than anybody," she explained.
Social workers provide emotional support and care planning with advanced directives. Chaplains provide spiritual care that doesn't necessarily mean religious care when not everyone wants that.
"Hospice chaplains are specially trained to meet people where they are if they don't have faith," Perkins pointed out.
Office staff is essential. The office manager makes sure the staff is taken care of and the payroll is done.
She described a beautiful event that happened that involved a dying patient. The next day a letter praising God was taped to the patient's door. It stated the patient was no longer there.
"It was a praise to God that this person was now home with Jesus, free of pain, free of any worries, experiencing the ultimate joy," Perkins said. "And it thanked all of the people from Good Shepherd Hospice that came and provided that care to make it smooth."
The memory of death can bring people a sense of peace, knowing there is comfort, love and support in their final moments, she said.