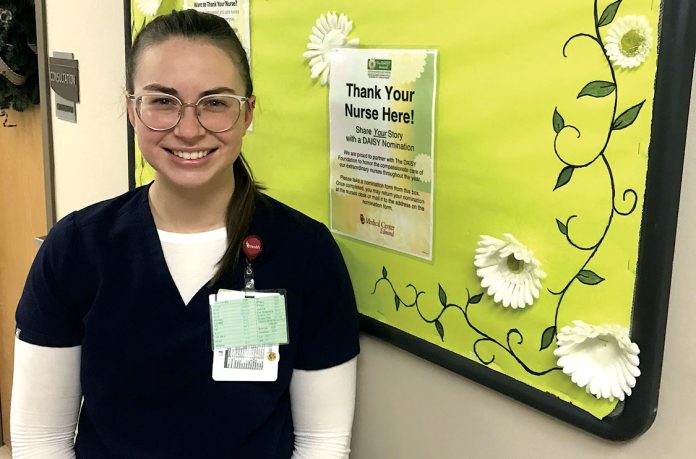 by James Coburn – staff writer
Emily Skelton, RN, easily connects with people. She doesn't worry each morning when she shows up at work as an ICU nurse at OU Health Edmond Medical Center. She knows she is part of a team where the nursing staff works cohesively together.
"I know everyone that I work with is going to be there if I need it," Skelton said.
Her ICU career began right out of school. Skelton earned her Bachelor of Science in Nursing degree at Oklahoma City University's Kramer School of Nursing at the end of 2020. The OCU program was flexible with her timeline, she said. The hands-on training of the simulation center helped a lot with her learning, she added.
"I was really happy with it. They have a smaller staff, so I really got to know all my professors really well which was great for any additional help I needed outside of class," she said. (STORY CONTINUES BELOW)
Her critical care professor's passion for nursing had a lot to do with her choice to work in an intensive care unit. She fell in love with the quick pace of the ICU during her rotations as well as the detailed organization involved.
As a child she would play with her stethoscopes, but as she got into college it was more than play. What she loved most was knowing she chose a career that helps people. Nursing relies a lot on communication. She knew she didn't want to sit at a computer all day. As a nurse, she would be able to speak with her coworkers and physicians.
"I would also have that one-on-one time with my patients," Skelton said.
She learns about their life and what they're going through. She cherishes being able to help a patient's health improve.
"I'm pretty detail oriented and organized, myself," she said. "So, in the ICU you need to know everything about your patient. You need to know everything that's going on at all times."
Skelton takes every opportunity to learn something new every day. Learning makes her job fun, she said. She has never stopped asking questions.
Patient care in the ICU nurse requires compassion and patience, especially when working 12 hours a day, she said. Being a leader and a team player is important. Little things are big things. Taking the time to bring a patient a cup of water, change their sheets, and give them their pain medication are essential.
Thinking about the patients' family members can make a big impact on her. At the end of the day when she is tired, family members will look her in the eye and say, "Thank you so much for taking care of my loved one." What is most heartfelt is knowing there are people who are appreciative of the work she does.
Other nurses join with her altruistic spirit. ICU registered nurse Seena Mathew said, "Holding their hand especially if they're super critical, and when they have no family or friends, moments like those inspire me to continue on, and especially working with great coworkers that are like family and great physicians that care so deeply, it really inspires me."
And Muhammad Hussnain, a student nurse intern at the Fran and Earl Ziegler College of Nursing at the University of Oklahoma Health Sciences Center remarked, "My grandpa had to go to the hospital, and seeing all the healthcare workers take care of him and how he was super thankful for that was an inspiration for me."
Skelton hopes that 2023 brings a continuum of teamwork and kindness at the hospital. Every year she has worked there, nurses have been honored with a Daisy Award signifying exceptional patient care. They are often nominated by family members.
"We've had lots of people on our unit get those," she said.
Meanwhile Skelton enjoys many aspects of life. She loves taking her dog on walks and hanging out with friends.
"I have a really good group of friends," she said. "I have my fiancé and we all have our little group of guys and girls that we hang out with on a weekly basis."
Their dogs also like frolicking together. Skelton's Australian is the cutest little nugget that helps her decompress whenever she needs to, she described.
"A lot of my friends are nurses, too. So, it's fun that we all can kind of decompress together."
As a new nurse, Skelton said she has loved every bit of being at OU Health Edmond Medical Center.
"I met the CNO on my second day here. I feel that everyone is intentional about making you feel that you belong."
For more information about OU Health Edmond Medical Center visit https://www.ouhealth.com/.