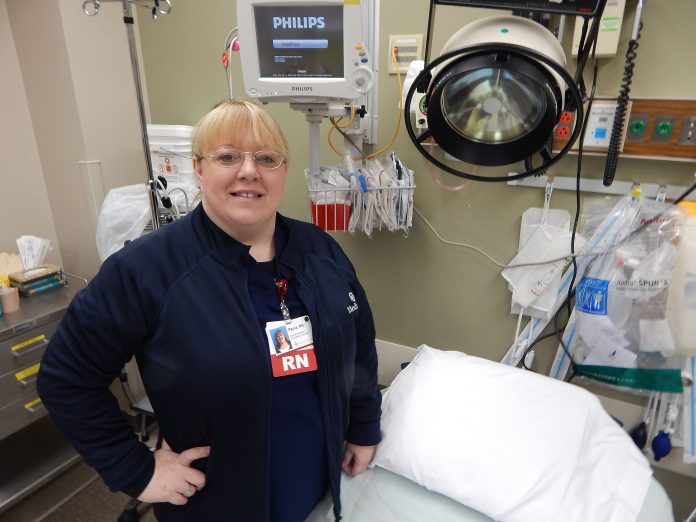 by James Coburn
Staff Writer
When Paula Whitlow, RN, was in the 8th grade, a ruptured appendix exposed her to nursing.
"Everything from the emergency room visit to the surgery to the stay in the hospital afterwards was very exciting to me," Whitlow said.
Her nurse had the 3-11 p.m. shift that worked well because Whitlow's mother had other children at home and could not stay at the hospital all the time.
"This nurse would go get her charts and bring them to my room and stay with me so that I would not be alone," Whitlow said.
She would tell young Whitlow stories about being a nurse and what a nursing career had meant to her life. Even though there was a lot of medicine involved in her care, Whitlow learned that being a nurse was nurturing.
"You're taking care of people, holding there hand or standing in their room when there's nobody else to be there," she said.
Today, Whitlow is set to lead the new freestanding Edmond Emergency Department for OU Medical Center Edmond.
The upcoming ER Oklahoma in west Edmond will be located at 150th Street and Western.
When it opens at the end of April, ER Oklahoma will expand the hospital's services to meet the needs of a growing community, said Whitlow, RN, clinical manager.
"We're going to reach the population that doesn't have to drive the distance to get to the emergency department," she said. "And it's for those cases that are a little more urgent than what an urgent care would see."
ER Oklahoma will be open 24/7. Patients that need to admit to OU Medical Center Edmond will be transported to the hospital at 1 South Bryant Avenue.
The ER will be a little more than 10,000 square feet in size. It will offer all the components of an ER including radiology, CT scan, ultrasound, pharmacy, lab and dedicated ER physicians, Whitlow explained.
Some registered nurses have already been hired. There will be three RNs working during day and night time shifts, she said.
The ER is ranked No. 10 out of 160 HRC facilities nationwide, Whitlow said for patient satisfaction.
"That's pretty high. We're pretty proud of that," Whitlow said. "We expect to have the same care and diligence of taking care of your loved ones over there as we do here."
Performance standards for best practices are high at OU Medical Center Edmond for the presentation of skills.
"I consider this the Sherlock Holmes of Nursing — the Emergency Room," she said. "We have to be skilled in all aspects. We don't specialize in one field. We have to be able to recognize disease processes in every field whether you have a stomach ache, chest pain, a cough or a cold. We have to be able to take care of all of those things."
An ER nurse is a Jack of all trades when it comes to nursing, she said. It takes a special person to be an ER nurse, she said. They must recognize disease processes quickly within a short amount of time.
Whitlow is a seasoned nurse with 23 years of experience since she earned her Bachelor of Science in Nursing Degree. She joined OU Medical Center on the campus of the OU Health Sciences Center in Oklahoma City in 2013 where she became the manager of the ICU.
"I decided I wanted to get a little closer to home to my roots in the Emergency Department," Whitlow said. "I've done both, ICU and ER."
OU Medical Center likes to hire people who like people, she continued. An important aspect of the job of an ER nurse is to make sure they communicate well among themselves, she said. Physicians and the patients families depend on the ER nurse to let them know what the patient is experiencing at all times.
"You can really show your skills in the emergency department, by being able to go to a sore throat to somebody having a heart attack," Whitlow said of what intrigues her about serving patients in the ER. "In just the blink of the eye, you get to take care of both of those things at the same time is pretty exciting. It's rewarding."
She likes the mystery a disease process poses as she helps to determine the cause and effect of what is symptomatic for patients. Most nurses appreciate the educational component of working in an emergency room, she said. But not everybody can adapt to the quick pace of ER nursing, she said.
"As far as continuing education, our nurses receive multiple education hours throughout the year," Whitlow said. "We also have certifications that are just for nursing."
The ER certifications are for trauma, disaster responce among others that the nurses can achieve at OU Medical Center Edmond. Nurses are required to maintain their skills and competency."
Her job is a busy one, but Whitlow has many other parts of her life. She likes to draw with charcoal and play on her computer.
"I'm kind of a type-A personality, so the down-time I'm doing is usually on researching how to do things better," she said.