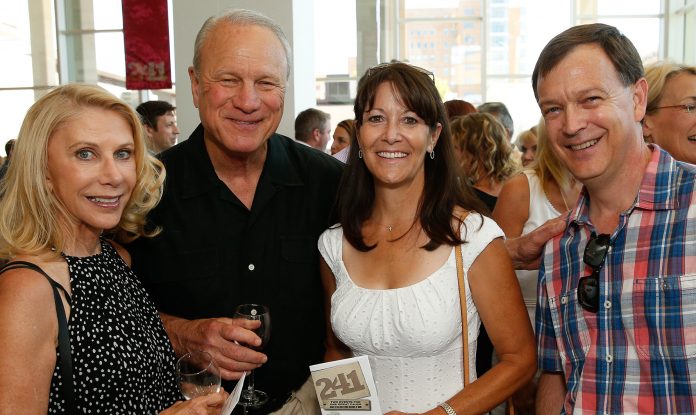 The Oklahoma Medical Research Foundation raised more than $600,000 at a pair of events Sunday and Monday. Proceeds will go to support research at OMRF to understand and find new ways to treat heart disease and stroke.
The "241" events—two events for one great cause—consisted of a wine festival and concert at OMRF Sunday followed by a golf tournament Monday at the Oklahoma City Golf and Country Club. A musical performance by Grammy and CMA award-winning Nitty Gritty Dirt Band capped off Sunday's events.
This was the fourth year OMRF has held the fundraiser. In the past, proceeds have gone to support research in cancer and multiple sclerosis, and this year the beneficiary was cardiovascular disease research.
The Oklahoma State Department of Health names heart disease as the number one killer of men and women in Oklahoma, accounting for more than 9,000 deaths each year. Oklahoma also ranks third in the U.S. for heart disease deaths, according to the American Heart Association.
"The numbers are sobering, and it falls to research to find new and better ways to manage and treat heart disease," said OMRF President Stephen Prescott, a physician and medical researcher. "Events like 241 provide OMRF's scientists with important resources to continue their search for new therapeutics for heart disease and stroke."
OMRF's cardiovascular biologists study the biological processes at work in the heart that can lead to heart failure, as well as proteins in the blood that regulate clotting. They also investigate the role of inflammation in the development of hardening of the arteries and are looking for new ways to control blood vessel growth.
Previous discoveries by OMRF cardiovascular biologists have led to the creation of three FDA-approved drugs. "We hope the support provided by this event will help lay the groundwork for more life-changing discoveries," said Prescott.
Fundraising co-chairs for the 241 events are Judy Hatfield and Lance Benham. Lead event sponsors include The Chickasaw Nation, Virginia and John Groendyke, Headington Oil Company, LLC, Presbyterian Health Foundation, Allen Family Foundation, Ann Simmons Alspaugh, American Fidelity Assurance Company/InvesTrust, Cemplex Group, Christy and Jim Everest, Leslie and Cliff Hudson, Herman Meinders, Lou Ann and Jim Morris, Gene Rainbolt, Ronald Rosenfeld and Glenna and Richard Tanenbaum.