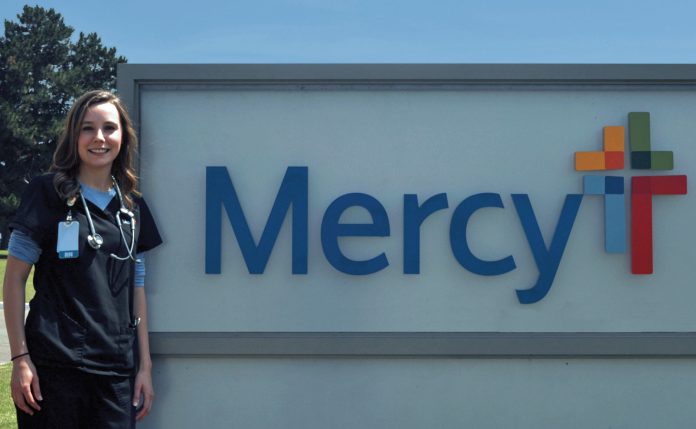 CAREERS IN NURSING:
CHARGE NURSE SPREADS JOY TO OTHERS: MERCY HOSPITAL – WATONGA
by Vickie Jenkins – Writer/Photographer
Not far from Oklahoma City, OK is the small town of Watonga, OK. I took a drive there today, visiting Mercy Hospital. What friendly people! This is where I met Casandra Oakes, RN and Charge Nurse. Oakes has been a nurse here for 4 years and loves her job. Asking why Oakes became a nurse, she told me that she had always loved to help people and felt a real calling to become a nurse, knowing it was a good field to go into and that great opportunities were ahead. Graduating from Northwestern/Woodward Campus in Alva, Ok, she is the first one in her family to go into the medical field.
"What is the favorite thing about your job?" I ask Oakes. "I love learning new things and I feel like I have plenty of opportunities to learn different kinds of skills and I like helping people in any way that I can," she replies. A typical day for Oakes can be nice and quiet on some days and on other days, it is full of patients and the day can be very busy. "I work in the ER sometimes and work on the inpatient floor on other days. It is all very sporadic," she says. "Either way, I like taking care of the people that come to the hospital. There are several surrounding small towns that don't have a hospital so people come to Mercy Hospital from several places. We just don't ever know what the day will be like," she adds with a smile.
Describing herself in three words, Oakes pauses for a moment and answers with, compassionate, friendly and happy. "What is your greatest strength here at the hospital?" I ask. "I try to do a good job at whatever I set out to do," she says with a tone of confidence in her voice. "I have a friendly face, or so I have been told," she laughs. "I think that helps because the patients have a way of opening up with me. I like to stay positive and spread joy," she adds.
Asking Oakes if she has any challenges in the hospital, she replies, "Honestly, the main thing is the fact that I look so young that some people underestimate my abilities as a nurse. Sometimes, the patients don't take me seriously, wondering if I am really the charge nurse. The older patients ask me if I am old enough to be working," she laughs.
If Oakes were to give advice to someone going into the medical field, she would tell them to stay strong and to make sure they had some supportive people in their lives. "My husband was very supportive of me when I went through school and that was so important to me. I would tell them to, go for it! It is one of the most rewarding jobs and it is well worth it in the end". "What qualities do you think make for a good nurse?" "I think a nurse needs to be compassionate, considerate to everyone, have the knowledge of many different things and treat everyone with dignity and respect."
"What is something about yourself that others might not know about you?" I ask. "Well, I play the saxophone at church and actually am the backup player on the drums. I am also a pastor's wife, and I love that," she replies. Oakes hobbies include taking care of her two boys, three and almost two years old. She played basketball in school and enjoys playing basketball against her husband. She also loves to run. "My favorite thing to do is spend time with my family," she adds.
Oaks favorite TV show is 'The Office.' She listens to Christian music. If you could share any words to live by, what words would they be?" I ask. "Life is more rewarding when you put others' needs before your own, serving others."
Kudos to all of the friendly nurses at Mercy Hospital in Watonga, OK. A very nice hospital that I am sure I will be visiting again. It takes a special person to be a nurse. Thanks for all of the special people that serve others at Mercy Hospital. You are definitely appreciated.