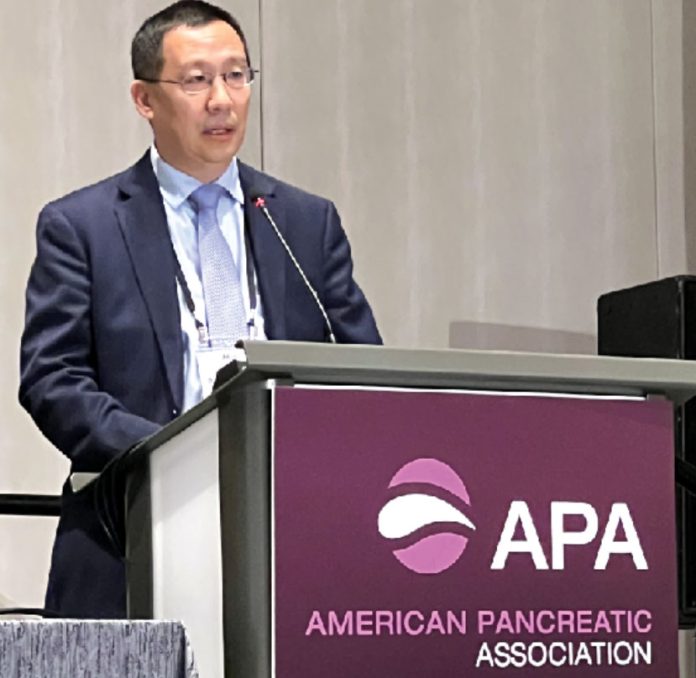 Min Li, Ph.D., George Lynn Cross Research Professor of Medicine, Surgery and Cell Biology in the University of Oklahoma College of Medicine at the OU Health Sciences Center, began his term as president of the American Pancreatic Association on Nov. 7.
The American Pancreatic Association (APA) is the largest professional organization for physicians and researchers specializing in pancreatic diseases. Recognizing that progress in understanding, diagnosing and treating pancreatic diseases requires multidisciplinary analysis, the APA encompasses multiple disciplines, including surgery, medical oncology, gastroenterology, radiation oncology, pathology, and basic science research. The APA also works closely with non-profit organizations to raise funding for pancreatic cancer research.
"Serving as president of the APA is a huge honor for me, and it is a recognition of our work on pancreatic cancer research," Li said. "I am thrilled about the opportunity to serve this amazing organization and to help people suffering from devastating diseases. I hope to carry on the legacy from past presidents of APA, to work with other leaders in the field to raise more awareness for pancreatic cancer research and treatment nationwide and internationally, and to expand the APA family. Our mission is to foster clinical and basic science research needed to cure diseases of the pancreas and to train the next generation of pancreatologists." (story continues below)
At the OU College of Medicine, Li has been awarded a significant amount of federal funding for his research on pancreatic cancer and continues to advance the field with his investigations. He has published articles for several consecutive years in leading journals on gastrointestinal tract disease, including PNAS, EMBO Molecular Medicine, Gastroenterology, Cancer Research, and Clinical Cancer Research.
Several publications have focused on the protein ZIP4, which transports zinc throughout the body. Each study has focused on a different role for ZIP4, which serves as a "master switch" for several things to occur in pancreatic cancer.
Earlier this year, Li published two research articles in Gastroenterology. In the first paper, Li analyzed the behavior of two different types of RNA — circular RNAs and microRNAs. He found that a specific circular RNA can control the growth of pancreatic cancer cells by "sponging," or binding to, a specific type of microRNA. This process is the same for cachexia, a muscle-wasting condition that affects at least 80% of people with pancreatic cancer.
In the second paper, Li and his colleagues discovered that a particular metabolic enzyme could increase the intake of nutrients to tumor cells and promote muscle wasting. Li's research group is the first to discover the behavior of these two RNAs and the metabolic enzyme in pancreatic cancer. The findings are important because once the mechanism of a behavior is understood, it could serve as a target for treating the cancer.
Li also holds the Virginia Kerley Cade Endowed Chair in Cancer Treatment in the OU College of Medicine. In addition, he serves as Associate Director for Global Oncology for OU Health Stephenson Cancer Center at the University of Oklahoma.