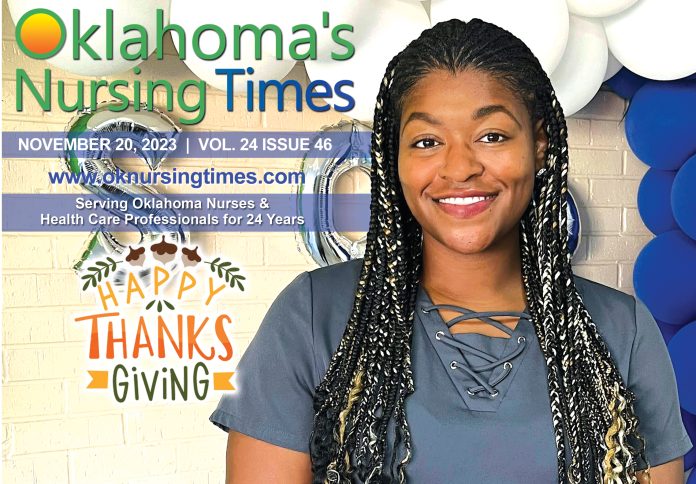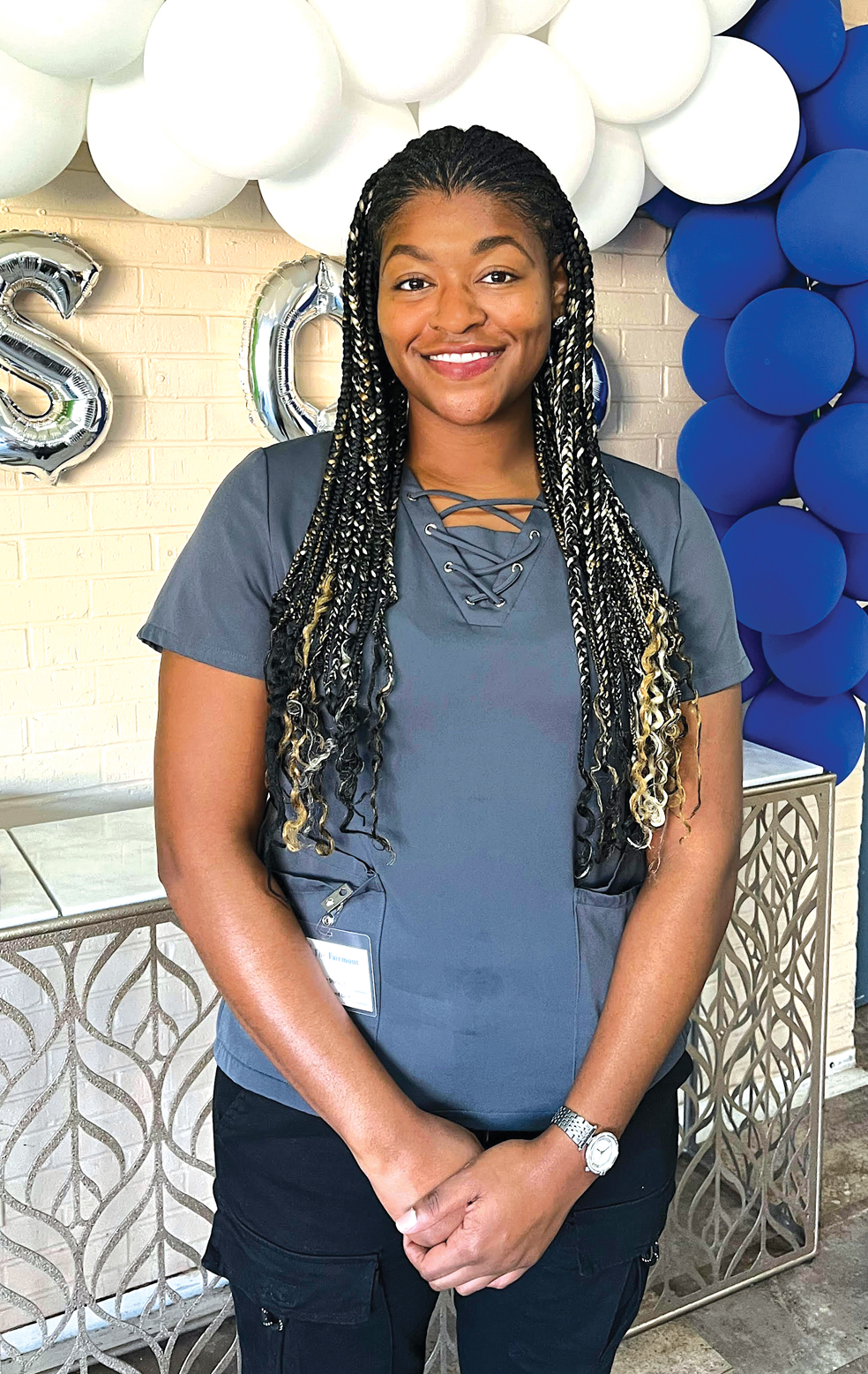 Amber Shinault, LPN
Wound Care Nurse at The Fairmont Skilled Nursing & Therapy in Oklahoma City.
story and photo by James Coburn, Staff Writer
Amber Shinault is a breath of fresh air for people in need. She enjoys brightening their days as an LPN, and wound care nurse at The Fairmont Skilled Nursing & Therapy, located in Oklahoma City.
"I ask them how they are. They'll let me know if they're okay or if they're not, and we'll talk about it," Shinault said. "I just kind of try to change the narrative. I'll try to find something positive from the situation."
Her career teaches her that small things in life can brighten someone's day. Helping people to feel better physically and mentally is what keeps Shinault going, she said.
The Fairmont Skilled Nursing & Therapy offers cardiac care, catheter and colostomy care, diabetes management, discharge planning, incontinence care, IV therapy, mobile lab services and mobile X-rays, respiratory services, enteral feeding and dining assistance, and wound care.
She hears from residents a sweep of history through the decades. Military veterans like to tell her about their war experiences. And mothers and wives often tell her about their children and family life, if they worked and if they were single, how they kept their family together. They talk about their success in life.
"Everybody is different. There's always something new every day." she said. "You'd be surprised about the things women did back then. You'd never imagine."
One lady in her nineties had been the only female at the time doing maintenance on aircraft at Tinker Air Force Base. She did not have children. Her focus was on her career, Shinault said. Occasionally she will meet a resident who had a long nursing career.
"They know what they know, and they compare the things now to back then with the changes," she said. (story continues below)
Become a Healer – We are Hiring – Norman Regional Medical Center
Shinault is appreciative to learn of the many advances in health care and is thankful for being able to learn more each day. She grew up accompanying her mother and grandmother as they did service projects for the community. When her mother contracted cancer, Shinault wanted to learn more about helping people facing health care challenges.
Shinault became a licensed practical nurse two years ago after graduating from Central Oklahoma College in Oklahoma City.
She has served in an adult daycare center and was involved in skilled nursing prior to joining The Fairmont Skilled Nursing & Therapy. She continues to press on by advocating for life.
"I feel like I am a positive light anywhere that I go," Shinault said. "So, I just feel like if I am here, then they have a chance of being taken care of a little bit better."
She is impressed by the nursing staff's ability to connect with the residents. Shinault commends the nurses for their drive in performing their best. Nurses offer respect and help preserve the dignity of the residents.
"If they are here, we realize they are still people with feelings and rights," she continued.
Shinault recalled a gentleman she met when working at the adult daycare center. He didn't like to be touched or to be around people he did not know. It had been a challenge to motivate him to dance with staff or others.
"One day he came out and started dancing with me. Everybody was dancing on the floor. That just made my whole entire week" she said. "He was able to reach out and be comfortable doing that with us. That was pretty cool."
She currently has a new resident at Fairmont Skilled Nursing & Therapy who is warming up to his new home.
"It takes a little time. New face, new place," she explained. "It just depends on what's going on with them and what they've been through," she said.
Shinault greets new residents with a nice mellow voice, she said. It's all about making new residents as comfortable as she can.
"I try to bring positive energy to them," she said.
Long-term care nurses need to be patient with their residents.
"You have to have motivation and strength, too," Shinault said. "All of it weighs on you, too. Seeing people go through these things and their trials and tribulations kind of wears on your mind. We're counselors, we're nurses, we're everything sometimes. You definitely need to have a passion to do this."
Her job requires her to be prompt, knowledgeable and efficient, she said. Ask questions if you don't know the answer, Shinault said.
She will do her rounds with a physician, looking for all the wounds patients have. She dresses each wound while making sure they are getting better and not worse.
"I care for them when they need me. I don't mind doing anything. And when I'm here, my goal is for us to have a good time."
For more information about The Fairmont Skilled Nursing & Therapy in Oklahoma City CLICK HERE.