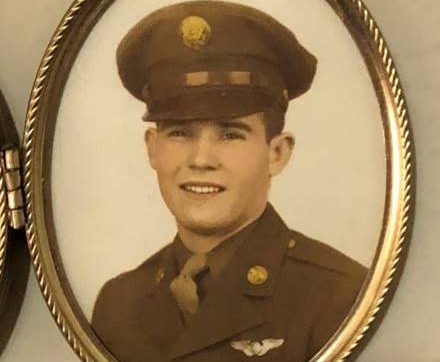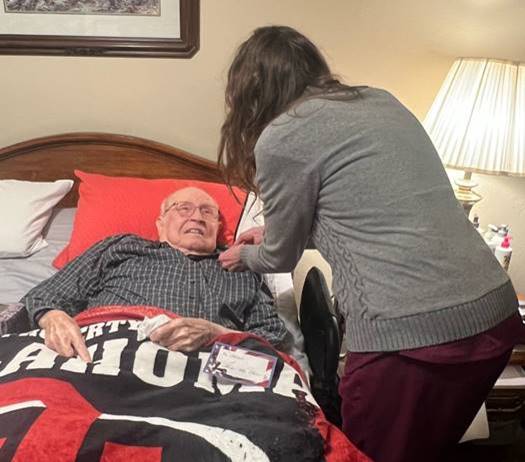 INTEGRIS Health Hospice recently honored U.S. Army Air Corps and U.S. Air Force veteran, Staff Sergeant Bobby J. Hester in a pinning ceremony at his home. As a participant in the We Honor Veterans program, INTEGRIS Health Hospice recognizes and acknowledges those who have honorably served our country.
INTEGRIS Health Hospice caregivers gathered with the family to honor Hester for his service with a message of gratitude and honor. Former military service members Sherri Cote and Tim Zimmer followed with a military salute. (STORY CONTINUES BELOW)
Cedar Ridge Senior Living seeking Certified Nursing Assistant
"Too often, previous generations of servicemen and women were never told how grateful we are as citizens and as a country for their sacrifices," shares Amanda Blankenship, hospice volunteer coordinator. "We want this veteran and his loved ones to know how thankful we are for his service."
Hester served his country well for eight and a half years, fighting in the South Pacific with the 312th Army Air Corps Bomb Group during World War II. He later aided the Air Force during the Korean War while stateside. For his combat military service, he received the Philippine Liberation Ribbon and the Bronze Star.
The dictionary defines honor in two ways. As a noun, honor means one whose worth brings respect or fame. As a verb, honor means to give special recognition. Hester is an honor to our country for his sacrifice and service; INTEGRIS Health Hospice considers it a privilege to honor him.
Along with the Veterans Honor Pin, INTEGRIS Health Hospice presented Hester with a Certificate of Recognition for military service to America and for advancing the universal hope of freedom and liberty for all. He was also presented with an embroidered star, cut from a retired American flag with the accompanying message:
I am part of our American flag that has flown over the USA. I can no longer fly. The sun and winds caused me to become tattered and torn. Please carry me as a reminder that you are not forgotten.
The American flag symbolizes hardiness, valor, purity, innocence, vigilance, perseverance, justice – and freedom – freedom fought for and preserved for each of us by veterans like Bobby J. Hester.
A member of the National Hospice and Palliative Care Organization, INTEGRIS Health Hospice offers veteran pinning ceremonies to all its eligible patients. For more information about this service, contact Amanda Blankenship at 405-848-8884 or [email protected].