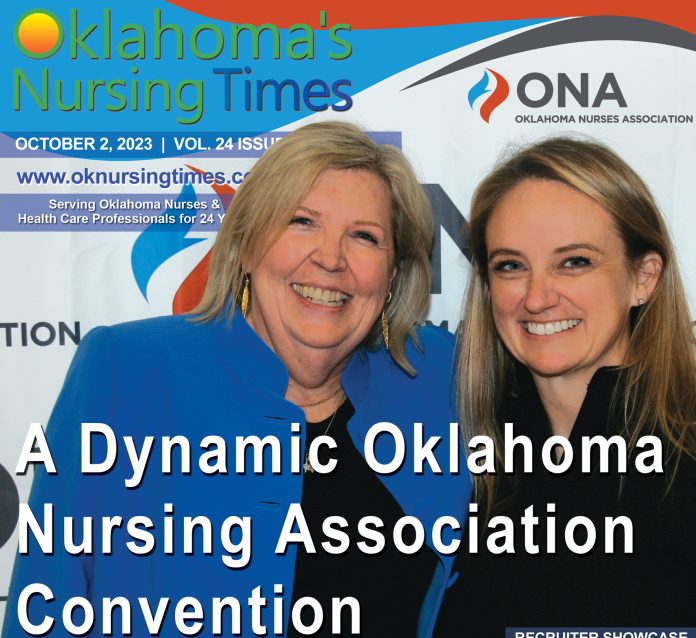 Oklahoma Nurses Association
115th Annual ONA Convention- The Nurses Power: Transforming, Adapting and Innovating
Story and photos by Darl DeVault, contributing editor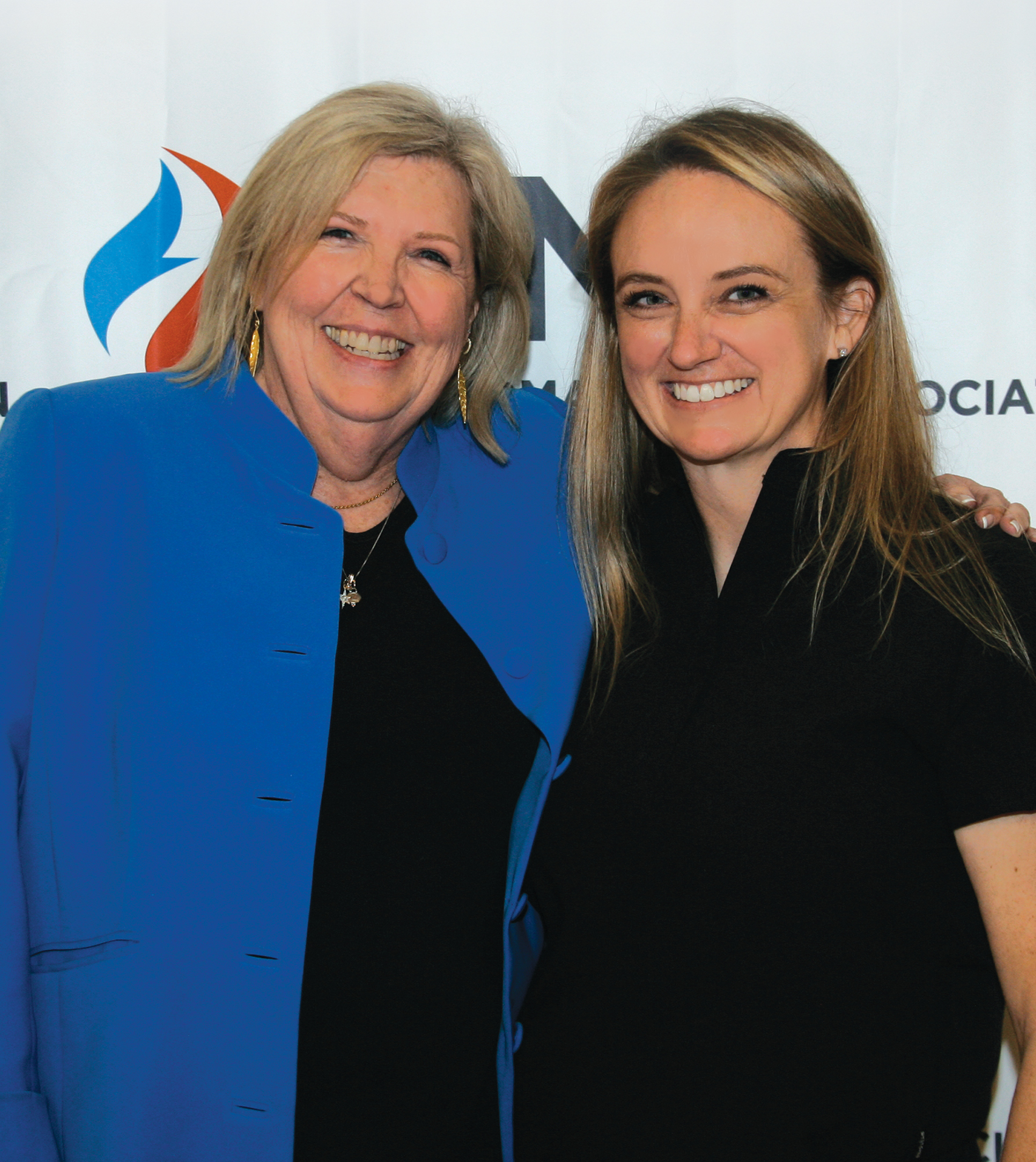 More than 500 nurses and nursing students and 30 exhibitors gathered September 27-28th in Oklahoma City to hear many speakers advocating the transformation of their profession at the 115th Annual Oklahoma Nurses Association 2023 Convention.
The Nurse's Power: Transforming, Adapting and Innovating themed event was framed by the organizers offering diverse and inclusive breakout sessions and a dynamic keynote speaker. The Oklahoma Indigenous Nurses Association was well represented with many attendees, booths and speakers. The second day saw the initial filming of a documentary about the association's work. (story continues below)
Nurse Education Consultant – Salary Range $80,000 to $90,000
In kicking off the ONA's 2023 – 2025 Strategic Plan, speakers focused on building supportive structures that allow nurses to thrive in the new normal as their challenging work environment evolves. Several nurses addressing the breakout sessions, especially those emphasizing updates on COVID-19, current treatment guidelines, Post-Covid Syndrome and its impact, highlighted the daily difference nurses make in helping patients and their families' lives.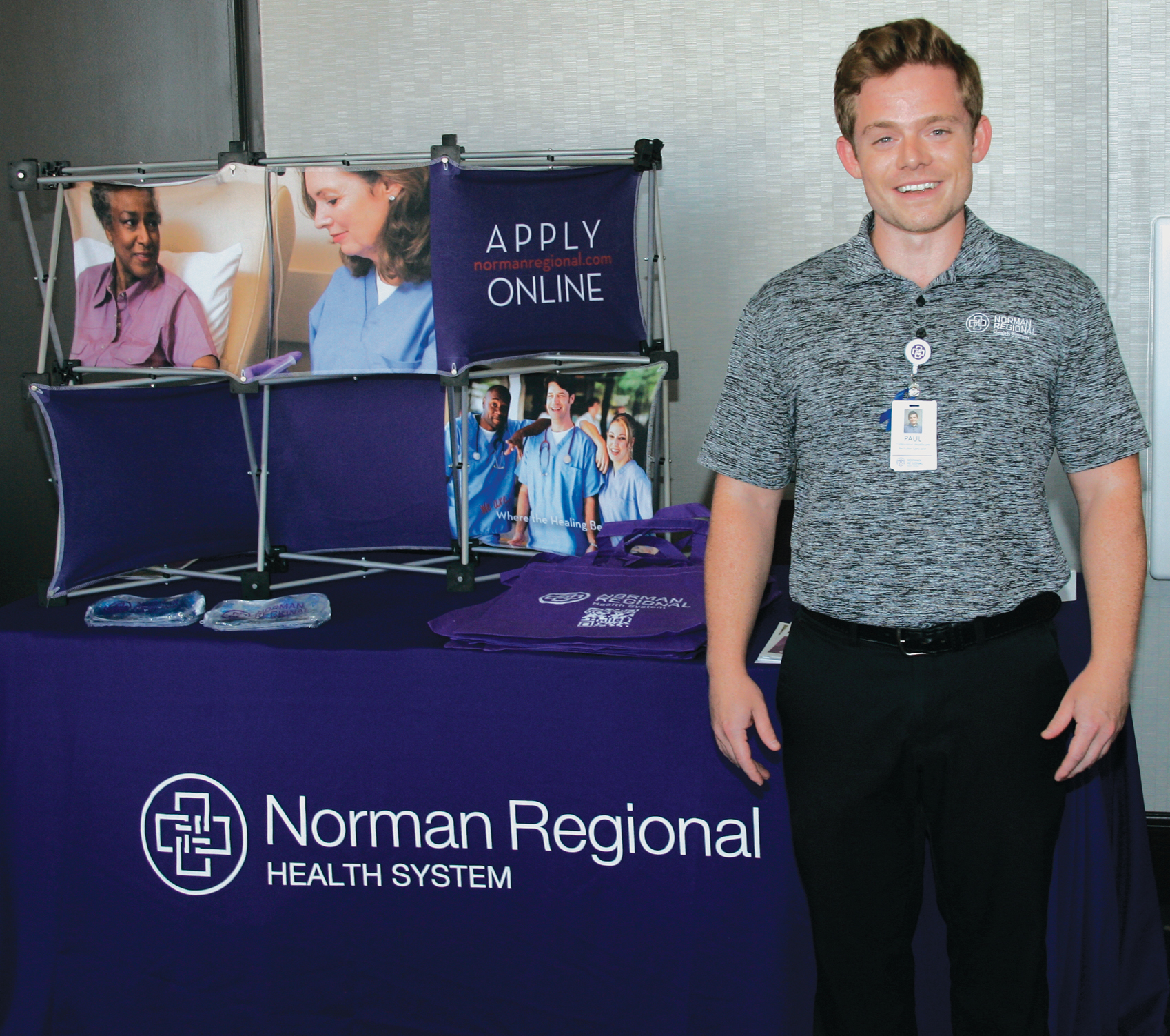 After 22 years at the association's helm, CEO Jane Nelson, CAE, said she is proud of the voices coming forward to speak to their fellow nurses.
"This year's ONA convention demonstrated how important it is to come together, exchanging ideas and sharing innovative best practices," Nelson said. "The changes brought on by COVID-19 proved when nurses focused, they could innovate and change processes to prove to the world there is no health care without nurses."
The ONA's Strategic Goals include advancing the profession to improve health through advocacy, philanthropy, practice and innovation. They seek to champion the value of nursing to increase nursing's positive impact on health and society.
The convention is a step toward advancing diversity, equity, inclusion, and belonging to improve nursing practice and work environments. The breakout sessions allowed attendees to network to develop the capacity for nurses to innovate and lead in dynamic and complex practice environments.
Several sessions addressed promoting and magnifying nurses' voices and advocating to overcome barriers to personal and professional success.
One of the speakers emphasized how nurses were newly important as world-class healthcare providers during COVID-19 at the clinic she and her team opened in 2018.
"At our Corner Clinic in Holdenville, our staff of six was doing everything we could to help our patients who had mild to moderate COVID-19 infections. They were at a grave risk for progressing to severe COVID-19, facing hospitalization and death," said Stephanie Keesee, MSN, APRN-CNP, Co-Chair of Advance Practice Nurses Oklahoma – ONA Chapter. "As soon as it was available, we used Regeneron, an experimental antibody cocktail to keep our patients out of an emergency room and hospital. We took advantage of those two therapies by infusing monoclonal antibodies (mAbs) intended to directly neutralize the COVID-19 virus and prevent disease progression. We were proud we could ease our patient's discomfort and help alleviate the burden on our health care system."
Meanwhile, she explains under current law, Oklahoma Advanced Practice Nurses must have a collaborative agreement with a supervising physician. This agreement is limited to questions that may arise on medications only, not for reviewing cases or disease processes. Keesee explains, "By law, I can assess your condition, diagnose your disease, interpret lab or radiology results, but not be able to prescribe medications."
This agreement places a significant risk on her patient population as well as her business as she must pay thousands of dollars each month to the physician, and if for any reason this agreement dissolves her practice would close instantly. All of this while Oklahoma ranks 49th in physician-patient ratio.
This sparked her interest in advocating for Advanced Practice Nurses to introduce new legislation that Keesee helped push to amend the Oklahoma Nursing Practices Act in Senate Bill 458 during the last session authored by Sen Brenda Stanley, who secured 27 cosponsors.
"SB 458-APRN Transition to Practice Legislation stalled in the House," Keese said. "We had resounding support in both the Senate and House for this legislation to modernize APRN practice by reducing the physician supervision for the prescriptive authority to 6240 hours or three years."
She was proud the new bill passed in the Senate for the first time in history and passed the House committee but sadly did not advance to be heard on the House floor.
In her first year of advocating at the Capitol, she said she wouldn't change anything about the lessons she learned in realizing more than half of the legislators are from rural Oklahoma. She said nurses need to present the improvement this new law would provide to those elected officials. She will be working to help legislators relate to their constituents in a way that will bring home to them the benefits that people away from the major cities have in access to better health care.
She will be ramping up new strategies to improve the provision for independent prescriptive authority of Advanced Practice Registered Nurses who meet specific requirements, modifying various provisions of the Oklahoma Pharmacy Act and the Oklahoma Nursing Practice Act in the next legislature.
Keesee said it is essential to be able to design and implement solutions to meet the needs and priorities of nurses. Adding emphasis to changing how laws govern the profession helps create holistic approaches to nurses' well-being directly with and through their new strategic partners, the Oklahoma Legislature.
This will be in keeping with the progress made since 1976 when Certified Registered Nurse Anesthetist recognition was incorporated into the Oklahoma Nursing Practice Act. In 1980, recognition of the Certified Nurse Practitioner and Certified Nurse Midwife were added. Clinical Nurse Specialists were added in 1994. In 2019, Certified Registered Nurse Anesthetists saw the law change from direct supervision to a collaborative practice.
The ONA community of nurses has become more strident in becoming advocates in the legislative process to express their concerns about how healthcare is offered in Oklahoma. Each year, at the beginning of the legislative session, they prepare at a meeting and go to the capitol to express to their legislators how vital high-quality nursing health care is to their constituents.
The next Nurses Day at the Capitol will be March 5, 2024. "Nurses need to be engaged and involved in advocating for the profession every day," Nelson said. "Coming to Nurses Day at the Capitol is a great way to learn about what is happening there. If you are not at the table, you are on the menu."
To learn more about the Oklahoma Nurses Association, or to join CLICK HERE.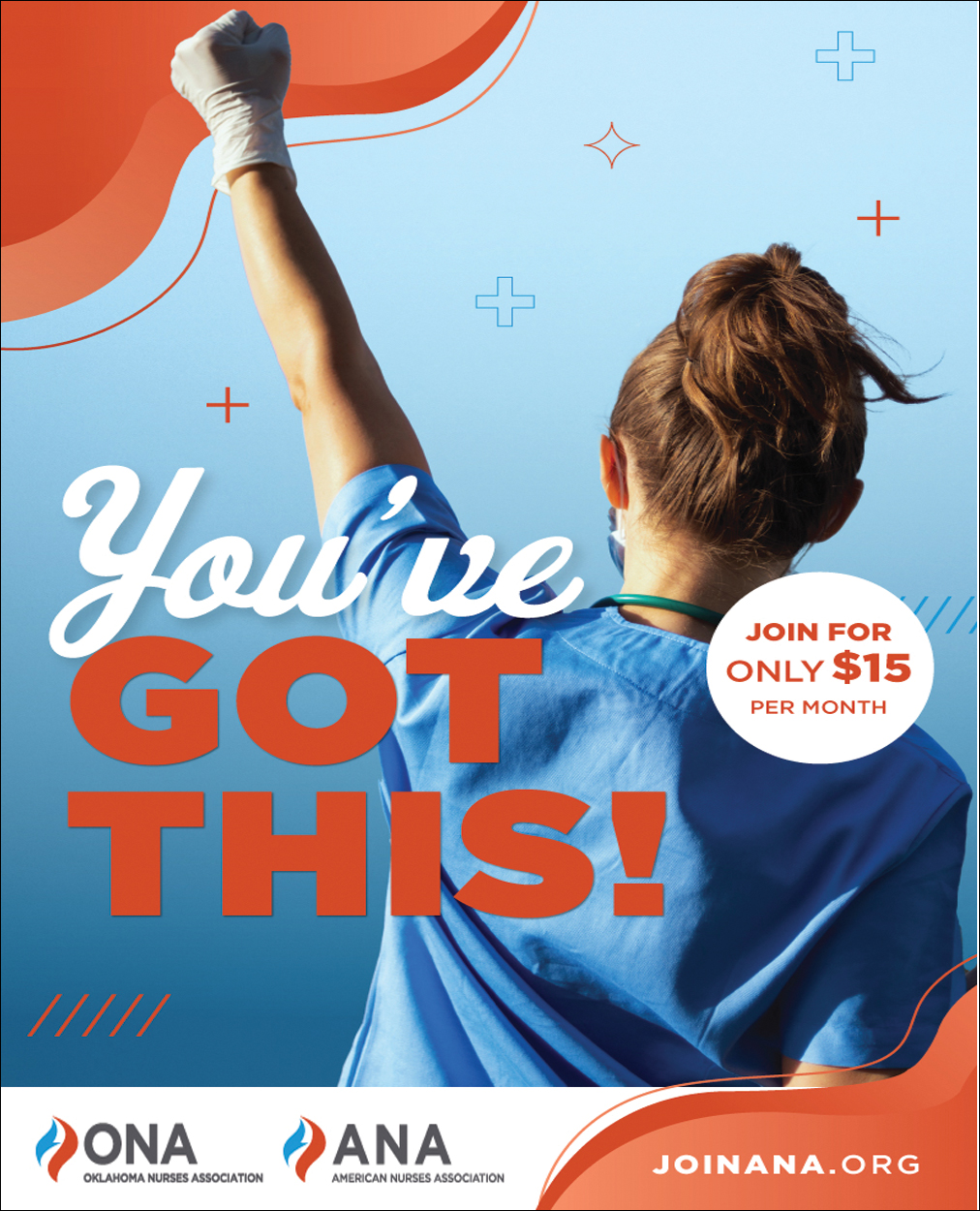 https://www.oklahomanurses.org/