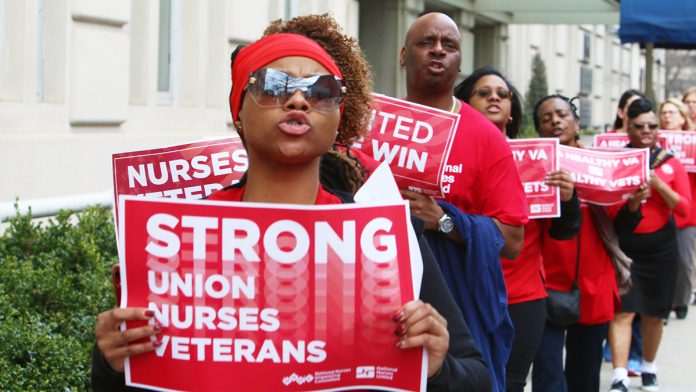 2,000 Ascension nurses will strike on June 27 for strong contracts to combat health care giant's unsafe staffing practices
Registered nurses in Texas and Kansas at three Ascension hospitals are moving forward with historic one-day strikes on Tuesday, June 27, to protest management's resistance to bargain in good faith with RNs for union contracts that would help correct the endemic staffing crisis, announced National Nurses Organizing Committee/National Nurses United (NNOC/NNU). Driven by their concerns about patient safety, these will be the largest nurse strikes in Texas and Kansas history.
Ascension management's punitive three-day lockout of nurses who go on strike has failed to intimidate them. Among the 2,000 registered nurses at Ascension via Christi St. Joseph Hospital (Wichita, Kan.), Ascension via Christi St. Francis Hospital (Wichita, Kan.), and Ascension Seton Medical Center (Austin, Texas), there is now even greater momentum and motivation to speak out and demand management negotiate first contracts with its RNs to improve the health of their patients and communities.
"Management's retaliatory threats are despicable, but union nurses won't give up on our fight for our patients," said Kris Fuentes, a registered nurse in the neonatal intensive care unit at Ascension Seton Medical Center in Austin. "Ascension's dangerous staffing practices disrupt our ability to provide quality care and put our patients at risk every day. This is a clear sign Ascension would rather use its vast resources to delay improvement than to invest in the care our patients and our communities deserve with appropriate staffing."
Go here for a detailed list of local actions, locations, and events, starting Monday, June 26. Live strike coverage is on NNU's social accounts – see below for details.
The strikes come after Ascension repeatedly dismissed nurses' solutions for patient safety during contract negotiations, including their proposals to enforce safe staffing and improve nurse recruitment and retention.
"Ascension management is short-changing its nurses and its patients," Nichlous Whitehead, an RN in the surgery unit at St. Francis Hospital, said of the hospital chain, which does not pay federal taxes because of its nonprofit status. "While Ascension claims to provide 'spiritually-centered holistic care,' nurses' experiences reflect the reality of Ascension's hypocrisy. Union nurses are striking to enforce, through safe staffing protections in our contracts, Ascension's own mission to 'sustain and improve the health of individuals and communities.'"
In the past year, Ascension nurses have made history, creating some of the largest private-sector nurse unions in states with laws hostile to worker organizing. Driving the surge of unionization at Ascension is the blatant hypocrisy of the nonprofit, Catholic hospital chain – one of the nation's largest that has $19.5 billion in cash reserves, an investment arm that manages $41 billion, and a private equity operation worth $1 billion.
Chronic short-staffing imposed by Ascension hospital management – a practice that began well before the Covid-19 pandemic to boost profits and executive compensation – makes it challenging for nurses to provide the highest quality of care to their patients because it drastically limits how much time a nurse can spend on each patient. Short-staffing also creates a revolving door of nursing staff, who suffer moral injury and distress because they can't provide the care they know results in the best patient outcomes.
"Nurses are patient advocates at the bedside and, when we need to be, on the strike line," said Carol Samsel, an RN in the intensive care unit at St. Joseph Hospital. "Union nurses are ready to stand united against these conditions, which are driving away both veteran nurses, whom we need to ensure the highest standards of care, and new graduates, who are necessary for the sustainability of our profession."
The latest data from the Bureau of Labor Statistics and the National Council of State Boards of Nursing shows that in Texas, Kansas, and across the country, there is no nurse "shortage." In fact, in Texas, there are nearly 128,000 registered nurses with active licenses who are choosing not to work at the bedside, while in Kansas – a much smaller state by population – that number is almost 20,000. Nationwide, there are more than a million registered nurses with active licenses who are choosing not to work at the bedside because of the hospital industry's unsafe working conditions. More data and information debunking the nurse "shortage" myth can be found here. 
Media outlets have permission to use all videos and photos from National Nurses United social media feeds with credit to National Nurses United. Live strike coverage can be found at:
BACKGROUND ON ASCENSION PROFITEERING
The conditions driving Austin and Wichita nurses to take unprecedented collective action at their hospitals are part of a broader pattern of Ascension negligence and greed.
Not only are these actions in direct contradiction to the directives of the U.S. Conference of Catholic Bishops for Catholic health care organizations, they have garnered the scrutiny of local and national news media and state and federal regulators, including:
A snapshot of Ascension's financials show that, despite Ascension's stated benevolent mission, it acts like a for-profit corporation putting dollars over patient care:
Ascension is the second-largest Catholic nonprofit health system in the country. In fiscal year 2021, Ascension reported a net income of more than $6.4 billion, and the system's CEO took home a compensation package worth more than $13 million.
BACKGROUND ON NNOC/NNU AT ASCENSION
Ascension Seton Medical Center in Austin:
Ascension via Christi St. Francis Hospital in Wichita:
Ascension via Christi St. Joseph Hospital in Wichita:
On June 15, 2023, at Ascension's headquarters in St. Louis, RNs from all three hospitals provided more than 10 days of advance notice to allow for alternative plans to be made for patient care.
EDITORS NOTE: OKNT AND IT'S EMPLOYEES AND MANAGMENT DO NOT NECESSARILY SHARE THE OPINIONS EXPRESSED BY THE NNU.