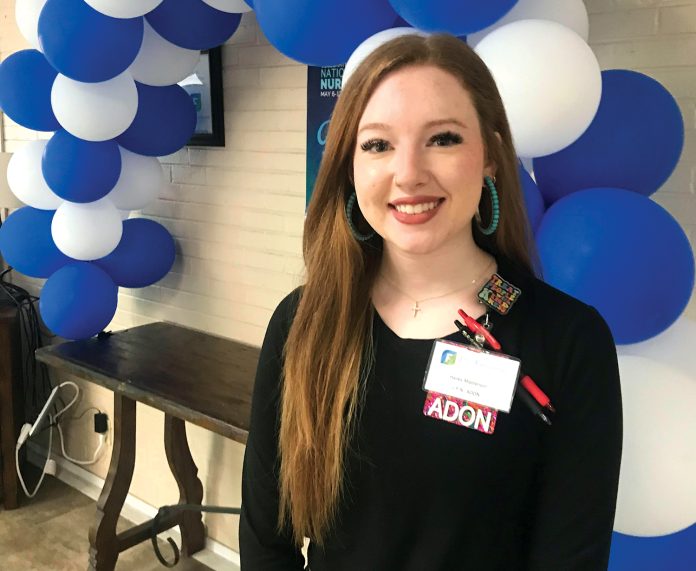 Story and photo by James Coburn, Staff Writer
Attributes of compassion and patience has deepened for Hailey Masterson in her nursing career at Fairmont Skilled Nursing and Therapy. She can channel her experience into other nursing opportunities that she may one day explore in decades ahead.
"If you work with elderly people there is a sense that they have lived a lot, so you have to respect that and understand that they have a lot of experience under their belt," said Masterson, LPN, ADON. "But the best part about that is you can sit down and learn about their lives."
She was drawn to the business of humanity. Her grandfather is a Houston physician in a clinical area where a lot of people needed assistance. When she was younger, she would go in and give lollypops and hugs to all the people after they got their shots and treatments.
"I thought it was the coolest thing ever," she said of what sparked her road to become a nurse.
Masterson completed her LPN training three years ago at Mid-America Technology Center, located in Wayne. She is working toward earning her Bachelor of Science in Nursing degree in the fast-track program at the Southwestern Oklahoma State University School of Nursing, located in Weatherford. SWOSU's curriculum offers her a BSN tract based on testing as an advanced standing LPN. Clinicals are in person and most of the course work is online. (story continues below)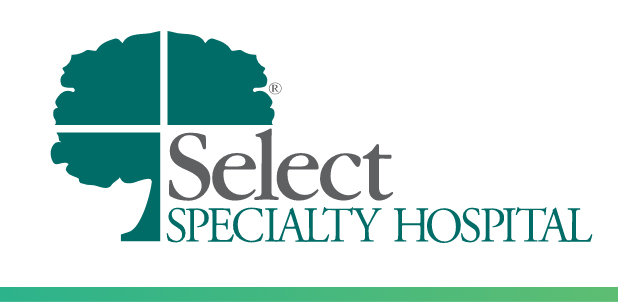 Registered Nurse (RN) / Nights / $10,000 Sign-on Bonus VIEW HERE
"It's really rigorous that your clinicals are fast paced more than usual and your school is more fast paced than usual," Masterson said. "We only do two semesters if you fast track. So, you're getting through quite a few courses rather quickly."
She had been a nurse manager for home health when she learned that Fairmont Skilled Nursing and Therapy was looking for a nurse manager in the skilled nursing area. Masterson was already experienced in wound care, antibiotics and PICC lines. She decided to go interview for the nurse manager position that was open at Fairmont.
"I ended up loving it when I walked in the front door," Masterson said of the Oklahoma City complex. "They really have done a good job on the building. The staff was great. Kara was super sweet and talked me in to the ADON position because of my experience."
The nursing staff's patient advocacy quickly drew Masterson's respect and admiration. Nurses are not hesitant to seek out her expertise about what best practices would benefit a patient.
"If I have a hard time with that question, I will grab Karen and we'll sit down with a physician and we'll talk about it before we implement anything," she continued. "But every one of the nurses we have, I can truly say before God that they are very, very good patient advocates."
One of the patients has natural textured hair that can be a little bit difficult to handle. Masterson noticed a nurse had completed all but two remaining treatments toward the end of her shift.
"She took an hour out of her own lunch to go over there and braid his hair for him," Masterson pointed out. "She made sure it was all cleaned and oiled, and everything he needed."
Masterson has been grateful to learn about the nursing staff's compassion and patience that they share with the residents at Fairmont.
"You're helping them. You've got to have some patience if they're hurting. It's harder for them to move around," she said. "You have the time to spend with them. So, when you're being patient and you're helping them, you've got that extra five minutes just to relax and sit there and talk to them."
Residents bring their sense of humor with them at the Fairmont memory unit. Masterson said she can't help but have a listening ear.
"They're all so sweet," she said. "They think of things that were happening a long time ago, the times when they were younger. So, they still have that young sense of humor. And they'll say something that you've never heard and it's so funny."
Patient care has left several indelible moments in Masterson's career.
When she worked at a hospital, she would come across patients who had undergone a difficult life. They would not complain about their misery as much as she expected.
"And every time you walked in that room; they were just so sweet. They thanked you for everything," she said. "Even when you were changing them, they just wanted to have a conversation and say hi, to see how your day was and see if they could help you when they're the one in the bed."
They wanted to be happy and spread joy.
For more information about Fairmont Skilled Nursing and Therapy, visit: https://www.fairmontok.com/