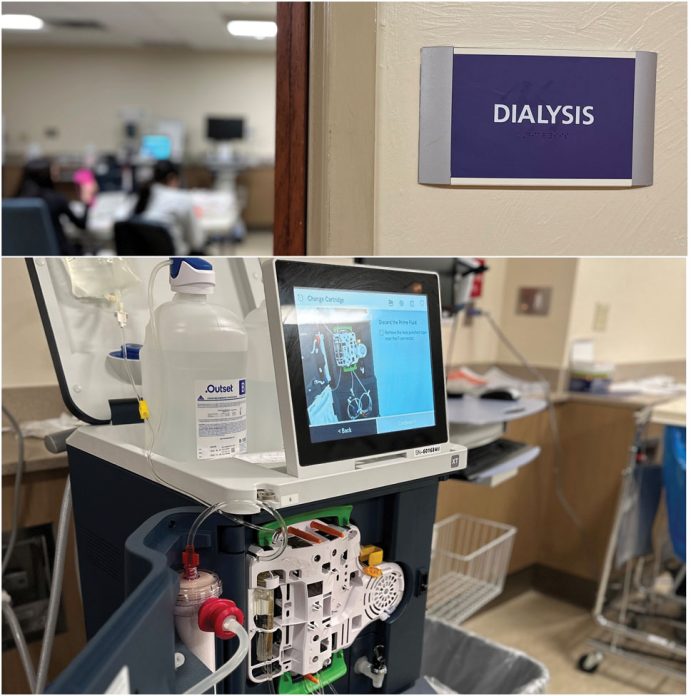 Hospitalized patients with End Stage Renal Disease (ESRD) at Mercy Hospital Oklahoma City now have access to a newly refurbished, state-of-the-art dialysis unit. This new unit will provide patients with Mercy's compassionate care and exceptional service for the duration of their hospital stay.
Dialysis patients need treatment multiple times a week to manage their disease. Illness, even something as common as the flu, can be especially dangerous for someone with advanced kidney failure, meaning these types of patients require frequent hospitalization.
Mercy Hospital Oklahoma City has provided inpatient dialysis services in the past through an outside organization; however, the recent renovation and transition to a full Mercy dialysis team will deliver greater continuity of care for these hospitalized patients.
"Providing services like dialysis for hospitalized patients is an essential part of Mercy's mission," said Emily Eriksson, vice president of patient care at Mercy Hospital Oklahoma City. "With this new unit, our patient-centered care team can focus on delivering the cooperative and comprehensive care patients need."
ESRD is a condition where the kidneys gradually stop functioning. Kidneys filter the body's waste, and when they fail, dangerous levels of fluids, electrolytes and waste accumulate in the body. Dialysis filters the blood through advanced medical technology. Patients cannot go without this life-saving treatment, but it is time-consuming and can be complicated to manage when patients are working through additional illnesses or injury.
The new unit will have nursing coverage around the clock to support emergency needs and will house state-of-the-art Tablo machines, which provide the newest dialysis technology. The unit will provide both acute hemodialysis and extended therapy dialysis to patients.
"Our team is looking forward to continuing to serve our community through this new and updated unit," said Jennifer Bramlett, director of nursing at Mercy Hospital Oklahoma City. "We know it can be stressful to be a hospitalized patient with ESRD, but we're confident this new unit will help alleviate some of our patients' worry so they can focus on recovering and staying well."
The Mercy Dialysis Department is only for hospitalized patients and cannot accommodate outpatient treatment. It is located on the third floor of Mercy Hospital Oklahoma City.