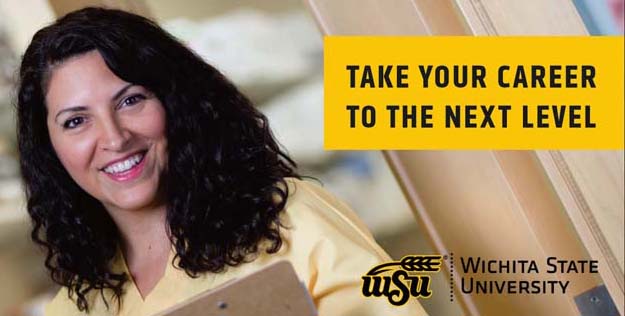 Strengthen your skills, impact lives and take your nursing career to the next level at Wichita State University. Our accredited bachelor's, master's and doctoral programs prepare tomorrow's leaders for nursing practice in a variety of settings and help meet the demand for all levels of nursing services. We offer traditional and nontraditional programs, giving our students a variety of ways to earn a degree in nursing.
Our undergraduate programs prepare students for professional nursing positions in a variety of healthcare settings and provide a foundation for graduate study in nursing. We offer a bachelor's degree in nursing (BSN), including an accelerated 13-month program, fully online registered nurse (RN) to BSN program and the Wichita State/Kansas State University Pathway to Nursing Program, a unique dual degree program that gives students the opportunity to earn both a Bachelor of Science (BS) degree from K-State, and a BSN from Wichita State. We also offer a guaranteed placement program for high school students that provides an opportunity to be guaranteed entry into our competitive traditional undergraduate nursing program.
Our graduate programs develop nurse leaders for roles in advanced practice careers. Our full or part-time master of science in nursing (MSN) program offers two concentrations: Nursing Education (fully online) or Nursing Leadership and Administration. We also offer a doctor of nursing practice degree (DNP) with two program entry points; post-baccalaureate or post- master. The post-baccalaureate program has Nurse Practitioner specializations in the areas of Family Nurse Practitioner, Adult Gerontology Acute Care (the only program of its kind in Kansas), Psychiatric/Mental Health, as well as the DNP advanced curriculum. The online post-master program provides students already nationally certified in a specialization opportunities to advance their knowledge in multiple areas, including healthcare systems, policy/politics, and evidence-based practice.
Our quality programs exceed national pass rates on the Registered Nurse national exam and Advanced Practice Registered Nurse professional certification exams.
Wichita State provides students with unparalleled access to applied learning experiences. Our location in Kansas' largest city means students benefit from opportunities to make connections and work beside some of the best professionals in their fields through clinical rotations and community outreach. Our state-of-the-art applied learning labs have simulation manikins that can realistically simulate a variety of symptoms and scenarios, including childbirth, seizures, blood pressure problems and bleeding. The lifelike actions of the manikins give students a realistic learning experience in a safe environment.
Our programs offer individualized faculty advising, diverse applied learning opportunities in Kansas' health care hub, high post-graduation employment rates and exceptional success in advanced careers. A nursing degree from Wichita State will give you the knowledge and practical skills for high-paying, high-demand nursing careers in diverse health care settings such as hospitals, primary care clinics, nursing and residential care facilities, schools and government.
Visit https://wichita.edu/nursing to find a program that's right for you.