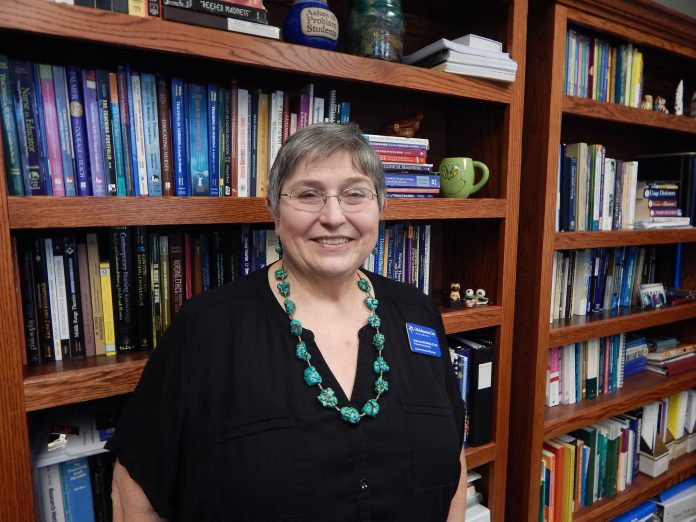 by James Coburn
Staff Writer
Kramer School of Nursing will be sponsoring its annual Culture Conference, said Linda Cook, RN, Ph.D, APRN, BC, CNE.
Oklahoma City University's Kramer School of Nursing has offered a conference every September called Celebration of Culture. The conference is set for September 23. Registration is between 8-8:30 a.m.
"We have so many people now registering for the national conference that we have it at the National Cowboy and Western Heritage Museum because we couldn't fit them on campus anymore," Cook said. "We usually have between 500 and 600 people come."
She said one school of nursing in northern Oklahoma plans it as part of their curriculum with the students paying for it. It's part of their tuition. They just shut down school for a day and bring everybody, Cook said. The conference this year focuses on the Culture of Mental Illness.
"We take a different turn on culture. We're not just looking at specific groups of people," Cook said. "Last year we did the Culture of Violence. Before that I believe was the year we had Jean Watson, who is a big caring theorist. So it was the Culture of Caring."
The Culture of Mental Illness will explore what is going on in the state of Oklahoma in terms of mental illness. Focus will be how easy is it for a person living with mental illness to attain the care they need.
"The answer is not very easy," Cook continued.
Several guest speakers will participate in the Culture of Mental Illness including Dr. Frieda Outlaw, RN, who is an adjunct at Vanderbilt University in Tennessee. She was in charge of revising the access to care for children, adolescents and families living with mental illness in Tennessee and has done wonderful things there, Cook explained.
"We're hoping that she will come and share some of that expertise here," Cook continued.
The director of the Oklahoma Mental Health and Substance Abuse Services, Terri White, will address the Oklahoma perspective with what is transpiring locally. Another guest speaker will be Cathy Costello, the widow of former Labor Commissioner Mark Costello, who died last year when his son, Christian Costello, stabbed him to death at an Oklahoma City Braum's Dairy store. Christian's family has stated that he lives with mental illness. His trial is ongoing and a judge has ordered a competency examination.
"One of our doctoral students has been doing research on PTSD and veterans. That's part of the culture we have in the state as well. So we have an enlightening day planned for people," Cook said. "I'm looking forward to it."
The Culture of Mental Illness will not be defining terms of mental illness. Rather it will teach what it is like for the person living with mental illness to find care. The realities of what folks face who cannot receive access to care will be highlighted.
"It will be about what these nurses can do to make life a little bit easier," Cook said.
A large percentage of the prison population and those prisoners at the Oklahoma County Jail live with mental illness, according to Oklahoma County Sheriff John Whetsel. A segment of that population has substance abuse problems.
Since the closure of the state hospital systems, the prison system has become the single largest containment system for the mentally ill, Cook said.
"And it's pathetic because they get no treatment for their mental illness," she said.
The Oklahoma County Jail is an example of the lack of treatment for people who no longer have their medication during their incarceration period. "There is not treatment and it is beyond belief that we can't do something more effective for folks, but we haven't found it yet," she said.
The Culture of Mental Illness is geared toward a large number of students, many of which will be practitioners within a year or two. They need this background information.
Nursing faculty will also benefit and anyone who wants to update their education.
"We offer of course the continuing education units for the conference," Cook said.
Kramer is growing with 347 undergraduates and 145 graduate students.
"We have a really strong continuing education program," Cook said. "We do the big culture conference every September. We have a nursing education program that occurs in the spring and then every summer we have a nursing leadership program offered, and we bring in nationally known speakers for each of those conferences."
For more information about the Culture of Mental Illness, contact Christopher Black at [email protected].