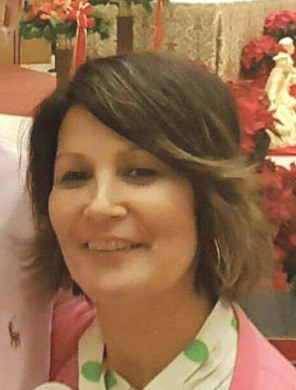 When I think back through my years as a nurse, I have given much, but at the same time, given to others at the bedside as well. Reflecting on how much we give of ourselves, which includes our time away from our families at the holidays, weekends, nights, and birthdays. As nurses, we are continually giving, never asking for gratitude.
Do we have anything left to give at the end of the day? The answer is personal of course, but I like to think we can still keep giving. Giving to our profession in diverse and various ways can help others in ways you may not have thought possible.
The nursing profession is as diverse as the patients we have in our care. Volunteering our time and (sometimes undiscovered) talents, can not only help those in need, but can as well help us to grow inside, connect us with each other, as we all know, we are human beings helping human beings. Many times we need only to look in our own backyard, so to speak. How about our state nurse association? Do you think the organization can run without volunteers or the annual state nurse convention just appears out of nowhere? No, it functions from the hard work, talents and minds from all different types of nurses across the state. Talents, what talents do I have to give?
Plenty. Many nursing organizations need your experience, your point of view, your input. All of us have something to offer the wide wonderful world of nursing. If a shy, socially awkward person like myself, can be president of a specialty (INS) state organization, then I know anyone can become whatever they desire or want to become. You are more than you think you are, and know more than you think you do, and can give more than you think you can. Look around you, there are always people and nursing organizations in need. If you need help in finding ways to contribute to our nursing profession, ONA is a good start, the specialties where you are currently employed. Even med-surg nursing has it's own organization. There are organizations who are in need of leadership skills, advice, and skills you are possessing, so go out and give. I promise you, you will not go away empty handed or unfulfilled. I wish there were more days or hours in the week to do all I would like to do and give to my community and profession.
One of my ambitions, after finishing my long awaited goal of a BSN, was to adjunct at one of the tech or community colleges. It happened! I wanted to give what I had been given over the past several decades of my career. My preceptor is giving herself to me. Her knowledge and her experience and her time. The future of nursing is staring us in the face, and we have the power to help grow our future. Nursing schools are desperate for professors and adjuncts, as the demand for nurses is growing. This is also one way to give back to our profession, perhaps in a way you may never know. Perhaps there is that struggling student(s), who need your guidance, time and experience to direct their path as an emerging nurse.
The point is you are never too old, too young, too this or too that to give. Never underestimate the power of you.
Angela Archer has been a nurse for over 28 years and graduated in 1990 from TJC, now known as TCC in Tulsa Oklahoma. She has worked in the Medical-Surgical Float Pool at St. Francis Hospital in Tulsa recently returning to school and fulfilling her goal of completing a BSN. She is also planning to continue her education in a Master's program in Nursing Informatics.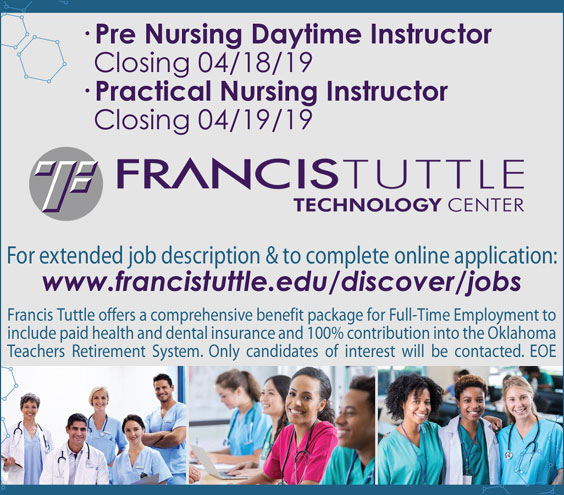 Francis Tuttle Technology Center
· Pre Nursing Daytime Instructor: Closing 04/18/19
· Practical Nursing Instructor: Closing 04/19/19
For extended job description and to complete online application:
www.francistuttle.edu/discover/jobs
Francis Tuttle offers a comprehensive benefit package for Full-Time
Employment to include paid health and dental insurance and 100%
contribution into the Oklahoma Teachers Retirement System.
Only candidates of interest will be contacted. EOE