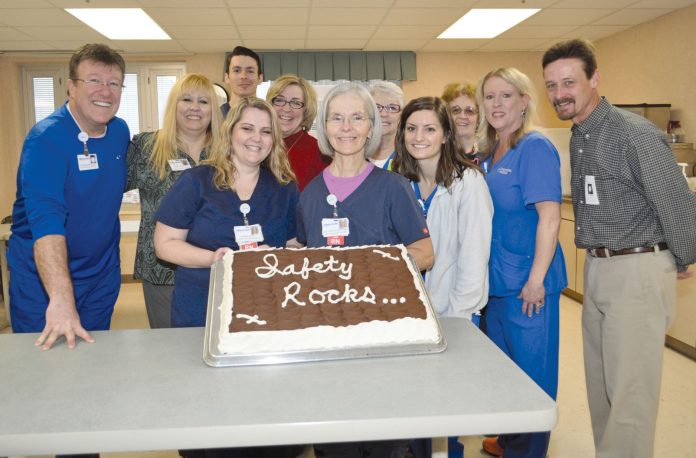 story and photo by Vickie Jenkins
I spoke with Dawn Lyles, RN, BSN, Clinical Director of Med-Surg at AllianceHealth Deaconess Hospital. She was excited to introduce me to the new Posey Alarm. "The alarms are being piloted on 3 E-Rehab with rollouts to all units in the coming months, including the Emergency Department. The alarms are another tool to assist with AllianceHealth Deaconess being an HRO (high reliability organization). The alarms, along with our new Safety Watch Program make sure that our patients safety come first," commented Lyles.
Mr. Brett Ball is the representative for the new Posey alarm system that is being used in the hospital. Brett was conducting a training class for the nurses as he explained how the alarm system worked. "This alarm system provides a comprehensive protocol of alarms and sensors that deliver the utmost quality, value and confidence in fall monitoring. All Posey sensors are compatible with all Posey sensor-activated alarms. Posey provides sensors for use on the bed, chair, wheelchair, toilet seat or floor adjacent to the bed," he explained.
The nurses at Alliance Health Deaconess have been trained to apply chair alarms for Morse high/critical risk patients to not guesstimate which patients really need an alarm. Low beds used with fair compliance often applied reactively post-fall. The alarms will be placed in designated places in the assigned room. The alarms will be labeled with room number and a checklist reminder for Patient Care Technician for presence each shift.
Posey offers falls management solutions that help comply with both the Joint Commission National Patient Safety Goals and Medicare/Medicaid requirements for patient protection. By utilizing products aimed at reducing the risk of fall related injuries, facilities can help provide patients with premium protection and care while helping to reduce costs.
"The alarms will be used on the high-risk patients, starting in Rehab. The alarm is connected by a cable from the alarm to the sensor pad. Different size sensor pads are available, depending on whether the pad is for a bed or a chair," Lyles commented.
Mr. Ball explained how there are different lengths of cables available, so the cable is long enough to go anywhere in the room. "The alarm system is tied into the nurse's station and a light will be on outside the patient's room number along with the alarm. This does not override the nurse's station. The alarm can be set in 5 different modes for the tone and volume. A message can also be recorded if needed. The alarm uses 4 AA batteries and will last 30-40 days until new batteries are installed."
"I feel very fortunate that we have these new alarms here at the hospital," Lyles said. "This is just another step to improving patient care. Our patients safety come first. This new alarm system is a big plus for our hospital," she adds.