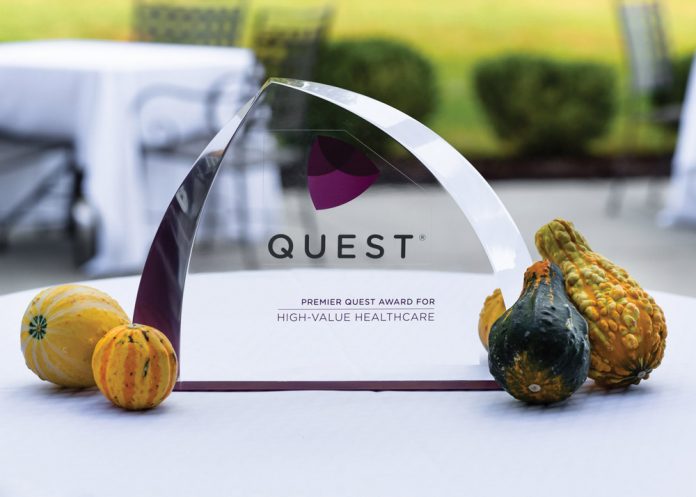 SSM Health St. Anthony Hospital in Oklahoma City has been named a finalist for the 2019 QUEST® Award for High-value Healthcare by Premier Inc., a leading healthcare improvement company, for providing outstanding patient care as a non-teaching =175 beds hospital.
SSM Health St. Anthony Hospital was named a finalist for achieving high rates of performance among its non-teaching =175 beds hospital peer group in Premier's QUEST 2020 collaborative for mortality, readmissions, affordability and safety.
The hospital was honored during the QUEST National Meeting taking place prior to Premier's annual Breakthroughs Conference and Exhibition on June 18, 2019.
"Being named a finalist for the QUEST Award reinforces our commitment to reliably deliver the best care experience to the patients we serve," said Tammy Powell, President, SSM Health St. Anthony Hospital. "We're on a continued path of improving patient outcomes and community health, furthering our Mission – Through our exceptional health care services, we reveal the healing presence of God."
"QUEST facilities are setting new standards of clinical excellence nationwide," said Seth Edwards, Vice President of Engagement and Delivery for Premier. "Together, they have worked to outperform in healthcare. Premier congratulates SSM Health St. Anthony Hospital in Oklahoma City for their fantastic achievements."
A recipient of The Joint Commission and National Quality Forum's 2015 John M. Eisenberg Patient Safety and Quality Award, QUEST was launched in 2008 to help health systems reliably deliver the most efficient, effective and caring experience for every patient, every single time. Building on the legacy of QUEST, QUEST 2020 was launched in January 2017 to extend beyond hospital walls to provide compliance, improvement and specialized support for health systems to thrive in today's healthcare economy. QUEST 2020 members have outperformed their peers by 23 percent in the CMS Hospital-Acquired Condition Reduction Program and by 29 percent in Value-Based Purchasing Program.
The peer group improvement category is designed to recognize QUEST 2020 top performing hospitals based on size, patient mix and academic status. Each QUEST 2020 member was grouped into one of six categories: critical access hospital (CAH), academic, Teaching, Teaching, Non-Teaching and Non-Teaching. A top performer in each of the six peer groups was named a winner of the QUEST Award in their specific peer group category.
Premier Inc. is a leading healthcare improvement company, uniting an alliance of more than 4,000 U.S. hospitals and health systems and approximately 165,000 other providers and organizations to transform healthcare. With integrated data and analytics, collaboratives, supply chain solutions, and consulting and other services, Premier enables better care and outcomes at a lower cost. www.premierinc.com.