OU Medicine Ranked Top 50 Nationally in Cancer Treatment and No. 1 Hospital in Oklahoma City by U.S. News & World Report
OU Medicine is the No. 1 ranked hospital system in the Oklahoma City metro, and its oncology program at Stephenson Cancer Center and OU Medical Center ranked in the Top 50 in the nation, in the 2019-2020 rankings released by U.S. News & World Report. The cancer ranking places Stephenson Cancer Center at OU Medicine in the Top 2% in the country.
This achievement makes OU Medicine, which includes OU Medical Center, Stephenson Cancer Center, The Children's Hospital, OU Physicians, OU Medical Center Edmond and the OU Health Sciences Center the only healthcare system in Oklahoma to currently hold a national ranking, and it marks the first time in state history that a cancer care program has earned a national ranking. For OU Medicine, the achievement comes a little over a year after becoming a locally owned, nonprofit healthcare system and a year after earning the prestigious National Cancer Institute designation at Stephenson Cancer Center, which is held by only 2% of cancer centers in the country.
"We are honored and inspired by the extraordinary dedication and skill of our physicians, nurses, researchers, healthcare professionals and support staff who bring their best to our patients every day, " said Chuck Spicer, President and CEO of OU Medicine. "It is our privilege to serve the residents of Oklahoma by providing the most complex and specialized health care services that are only offered at OU Medicine."
U.S. News & World Report especially recognized OU Medicine for its breadth of medical specialties and physician expertise to treat the most complex diseases and conditions. In addition, the health system earned commendations for the highest performance possible in three specific areas: the specialty of ophthalmology and the treatment of chronic obstructive pulmonary disease and congestive heart failure.
To generate hospital rankings, U.S. News & World Report evaluated nearly 5,000 hospitals nationwide. It assessed each hospital in 16 adult specialties, nine adult medical procedures or conditions and 10 pediatric specialties.
OU Medicine broke into the coveted U.S. News & World Report national top 50 ranking for Best Cancer Hospitals by ranking No. 48 for 2019-2020. U.S. News and World Report started with an initial pool of 4,653 hospitals, then narrowed this list down to 900 top cancer programs nationwide for more in depth analysis. In partnership with Stephenson Cancer Center at OU Medicine, the program was particularly recognized for its excellence in patient survival 30 days after a stay in the hospital, as well as the frequency that its patients are able to go directly home from the hospital rather than being sent to another facility for continued care. In addition, OU Medicine received a commendation for its volume of patients with high-risk cancers over three years. That recognition is especially relevant because higher patient volume is associated with better outcomes, according to research studies.
"At Stephenson Cancer Center, we lead the nation in enrollment for clinical trials and offer the most cutting edge and complex cancer treatments in the region. The National Cancer Institute designation we received last year is a testament to the excellent clinical research we are providing to our patients to ensure they are receiving the best cancer treatment available in the country. This additional recognition from U.S. News & World Report further confirms for Oklahomans that they can receive world class cancer care right here at home," said Robert Mannel, M.D., Associate Vice Provost for Cancer Programs at OU Health Sciences Center and Director of Stephenson Cancer Center at OU Medicine.
OU Medicine's cancer treatment program was also recognized for its use of advanced technologies, such as proton therapy and image-guided radiation therapy. For its holistic patient services, the cancer program received an excellent rating, which points to Stephenson Cancer Center's Supportive Care program that provides pain management, palliative care, emotional and spiritual support, and more.
U.S. News & World Report also highlighted Stephenson Cancer Center's standing as a National Cancer Institute-designated cancer center, offering the most comprehensive network of oncology physicians, a large clinical trials program and ongoing research. The rankings also noted the center's certification by the Foundation for the Accreditation of Cellular Therapy, which certifies bone marrow and tissue transplantation programs. "As a comprehensive academic healthcare system, OU Medicine strives not only to offer the highest-quality care, but to engage in research that yields new treatments and to educate the healthcare professionals of tomorrow. The new rankings by the U.S. News & World Report confirms that OU Medicine is the leader in bringing the highest standard of treatment and compassionate care to patients in Oklahoma and in the region," said Kris Wallace, President of OU Medical Center.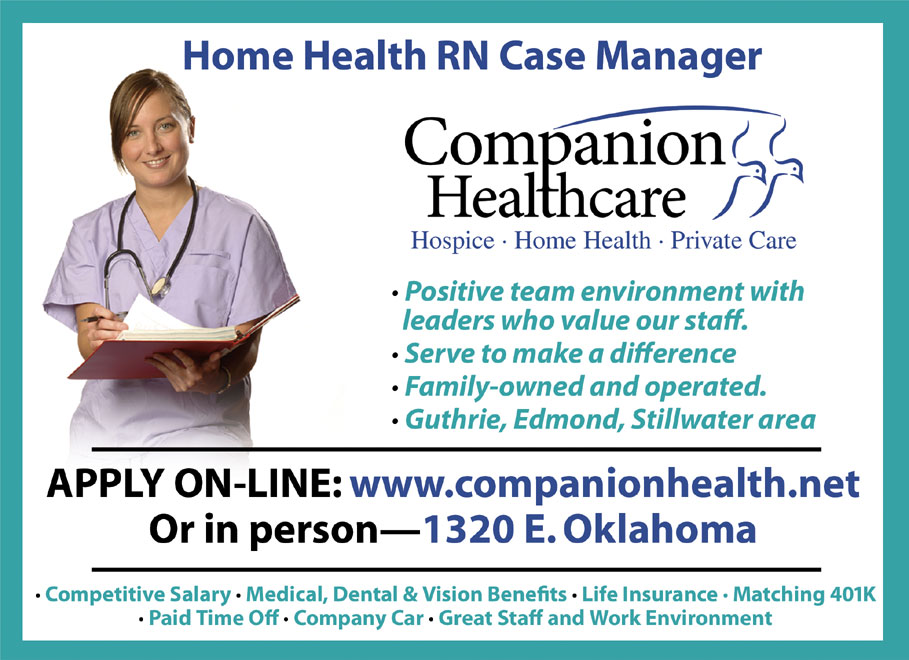 Companion Healthcare Hiring Home Health RN Case Manager
· Positive team environment with leaders who value our staff. · Serve to make a difference · Family-owned and operated. · Guthrie, Edmond, Stillwater area
APPLY ONLINE: www.companionhealth.net
Or in person—1320 E. Oklahoma
· Competitive Salary · Medical, Dental & Vision Benefits · Life Insurance · Matching 401K · Paid Time Off · Company Car · Great Staff and Work Environment