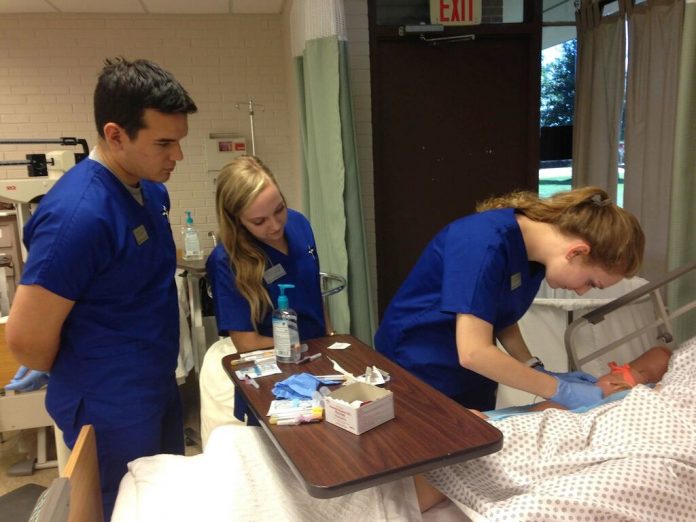 Oklahoma Christian University dean helps healthcare students serve those in need at clinics in Oklahoma City
This summer, six of the brightest students from Christian universities in Oklahoma gained a hands-on education about delivering healthcare to the needy in Oklahoma City.
Made possible through funding from the Butterfield Foundation, the Consortium of Oklahoma Faith-Based Universities internship program is overseen by Jeff McCormack, dean of the College of Natural and Health Sciences at Oklahoma Christian University. OC's student participant was junior nursing major Kristin L'hommedieu from Norman.
"The Consortium and the internship program provides such a fantastic opportunity to be involved and connected with the community while serving those in need," McCormack said. "For many of these bright students, the experience gives them a sense of calling as future professionals who want to meet unmet needs of those without healthcare."
The Christian Pre-Healthcare Provider Internship matches six students with three Oklahoma City clinics that serve uninsured and low-income patients. Students work 30 hours a week and receive a $1,000 stipend for the summer. They rotate to each of the clinics – Crossings Community Clinic, Good Shepherd Clinic and Open Arms Clinic – every two weeks.
In addition to interning at clinics, students attend the Kansas City-based Institute for International Medicine's Exploring Medical Missions Conference. They learn from care providers, leaders, visionaries and other students about what can be done through healthcare to improve the quality of life for those in need around the world.
"One of the OC students who attended has already taken the lessons and begun to apply them at home," McCormack said. "He is starting an on-campus organization with 20 other students aimed at providing care to and educating others about physical, mental and spiritual health in our community." OC's influence on the internship program also extended to housing. The six participants stayed on the OC campus. Trevy Rauch, OC's nursing skills lab coordinator, handled much of the logistics.
"One of the great joys of this program is seeing the students develop an appreciation for domestic medical missions," Rauch said. "The students left knowing medical missions would be a good fit for them as aspiring medical professionals. They also now know there are plenty of opportunities to serve those in need here in Oklahoma City."
After the internship, students expressed more confidence about their ability to make a difference in the lives of others. It also helped students understand the importance of providers truly listening to those they serve.
"The students really were affected by the passion these clinics have for the underserved," McCormack said. "The students said their eyes were opened to just how hard it is for some people to get care when they have no money or a car. The students told us that they now realized how key listening and hearing someone's life story is. That was vital to being able to help patients get to a better place."
The Consortium of Oklahoma Faith-Based Universities includes OC, Oklahoma Baptist University, Oklahoma Wesleyan University, Oral Roberts University and Southern Nazarene University. A committee of representatives from each of the Consortium universities chooses the internship participants. The number of applications has increased each year, and most students are pre-med, nursing or pre-physician's assistant majors.
The Butterfield Foundation was created in 2005 after the sale of Deaconess Hospital in Oklahoma City. The foundation is named after longtime Methodist minister and Deaconess administrator Ralph Butterfield and his wife Gladys. She served for many years as the superintendent of The Home of Redeeming Love, which helped many children become adopted by loving families. "We are so grateful to the Butterfield Foundation for helping fund the Consortium and internship program, in addition to providing significant support to each of the three clinics," McCormack said. "The foundation truly lives out its mission to help build up the physical, mental, social and spiritual well-being of people." With the third year of the internship now complete, McCormack hopes next year's experience will be the best yet.
"We are exploring ways to expand the program, really in response to the strong demand from our student applicants," he said. "It's an exciting program that is truly improving lives."
Click here to find out more informationa about the program OC's nursing program https://www.oc.edu/academics/nursing .